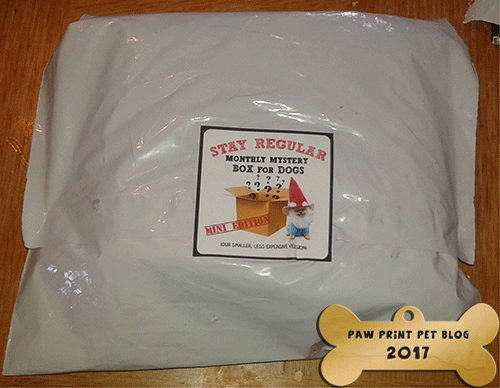 Last month was our first reviewing the Mini Monthly Dog Box of Awesome!  This newer pet subscription "box", box in quotes because it has been coming to us in a mailer bag rather than a box, may contain less items than most pet subscription boxes, but it comes at an incredible price!
The Mini Monthly Dog Box of Awesome is just $9.99!  That includes shipping.  For just under $10 you can get a bag of goodies for your dog that will include at least one bag of treats (always made in either the USA or Canada), and one toy.  Boxes ship between the 20th and 25th of each month and canceling is easy if your dog ever decides he/she is sick of receiving goodies in the mail each month.
Last month our box contained just over $23 worth of goodies - over double the $9.99 price tag.  This is what we received this month...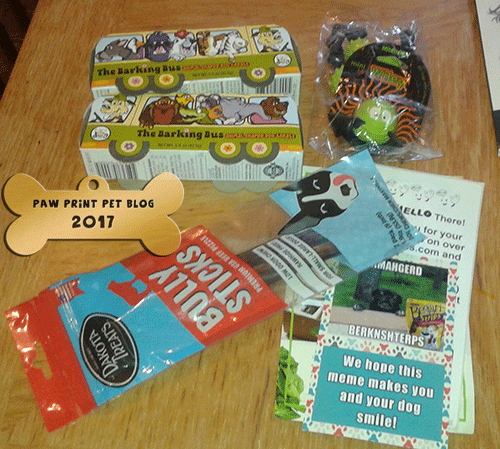 We got two 1.5 oz boxes of The Barking Bus animal shaped dog treats, a two pack of Dakota Treats bully sticks, and a mini Wiley dog toy.
I wasn't able to find the exact bully stick brand that we received but using Amazon pricing I calculated the other two items to cost a combined $22.53.  Bully sticks aren't usually the cheapest dog chew out there so I'd imagine the two pack we received would add at least a few dollars, if not more, onto the total box value.
This is an awesome little box for someone who wants to get monthly goodies for their dog but doesn't want to pay a lot.  Or for someone, like me, who enjoys spoiling their dog(s) but already has a lot of dog toys, and doesn't necessarily need a huge box full of toys etc. each month.
Like always, if you decide to try this box out for yourself we'd love to hear what you think of it!
Disclaimer: This post contains affiliate links.  You can visit our Legal Stuff page for more info.  As always, we strive to only share products we feel will be of interest to our readers.