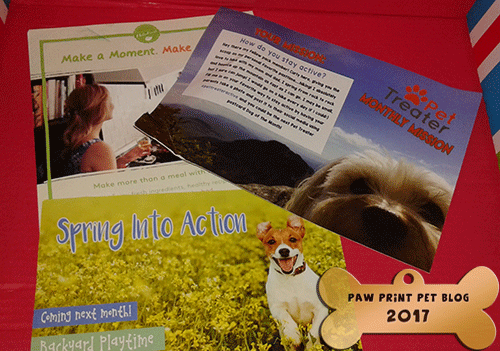 Here we are, once again nearing the end of another month.  If it's spring where you are, I hope you are enjoying the nice weather as much as we have been.
Speaking of spring, the theme of April's Pet Treater box was Spring into Action!  We got another box packed full of fun stuff - read on to see what was in our April box...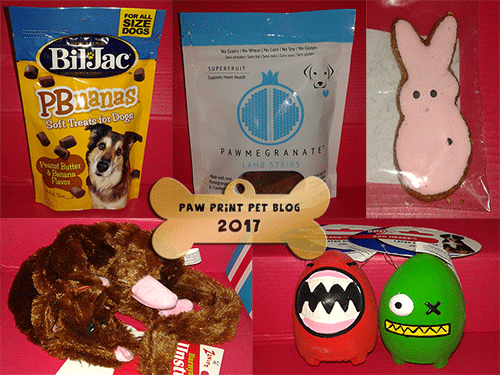 First off we got two bags of treats.  The first was Bil Jack PBnanas soft treats.  Apparently they are supposed to taste like peanut butter and banana.  The second treat was a bag of Pawmegranate lamb strips.  They contain pomegranates and cranberries and help support heart health!  Oh, and we also got a really cute bunny shaped dog cookie from Emmys Treats.
Next up we got three toys!  We received a Barnyard Unstuffies stuffing free toy, and two Egg Heads latex toys (which I couldn't find for sale online).  A note about the unstuffies toy, in case anyone notices that we also received this toy in our January box.  I recently updated my account with Pet Treater, which resulted in some confusion and the repeat toy.  Not a big deal, since both my dogs actually love stuffing free toys, but also not typical of Pet Treater in case anyone is worried they'll get repeats.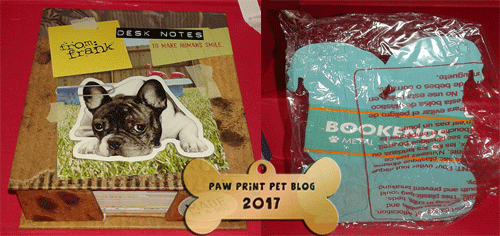 We also received a really cute pack of desk notes and metal dog bookends.  I love to read and have a pretty large book collection, so the bookends will come in handy.  I'm thinking of maybe painting them to give them a bit more personality, since they are a bit plain.  The desk notes are adorable and will get used for sure.
I couldn't find links to share for all the items in this months box.  I think two of the toys and the note pad and bookends might be discontinued items, which isn't a big deal.  The treats, as always, are fresh and made in the USA.
Just a reminder, you can still use the coupon code "FREE-PTBED" to get a free pet bed with your first order of a 3, 6, or 12 month subscription, or "LOVE-PT5" to get $5 off your first box.  For every box purchased, Pet Treater donates a bed, toy, or blanket to a shelter dog or cat.  Prices start at just $19 per box depending on what payment plan you select.  If you need more convincing before you order, make sure to check out some of our past reviews.  FYI, we review boxes designed for small dogs.  There are other sizes available on the Pet Treater site.
We received our Pet Treater box for free in exchange for our honest review.  As always, we only share items we feel will be of interest to our readers.  This post contains affiliate links.