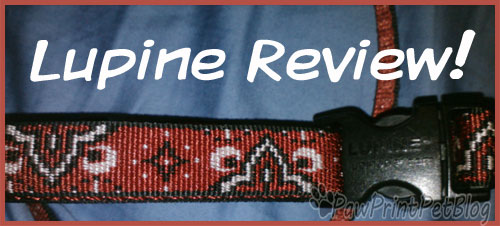 Lupine is a New Hampshire based company that is best known for its adorably designed dog leashes, collars, and harnesses.  I'm really surprised that I haven't posted a Lupine review until now.  We've had our original Lupine leash for almost as long as we've had Kitsune!
Most of Lupine's products are made from high quality nylon webbing.  I know - sounds like just another nylon dog leash right?  But Lupine's products come in a wide array of adorable designs!  The first Lupine leash we ever got was a plain red one, but we've since decided to go with the "Wild West" pattern for Kitsune.  Kitsune has 2 Lupine leashes, a collar, and a Roman harness.
All the products we've tried have been very well made.  The buckles on the collars and harnesses are easy to open, but also very sturdy.  The D-rings, for leash attachment, are also strong and firmly attached.   The collars and harnesses are adjustable, and stay at the size you set them too.  I love the padded handles on the leashes.  They are the perfect size for looping around your wrist for a bit of added security in case you accidentally let go of the leash.  I've never had a single instance of the leash clips not staying clipped to Kitsune's harness, which is more than I can say for other leashes I've used (scary considering we live on a busy city street!).
Most of Lupine's products come in different sizes for different sized dogs, as well as a size for cats.  I've actually been using the small 1/2'' width leash for Kitsune, even though he is probably technically a medium sized dog.
If Lupine's awesome designs and high quality products don't draw you in, their lifetime guarantee should!  Lupine will replace damaged products, no questions asked, even if your dog chews on it!  You don't even need to show your receipt.  Just return your damaged Lupine product in the mail, or upload a picture via their website, and you'll be sent a free replacement.  Sounds too good to be true right?
We recently had the opportunity to put Lupine's lifetime guarantee to the test!  In May of 2015 I purchased Fen his first Lupine leash, a 1/2'' width leash in the design "Muddy paws".  Like the leash we had used for Kit for many years, we had no issues with the leash we bought for Fen.  Until, that is, I stupidly left Fen's leash attached to his harness for a few minutes without directly supervising him.  He was indoors, so escape wasn't an issue, but I left the room Fen was in for a few minutes and returned to see that he had chewed his leash completely in half.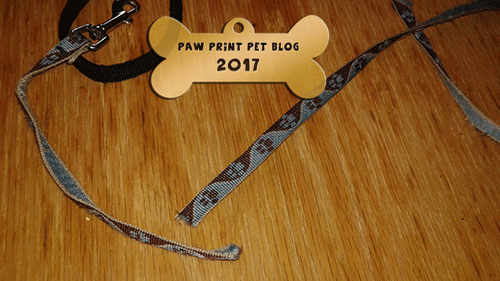 I decided to take advantage of my own stupidity and use this opportunity to test out Lupine's guarantee.  Hey, they do say they'll replace damaged products even if your dog chews them.  I filled out the EZ return form on Lupine's website and included the above picture of our broken leash.  The form was easy to fill out and the best part?  Not long after filling it out we received this in the mail...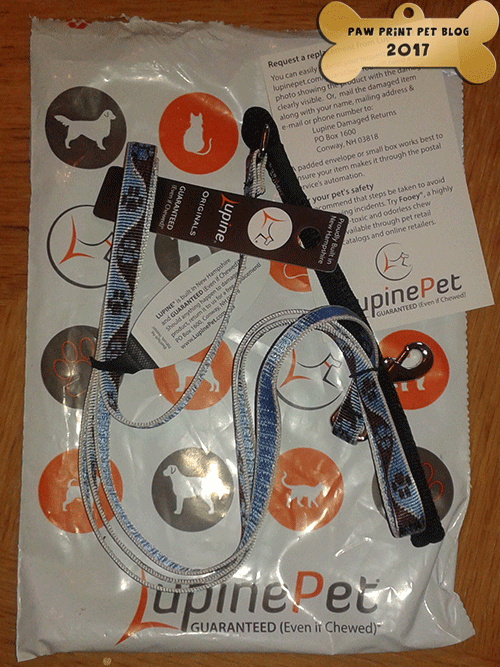 Our replacement leash!  How awesome is that?  The whole process was fast, and hassle free. They replaced our leash even though I let them know that I had purchased it a few years ago and that the damage to it was caused by my dog.
FYI, I kept the fact that I am a pet blogger and that I had plans of blogging about my experience replacing our leash secret.  No special treatment here - Lupine just has awesome customer service!
I really can't say enough good things about Lupine, especially their leashes.  Their designs are really cute, but more importantly the products are well made - and you can't beat their guarantee!
You can purchase Lupine products online through their website, through numerous other online realtors, and in some local stores.