Happy Friday!  I know I've mentioned plenty of times before that I work from home.  Our apartment isn't huge, so my work space is actually in park of our bedroom.  Because I don't like having a lot of electronics in the bedroom, we don't have a TV in the room I spend most of my time working in.  Lately I've been getting into playing YouTube videos in the background while I'm working.
Sometime I'll have to share some of my favorite pet related YouTube channels.  If anyone has one they think I'd like go ahead and tell me about it in the comments!  Anyways, before I get too sidetracked, there's a trend on YouTube where people share their monthly favorites.  Usually it's just products that either they tried for the first time and loved that month, used a lot that month, etc.
It got me thinking, between products I receive to review and stuff I personally buy, I probably get more pet products monthly than your average person does.  I think it would be fun to, at the end of each month, share a few of our monthly favorites.  I don't know how long I'll do this for, since I'm a bit afraid it will get too repetitive after awhile, but for now at least I thought this might be a fun way to close out each month.
Now that intros have been made, here are the items that we selected for our first monthly favorites post...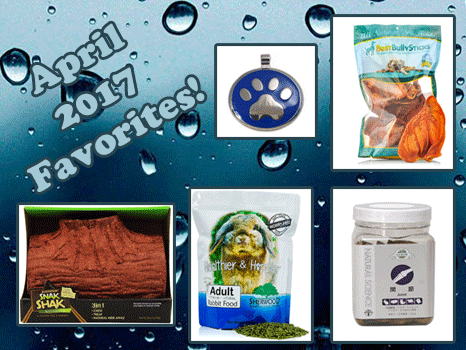 LuckyPet ID Tag:  Out of all the ID tags we've tried over the years, these are my favorite for the dogs.  They're durable - Kit has had his for years, and adorable too.  Earlier this month Fen lost his ID tags.  It wasn't caused by any fault of the tags, I actually attached them to section of his harness that, in retrospect, probably wasn't the best place to put them.  I'm pretty sure they came loose and fell off while we were playing fetch at the park, but I guess I'll never know for sure.  As soon as I noticed his tags missing I went online to order him a new LuckyPet tag.
Best Bully Sticks Pigs Ears:  What do you do when your dogs love to chew but you know that common chews like rawhide are unhealthy?  These pigs ears are always a hit at our house.  The boys love them because, well I'm sure that doesn't need an explanation.  I like them because they are a healthier chew option.
Activity Log Pet Treat: If you haven't figured it out this item was purchased for my rabbit Barnaby.  I know, I know, this isn't the healthiest rabbit treat out there and usually I'm a health nut when it comes to what I feed my pets, but Barnaby LOVES these chew logs.  When your 10 year old rabbit loves something as much as Barnaby loves this item it's hard to say no.  Especially since, as a senior rabbit, there aren't too many things that get Barnaby really excited.  One of these large sized logs lasts him around 5 months if I keep it in his cage all the time.
Sherwood Adult Rabbit Food:  These are the pellets I buy for Barnaby.  I don't buy them all that often because Barnaby is on a VERY limited pellet diet.  I think I'll do a separate post about Barnaby's diet and how/why I incorporate small amounts of pellets sometime, but for now I'm sharing these here because I bought a bag of them this month.  For awhile I purchased another brand of pellets but when I found Sherwood I switched, as I fell the ingredients are much better.
Oxbow Supplement Tabs: I linked too/pictured Oxbow joint support tabs but I also buy the senior support tabs as well.  Again this item is for Barnaby.  We call these his 'cookies', little does he know when he's eating them that he's getting supplements.  Plus feeding him one of these each morning lets me ensure that Barnaby is still eating well.  Sherwood, the brand that makes Barnaby's pellets, makes similar supplements and I've thought about switching but so far I've stuck with these Oxbow tabs.  Barnaby really likes them and it's not always easy to convince him to try new things.
Those were my top 5 pet purchases for the month of April.  I have a system where I try to focus on one type of pet a month when it comes to buying supplies.  In April I stocked up on things for Barnaby while next month Barnaby shouldn't need anything, but the dogs will.  This is mostly for items that last longer, not necessarily food.  For the dogs, for example, when it's their month I'll stock up on things like shampoo, supplements, flea and tick preventative, stuff like that.  I feed all my pets a lot of fresh foods so of course that's not something you can really stock up on.  At least not when you have a freezer as small as ours is!
Anyways, you'll all have to tell me if you like this new type of post or not.  What types of pet products did you purchase in April?