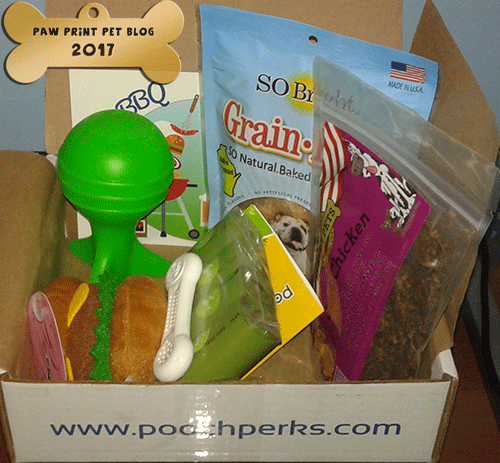 Happy Friday!  This week really got away from me.  I'm glad it went by fast, but I'm about 11 hours behind where I should be for work.  That means I'm either going to have to really hustle to get that much work done today, or else end up working Saturday morning too.  Luckily, I guess, today is cold and rainy so spending a lot of time outside with the dogs is out.  We received our May Pooch Perks box recently so I'm hoping I can use the items inside to keep the pups occupied while I attempt to power through the rest of this week's work.
We're really starting to collect way too many dog toys.  It's funny because every time a subscription box comes for us to review I tell myself I'm going to donate the toys.  We really don't need anymore!  But the dogs always seem to have other plans.  Despite all the toys they have, they always get SO excited when a box of goodies gets here for them.  I try keeping the new toys out of their reach so they don't know what they're missing, but Fen is a little mountain goat and this week climbed on top of my desk just to steal the toys that came in this month's Pooch Perks box - tags and all.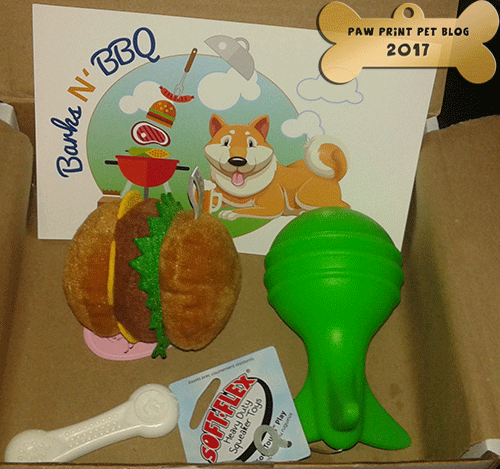 This months theme, by the way, was Barks N' BBQ.  I like that Pooch Perks always sends a little info card with their monthly theme and info about each item included written on it.  This month we received the three toys pictured above.  The Ruff Ruff Couture Cheeseburger is a plush toy with a squeaker.  What BBQ would be complete without a burger?  We also received a Soft Flex Airball that Fen has been having a lot of fun with.  It also squeaks, and the tag says it's designed for tough play.  Fen is a lot rougher with toys than Kit is, so hopefully this will last him awhile.  Lastly we received a Pet Qwerks Flavorit Nylon Bone.  It's supposed to be chicken flavored and it actually does smell like chicken.
Since we have so many toys already, this type of stuff is usually what I get more excited about.  With two dogs, both of which who get daily training sessions, we can always use treats.  Supplies, especially disposables like poop bags, always come in handy too!  In May's Pooch Perks box we received two bags of treats and a 4 pack of Champion Life Eco-Friendly poop bags.  The treats included where a 4 oz bag of Just Chicken treats by Preen Pets and a 6 oz bag of grain free SO Bright beef liver cookies.  Both treats contained ingredients that Kit can't have thanks to his food allergies, but Fen has been enjoying them.
As usual, we have a coupon code for this month.  If this one review didn't convince you to try out Pooch Perks for yourself you can check out some of our past reviews as well.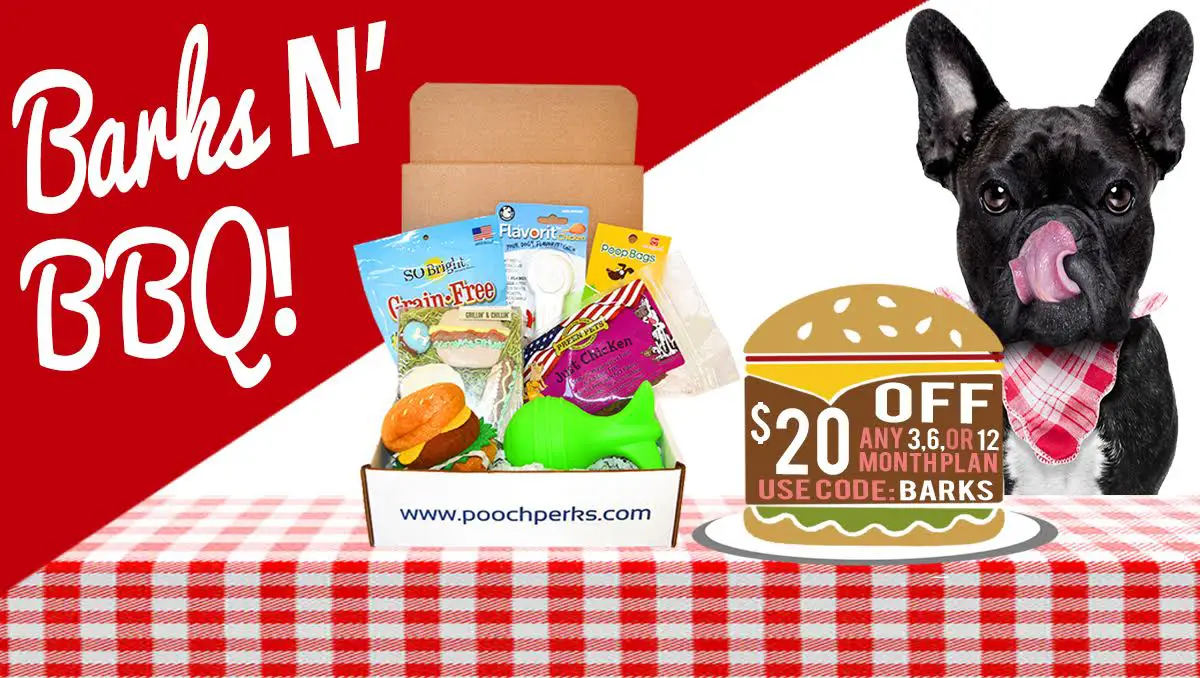 Pooch Perks has a standard box, which will be similar to the boxes we review here.  You can also customize your box to fit your dog's special needs, or purchase a specialty birthday or welcome home puppy box!  Prices range from $19.99 to $35.95 per month depending on your selections.  If you try out Pooch Perks for yourself, be sure to drop by and let us know what you think!
We received our Pooch Perks box for free in exchange for our honest review.  As always, opinions expressed are our own and we strive to only share products we feel our audience will enjoy.  This post contains affiliate Amazon links.  To learn more, visit our Legal Stuff page.