I wanted to get this post up last Friday, but then Fen got sick and I didn't really have the time to sit down and write up our review.  Better late then never right?  Although I'm not sure you can really consider this late, since this is a review for the May Mini Monthly Dog Box of Awesome and, of course, it's still May!
We've been reviewing these mini boxes for a couple of months now and they are pretty awesome, especially when you take into account the price.  They are just $9.99 per month, which is much cheaper than most of the other pet subscription boxes out there.  The boxes we've reviewed so far have all been worth at least double the $10 you'd pay for them when you add up the prices of all the included items.
Our box this month contained two items.  Other months we've received more than two but the toy in this month's box was bigger than what we've gotten in the past.  Despite my dogs being small (10 and 20 lbs) I actually usually prefer giving them bigger toys.  Toys designed for larger dogs often times seem more durable and there's nothing cuter than seeing my little guys dragging around big stuffed animals.  Plus, bigger toys make better snuggle buddies!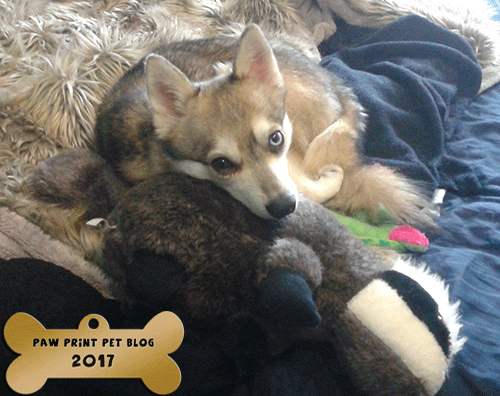 See!  That's Fen snuggling with the PetLou Plush Badger that we got in our May mini box.  It's been one of his 'go to' toys to play with since we got it, and when he was sick last week he kept dragging it up onto the bed so he could snuggle with it.  So cute!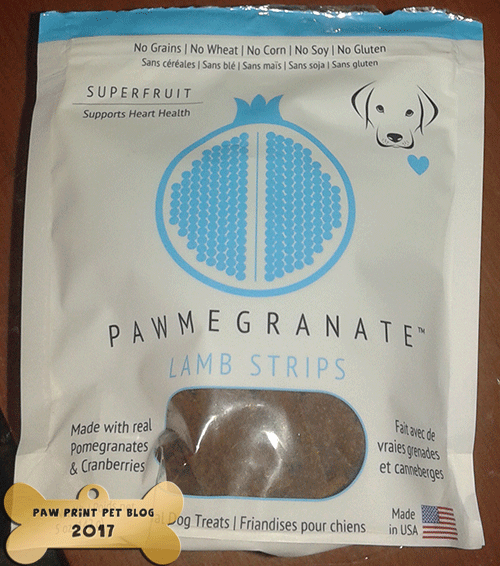 We also got a 5 oz bag of Pawmegranate lamb strips.  These treats don't smell good to me, so I have to make sure to keep the bad sealed, but it must be a human thing because both of my dogs love these.  They are grain, wheat, corn, soy, and gluten free and made in the US.  The treats are packaged as long strips but they are on the soft side and easy to break into pieces so work well for any sized dog.  I've been breaking them into pretty small pieces and using them as training treats.
The Mini Monthly Dog Box of Awesome is, well, awesome especially if you are looking for a lower cost pet subscription option, or if you want to spoil your pooch a bit each month without receiving a large box of items.  My dogs, as you can imagine, don't really need any new toys, but they always get so excited when new stuff gets here.  The mini box is a fun way to give your dog something new each month without having to go overboard or spend a lot.
Disclaimer: This post contains affiliate links.  You can visit our Legal Stuff page for more info.  As always, we strive to only share products we feel will be of interest to our readers.