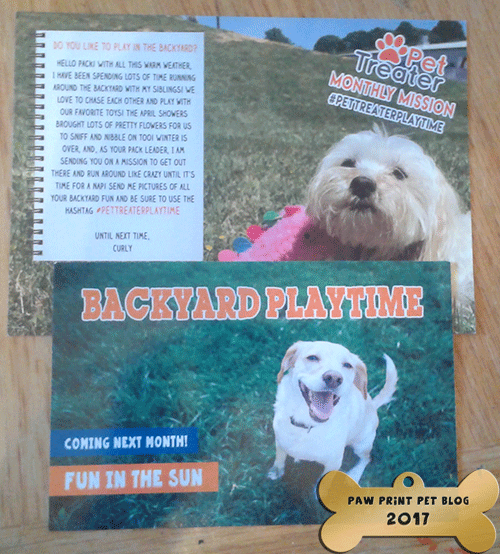 Happy Monday!  I hope everyone had an awesome weekend.  I don't usually like posting reviews first thing on Monday mornings, especially, in this case, since I just posted our Mini Monthly Dog Box of Awesome review last Friday, but like I've mentioned recently dealing with Fen being sick the other week really threw my blog schedule off.  I wanted to get our May Pet Treater review out ASAP so anyone interested in signing up before the June box comes out can.
The theme of this month's box was Backyard Playtime.  Luckily, the items in this month's Pet Treater box would be fun to play with anywhere!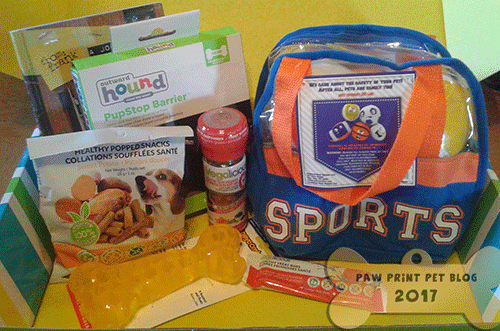 We got a really cute Champion Toys 5 piece toy set.  It's 5 plush squeaky balls inside a fabric/plastic carrying bag.  My boys have been having a blast playing with the balls, and the carrying bag they come in would make it really easy to throw these toys in the car and take them with you when you travel.  The second toy we got is a Honeycomb big bone.  It's a rubber bone with honey comb pattern holes in it that can be stuffed with treats.  You know my boys, Kit especially, love anything that has to do with treats!
Speaking of treats, in our box we got three doggy food items.  The first is a Vegalicious appleberry burst flavored treat bar.  Whenever we get treat bars like this for the dogs I like bringing them hiking with us.  We also got a Vegalicious food topper.  It comes in a container almost like black pepper for humans does, you turn the top of the bottle to grind the food bits into your dog's bowl.  Lastly we got a bag of Vegalicious sweet potato popped snacks.  They almost look like they are supposed to be similar to veggi straws that they sell for humans.  Unfortunately I think our box was jarred around quite a bit during shipping because our sweet potato treats were sweet potato crumbs, but I was able to use some of the more intact pieces as training treats, and both my dogs liked them.
Last, but not least, we got a couple of items that are dog themed but more for us humans.  The first one is a cute journal that matches the desk notes we received in last month's box.  The second is a Outward Hound car barrier that you can use to prevent your dogs from climbing into the front seat of your car.  I love that Pet Treater sends not only stuff for your pups, but awesome dog themed stuff for the humans as well!
Whenever possible I like to post links to the items we receive in our boxes so you can click to learn even more about each item or, if you'd like, even purchase them yourself.  I can't always easily find links for all items as I think subscription boxes sometimes send wholesale and/or discontinued items.  The treats we receive in our Pet Treater boxes are never expired, and are always made in either the USA or Canada.
Just a reminder, you can still use the coupon code "FREE-PTBED" to get a free pet bed with your first order of a 3, 6, or 12 month subscription, or "LOVE-PT5" to get $5 off your first box.  For every box purchased, Pet Treater donates a bed, toy, or blanket to a shelter dog or cat.  Prices start at just $19 per box depending on what payment plan you select.  If you need more convincing before you order, make sure to check out some of our past reviews.  FYI, we review boxes designed for small dogs.  There are other sizes available on the Pet Treater site.
We received our Pet Treater box for free in exchange for our honest review.  As always, we only share items we feel will be of interest to our readers.  This post contains affiliate links.