May is already almost over!  I hope that everyone is looking forward to the approaching summer (if your weather is anything like ours, it might already feel like summer!).  Last month we started our monthly pet favorites series.  This month both my dogs were sick with gastroenteritis, so most of my monthly pet budget (and then some) went to paying for vet bills and meds.  But, like most months, I did still manage to make a few pet related purchases...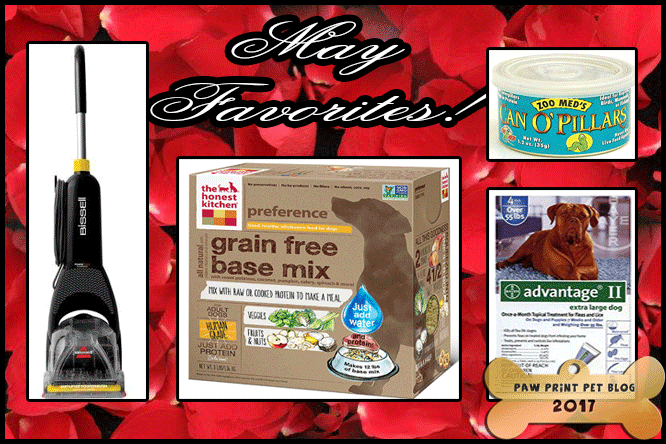 The biggest thing I bought this month was a Bissell carpet cleaner.  This is actually an item I've been debating over purchasing for awhile now.  Both of my dogs being sick at once finally convinced me that this was something we needed!  The cleaner we got has kind of mixed reviews on Amazon but so far we've been happy with it.  It's a smaller, more compact unit compared to some of the other ones you can buy.  For us that was a good thing.  It does a good job cleaning up pet stains/odors on both large rugs and small, and because it's not huge it isn't as hard for us to store.  Space is at a premium in our house!
Next up I bought the dogs their Honest Kitchen Preference base mix.  For anyone who doesn't know, this is a grain free, human grade dry mix dog food.  To make it you mix the base mix with water and then add a protein of your choice, raw or cooked.  I don't feed this to my dogs exclusively but, as I do feed a home prepared diet, it's nice sometimes to have something around that is both easy/quick to make and balanced.
I also got the geckos a little treat this month, a can of Zoo Med caterpillars.  Yeah, I know.  Most leopard geckos only eat live foods but over the years I've convinced mine to start taking prekilled prey items from feeding tongs.  It allows me to feed them a more varied diet without having to keep multiple cages of live bugs around.  These caterpillars are an example of a type of food my girls would probably only very very rarely get to eat if I couldn't buy them canned.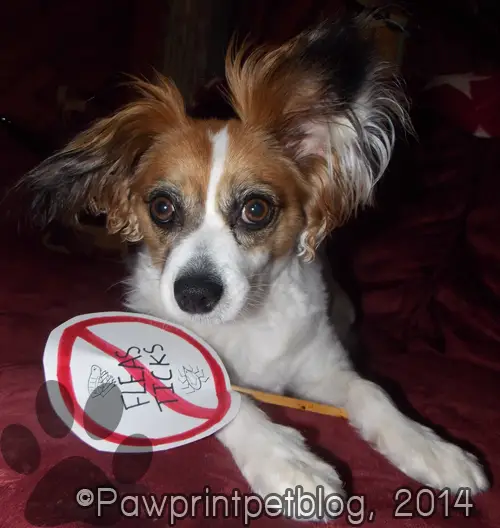 Lastly I bought a box of Advantage II.  This is a topical flea preventative that kills fleas, eggs, and flea larva as well as lice.  To be honest I hate having to put this stuff on my dogs, but Kit has flea allergy dermatitis.  If he gets even a single flea bite he basically goes nuts scratching and biting himself bloody.  I've tried more natural flea preventatives over the years with mixed results, and have come to the conclusion that using Advantage on Kit in the warmer months really is the lesser of two evils.  I'm thinking that this summer I'll use Advantage on Kit and a natural flea shampoo on Fen.  Worst case if Fen gets a flea or two I'll have the Advantage in stock to treat him.  Luckily Fen doesn't react to flea bites anywhere near as badly as Kitsune does.
FYI it wasn't a mistake that I pictured/linked to Advantage for extra large dogs.  I buy the product for large dogs and then pour the contents into a glass vial.  Then I use a needless syringe to measure out how much of the product I need for my small dogs.  This way I can give them an exact dose based on their weight, which means I'm not putting any more chemicals on them then what they need, plus dosing this way does save a good amount of money.  If you're interested in doing something similar talk to your dog's veterinarian, they will be able to provide you with the proper dosage information.
It really wasn't a very exciting month for us as far as purchases go.  Other than buying our new rug cleaner, which wasn't any fun for the pets, I tried to stick to only buying stuff that they needed.  No fun extras this month, but that's ok.  We did get our monthly pet subscription boxes that we write reviews for and the weather has been nice so I've been trying to spend more time outside with the dogs.  I think both of them would pick a nice walk over a new toy any day!
Thanks for reading!  Comment below, did you buy anything fun for your pets this May?  Happy Memorial Day, by the way, to all our US readers!