We post a lot of pet subscription box reviews!  You guys/gals will have to let me know if you ever get sick of reading them.  Currently we review three boxes regularly, with an extra one thrown in every once in awhile.  I've recently considered trying to cut back a bit on these types of reviews, the problem being that my dogs and I always have a lot of fun checking out subscription boxes and the ones we review regularly are all ones we actually really enjoy.  
Pet Treater is for sure currently one of our favorite pet boxes.  A couple of months ago when they asked us to review their Mini Monthly Dog Box of Awesome of course I said yes!  The thing I especially love about the Mini box is that it's much cheaper than other pet subscription boxes we've reviewed.  It's just $9.99 per month, which includes shipping.   So far the items we've received have always had a total value above and beyond the $9.99 you'd pay per month.  This is what we got in our June box...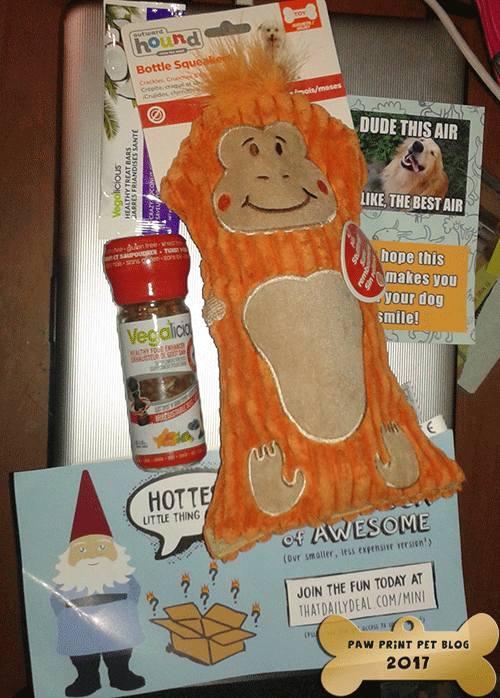 The toy is a bottle squeaker by Outward Hound.  This toy is stuffing free.  Instead of stuffing there's a bottle inside.  The cap of the bottle turns the bottle into a squeaker, which is awesome because if the bottle ever gets punctured and stops squeaking all you have to do is unscrew the cap and put it on a new bottle.  Fen has been loving this toy since it got here.  He likes to play with bottles anyways, but add a squeaker and put it all in a cute plush covering and we have a winner!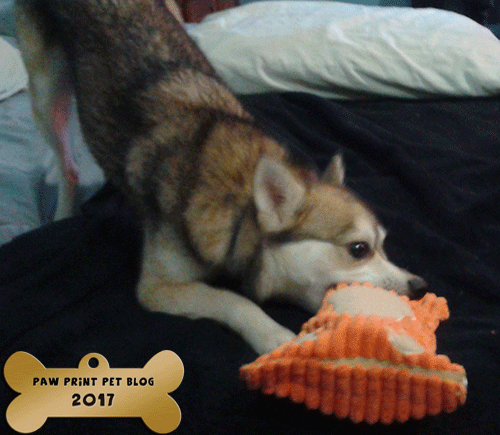 This toy alone retails for over $12 on Amazon but we also received two additional items.  We got a 40 gram bottle of Vegalicious food enhancer and a Vegalicious healthy treat bar.  I usually save these types of bars for when we take the dogs hiking but Kit seemed especially interested in this one when we opened our Mini box so I let him try it.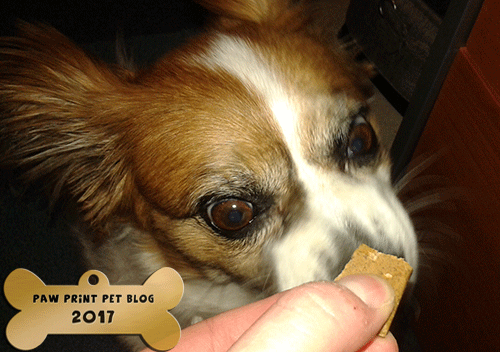 Fen wasn't overly interested in it (he's a super picky eater) but he did actually eat it, which is more than I can say for a lot of foods.  Kit, on the other had, really seemed to enjoy it.
One thing I will note is that if you are already subscribed to Pet Treater and you check out the Mini box too, you may receive duplicate items.  The two Vegalicious items we actually also received in our May Pet Treater box.  Getting duplicate bags of treats or other food items isn't a big deal for us since those types of items don't last long around here anyways.
So far we haven't received duplicate toys, but that might have to do with the fact that we review the Pet Treater boxes for small dogs.  The toys we get in our Mini boxes I believe are also sent in Pet Treater boxes for larger dogs.  FYI because my little guys play pretty hard, I actually enjoy receiving toys designed for larger dogs.  Fen in particular seems to like playing with larger toys, and toys designed for larger dogs tend to last us longer.
If you check out the Mini Monthly Dog Box of Awesome (that name is a mouth full) you'll have to stop by and let us know what you think!  So far we've been pretty impressed with it.  I think it would be an awesome option for someone who doesn't want to pay a lot for a dog subscription box, or for someone who wants a few things to spoil their pup with each month but doesn't necessarily need a whole huge box.
Disclaimer: This post contains affiliate links.  You can visit our Legal Stuff page for more info.  As always, we strive to only share products we feel will be of interest to our readers.