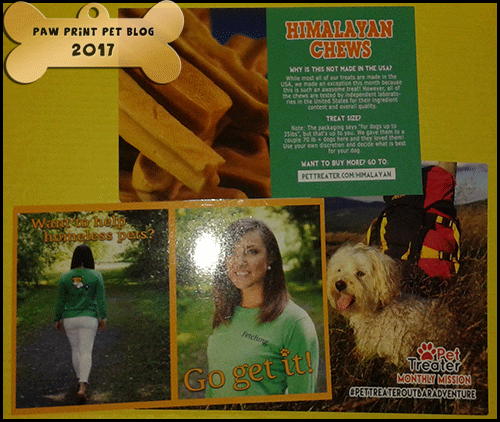 Summer is not my favorite season!  Although it technically only started a couple of days ago, I'm already ready for the cooler weather.  It's been hot and humid here which has been no fun for me or the dogs.  Lately it's been either too hot, or too rainy, to take the dogs to the park or spend any significant amount of time playing outside, which means I have to find ways to keep everyone entertained inside.
Last week our June Pet Treater box arrived.  Subscription boxes are especially fun when you have two bored pups on your hands!  I'm not sure what this month's theme was.  We got a few inserts in our box (picture above) but not one that showed this month's theme.  Whatever the theme, here are the items we got in our June box...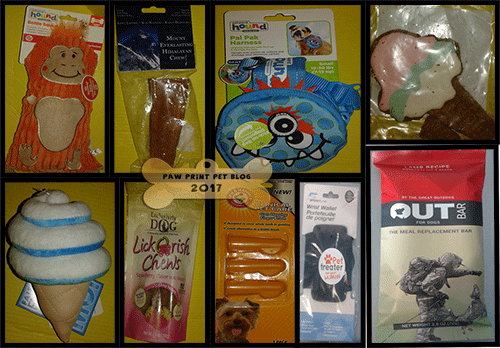 We got two toys, an Outward Hound bottle squeaker monkey and a FouFit Freeze 'N Float ice cream cone toy.  We actually already have the bottle squeaker toy because we received it in another one of our subscription boxes, but Fen really loves it.  I'm thinking I'll hold on to the new one in case I ever need to replace the one he has.  I have to try freezing the ice cream cone toy.  I haven't tried it yet, but I'm thinking it might be a fun toy to help the dogs cool down when it's hot.
We got a few food items in this month's box as well.  The first was a Mount Everlasting Himalayan Chew.  Both my dogs have had Himalayan chews before and enjoy them.  I like giving them to the pups because they are long lasting and a good alternative to less healthy chews like rawhide.  Himalayan chews are usually on the pricey side as far as chews go so I was impressed to see one in a subscription box.  We also got a bag of LickORish Chews by Exclusively Dog.  These treats smell really bad to me but maybe it's just because I'm not crazy about licorice?  The boys seem to like them.
We also received an Out Bar meal replacement bar.  When we get these types of items usually I like to hold on to them until we go hiking.  They are easy to throw into my pack and are a great snack for the dogs on the trail.  However, I ended up splitting this bar between my two while we were home one day because I forgot to thaw out their food in time for dinner.  The bar we got was lamb flavored and both my dogs really liked it.  Last up for the food items, we received a ice cream cone shaped treat from Emmy's Gourmet Canine Creations.
Other than toys and treats we got a couple of dog supply type items.  The first was a three pack of Arm & Hammer gum hugging finger tooth brushes.  I didn't know before that Arm & Hammer makes pet products.  We'll get use out of our toothbrushes for sure, since I do try to brush my boys' teeth every other day.  We also got an adorable Pal Pack Harness by Outward Hound.  I think the small sized harness we received might be too small for Kit, but it should fit Fen!  It actually works out perfectly because blue is Fen's color, and the harness has monsters on it.  I often call Fen my "little monster".
Last, but not least, our "Pet Treater for your human" item this month was a wrist wallet by SportLine.  I haven't tried it out yet but I think it should work well to hold things like money or my key if I want to run the dogs out without having to bring my purse or stuff things in my pockets.  I love that Pet Treater always sends a little something for the humans as well as all the stuff they send for the dogs.  They're the only pet subscription box I've seen so far that does that.
I feel repetitive always telling you guys this stuff but just in case we have any new readers, Pet Treater offers a few different size options for their boxes.  Our reviews are for the small dog box.  Prices start at just $19 per box depending on what payment plan you select.  Pet Treater also gives back by donating a toy, bag of treats, blanket, bed, etc to a shelter in need for every box they ship out.  How awesome is that?
If you need more convincing or would just like to get a better idea of what type of items you'll receive each month feel free to go back and check out some of our previous reviews.  FYI we've been reviewing pet subscription boxes here for years now and Pet Treater is for sure one of our favorites!
Just a reminder, you can still use the coupon code "FREE-PTBED" to get a free pet bed with your first order of a 3, 6, or 12 month subscription, or "PT-5OFF" to get $5 off your first box.
Lately we've been working on improving our Youtube channel and decided it would be fun to try our hand (and paws) at unboxing videos.  We're new to this, so be gentle, but below you can watch the video of us unboxing our June Pet Treater box...
We received our Pet Treater box for free in exchange for our honest review.  As always, we only share items we feel will be of interest to our readers.  This post contains affiliate links.