I hope everyone had an awesome weekend!  It's a bit cooler here today than it's been so I was finally able to get the boys out for a decent walk this morning.  Apparently at least half the dog owners in the city had the same idea I did because the park was packed full of people walking dogs.  I wanted to work on the boys' training a bit but other dogs have always been a big distraction for both of my dogs.  Of course I want both of mine to be able to focus on me even with distractions present, but the sheer number of other dogs at the park meant I had to train with the absolute best treats.
Speaking of the best treats...last week we got the opportunity to check out a pet subscription box that we've never tried before.  It's called Prized Pet Box and it's basically a monthly dog treat box.  The box is $18.99 for one or you can sign up for a monthly subscription and pay a discounted price of just $16.99 per month.  Each box includes at least one 8 oz treat, one 5 oz treat, some type of meat chew or treat, and one random surprise treat.  To give you a better idea of the type of treats you'll get in each box take a look at what we got in our June box...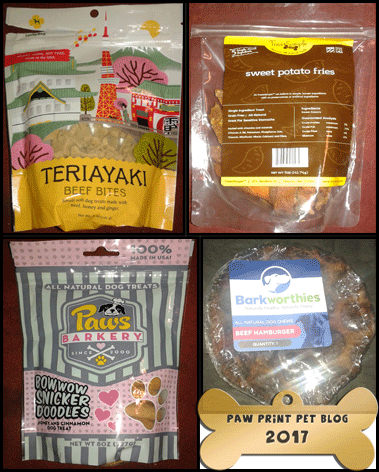 We received a 5 oz bag of Lucky Dog Teriayaki Beef Bites.  These treats are shaped like small bones and are easy to break into smaller pieces, so make awesome training treats.  We also got a 5 oz bag of Sweet Potato Fries by Treat Simple.  My dogs, Kit especially, enjoy sweet potato treats.  I like that these treats are simple, all natural, and don't contain any unhealthy, unnecessary ingredients.
Next up we got a bag of Paws Barkery Bow Wow Snicker Doodles treats.  These treats came in an 8 oz bag and are honey and cinnamon flavored.  Like the other treats in this box they are made in the USA.  They are also easy to break into smaller pieces so I can use them as training treats or just offer my small dogs smaller treats.  Lastly, our meat chew/treat was a Barkworthies beef hamburger chew.  I broke this in half to give half to each dog and they both really enjoyed it!
I have to say it was nice to get a box that contained only dog treats.  Toys are fun and all, but depending on your dog's play style toys can last a long time.  Not every owner needs a box full of new dog toys every month - but what dog doesn't love treats!?  I do a lot of activities and training with my boys so dog treats are one thing that usually don't last long around here.  Case in point, we currently have 4 (yes 4) toy boxes full of dog toys but up until I received my subscription boxes to review last week I was completely out of dog treats.  I was using small pieces of cheese to train the boys because I didn't have the time to make them treats myself.
FYI if subscription boxes aren't your thing Prized Pet is also an online retailer that sells products for both dogs and cats.  I browsed their site for a bit and they have some high quality items for great prices, especially if you check out their sale page!
I know this is the part of the post you've all been waiting for!  If you do decide you want to check out Prized Pet for yourself you can enter the coupon code PAWPRINT to get your first box for just $9.99 when you sign up for a subscription. 
The Prized Pet team was also nice enough to set up a giveaway exclusively for Paw Print readers!  All you have to do to enter is visit this site to enter your information.  The contest will end on July 31st at midnight, so make sure you enter before then.  The winner will be contacted on August 1st via email so keep an eye on your email in August to see if you win!
Disclaimer: This post was sponsored by Prized Pet.  We received our Prized Pet box for free in exchange for our honest opinion.  As always, Paw Print Pet Blog strives to only share content we feel will be of interest to our readers.  This post contains affiliate links.