As of today, there's *only* 173 more days until the first day of winter!  Can you tell that I'm pretty much over how hot it's been here lately?  I've said this before, I know, I'm not crazy about being that person who is always wishing their life away a day at a time.  But with so much awesome stuff to look forward too in the not too distant future, it's hard not to feel like the time is passing by all too slowly.
Luckily June was a pretty normal month as far as our finances go.  No unexpected vet bills or anything like that, which was awesome after the rough month we had in May.  Honestly I didn't spend much money on the pets this month.  I got a few things but nothing too interesting.  I'd say that I had a hard time selecting items to talk about in this month's Monthly Favorites post but to be honest, I think these are really the only pet related things I bought...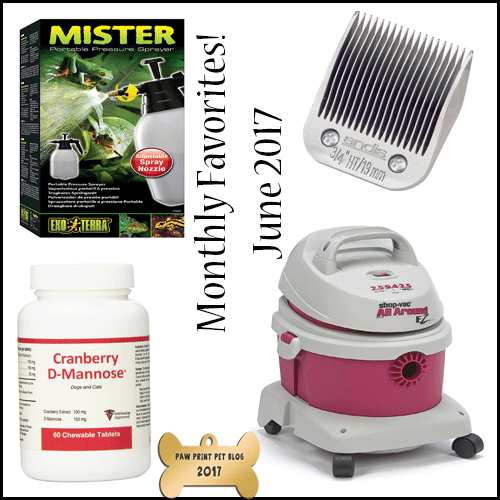 I bought an Exo Terra mister.  I got it to spray the moist hides/moss in my gecko tanks but actually have been using it a lot more for my house plants than for any of my pets.
I also picked up a bottle of Cranberry D-Mannose tablets for Kit.  I don't think I wrote about it other than maybe mentioning it in passing, but earlier this year Kit had some issues with reoccurring UTIs.  His vet actually recommended I try this supplement with him and right after I started him on it he stopped getting UTIs!  I love that I don't have to fight him to get him to take these - they are in tablet form but must taste ok because Kit takes them like they are treats.
Another thing for Kit - this month I had to replace the blade on our Andis pet clipper.  I mostly use it to give him sanitary trims and to clip the fur off the bottom of his paws.  My old blade was dull and I haven't gone through the trouble to find a good place where I can get it sharpened.  I figured replacing the blade is easy enough and not too expensive considering the last time I bought one it worked well for quite a few years.
Last, but not least, I impulsively purchased a 2.5 gallon capacity Shop-Vac.  I've only had it for a few days now but I have to say that so far I don't regret buying it.  For years I've been using an old Shark upright vacuum to clean Barnaby's room, including the inside of his cage and litter box.  I was impressed that the Shark lasted as long as it did under that kind of abuse but as of late I've been having a lot of problems with it.  The last straw was earlier this week when the hose broke.  When I looked into replacing the hose I found out it would cost me around $30, but for not all that much more I bought a brand new Shop-Vac.  Although getting it this week was a bit impulsive I've actually been thinking of getting one for quite awhile now.
There you have it.  Other than those four items and food for the dogs I don't think I bought anything else that's pet related.  I don't mind spending money on my animals, of course, but after all the vet bills I had to deal with when the dogs were sick last month it was nice this month to be able to give my bank account a bit of a break.
Who knows what next month will bring?!  Hopefully only good things.  Thanks, as always, for reading and I hope everyone has an awesome July!