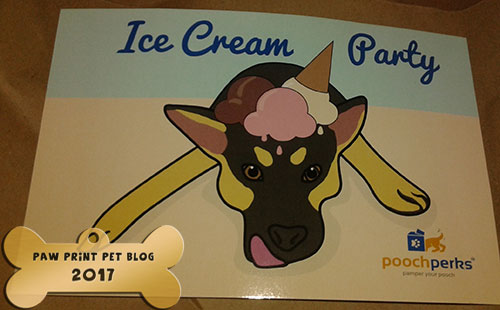 Our first post of July!  I hope that everyone had an awesome weekend, and that our American based readers have an amazing 4th of July tomorrow.  I thought about writing a post about 4th of July safety but...been there done that!  The boys received their July Pooch Perks box last week and I figured I wouldn't waste any time telling you all about it.
The theme this month, as you probably already noticed in the picture above, was Ice Cream Party - a great theme to go with the hot summer weather!  As always, this month we got a combination of food items/treats and toys.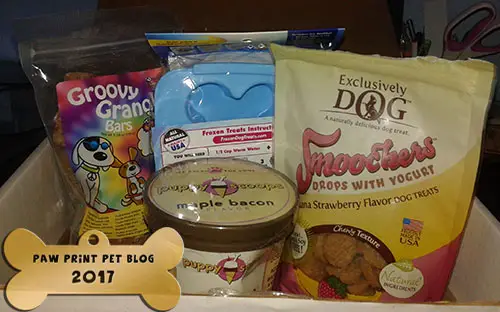 The food items we received included a 5.25 oz bag of Groovy Granola Bars by Healthy Dogma, and a 7 oz bag of Smoochers by Exclusively Dog.  We also got a really cool hip and joint frozen treat by Pet Cakes.  The flavor is very berry and this treat came with a reusable plastic dog bone mold.  Lastly, we got a container of Puppy Scoops in the flavor maple bacon.
I feel like almost every time we get a bag of Exclusively Dog treats they smell really bad to me.  I keep a lot of my dogs' treats on a shelf next to my desk and whenever we have Exclusively Dog treats I have to make sure I do a good job at closing the bag, or else the smell starts to bother me.  The funny thing is that, while they smell bad to me, both my dogs (yes even picky Mr. Fen) like these treats.
To be honest my boys haven't tried the Groovy Granola Bars yet.  Kit can't eat them because they contain eggs and I have a few bags of open treats that I want to go through before I open a new bag.  The Pet Cakes frozen treat I am saving as well because I thought it might be a fun treat to use in one of our weekly pet videos.  I didn't make the maple bacon ice cream yet either, but the boys have both had Puppy Scoops ice cream before (although not this flavor) and enjoyed it.  Fen's birthday is next month (!) so I'm thinking I might save the ice cream for his birthday.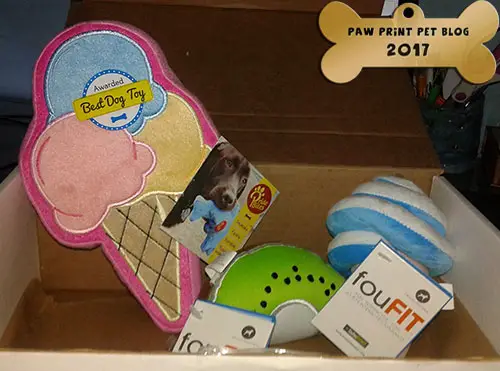 Next up, toys!  We got three toys in this month's Pooch Perks box.  We got two toys from FouFit, an ice cream cone toy and one that looks like a kiwi fruit.  These toys are supposed to float and you can also freeze them for summer time fun.  If the blue ice cream cone toy looks familiar it's because we actually also got the same toy in our last Pet Treater box.  Lastly, our Pooch Perks box also contained an ice cream themed toy by Pride Bites.
I loved the Ice Cream Party theme this month!  I felt like it was particularly fitting for Fen, my little snow dog who's been suffering through the summer heat.  Not to be left out, the frozen hip and joint treat I feel like will be an especially good treat for Kitsune, who at 8 and a half years old has developed some minor joint issues over the years.  If you got this box, what do you think your dog's favorite item would be?
Want to check out Pooch Perks for yourself?  As usual, we have a coupon code to share this month (see below).  If you'd like to get a better idea of the types of items you'll receive you can go back and check out our past reviews.  When you sign up for Pooch Perks you can choose between their standard box, or you can customize your own.  There are four dog size options plus an option to tell Pooch Perks that you have multiple mixed sized dogs.  We review the Popular Pooch box for small sized dogs.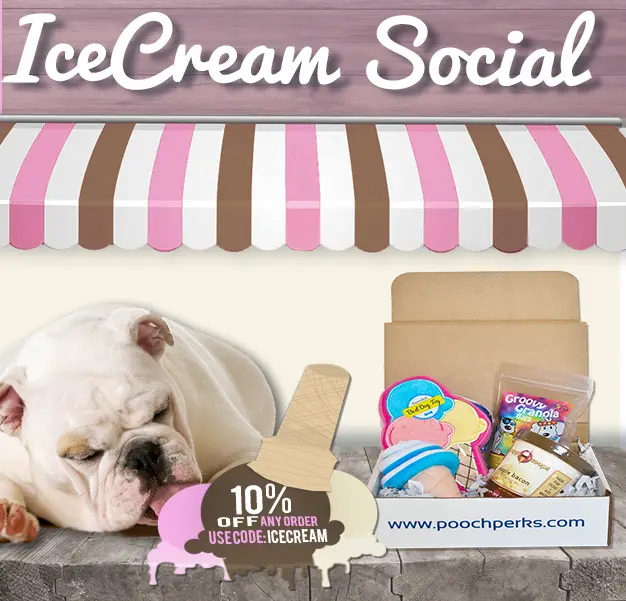 We received our Pooch Perks box for free in exchange for our honest review.  As always, opinions expressed are our own and we strive to only share products we feel our audience will enjoy.  This post contains affiliate links.