Hey everyone!  Today we're posting our review for our July Mini Monthly Dog Box of Awesome.  Since we already posted our Pooch Perks review earlier this month, this will be review two out of three for the dog subscription boxes that we review regularly.  We are currently up to three boxes that we review on a monthly bases, plus most months we get quite a few requests to do one off reviews for additional pet subscription companies as well.  I keep thinking that maybe we should cut back on the number of surprise box reviews we do each month, but my dogs have SO much fun with them, and our reviews generate a lot of views so I figure at least some people must be interested in reading them.
Not to mention that each box is unique, so deciding which one to stick with would be hard.  The Mini Monthly Dog Box of Awesome, for example, is one I love to share with my readers because it's one of the cheapest dog subscription services we've come across.  It's just $9.99 per month, and that includes shipping!  Each box contains at least one treat/food item and one toy.  In addition to being cheap, this is also an awesome box for anyone who wants to spoil their dog a bit each month but doesn't necessarily need a huge box full of items.
If your considering checking out the Mini Box for your dog, but this review isn't enough to convince you, you can go back and read some of our previous reviews as well.  Here's what we got in our July box...
First up our food item this month was a turkey flavored Out Bar!  These are doggy meal replacement bars that are awesome especially if you hike, camp, or otherwise spend the day away from home with your dog.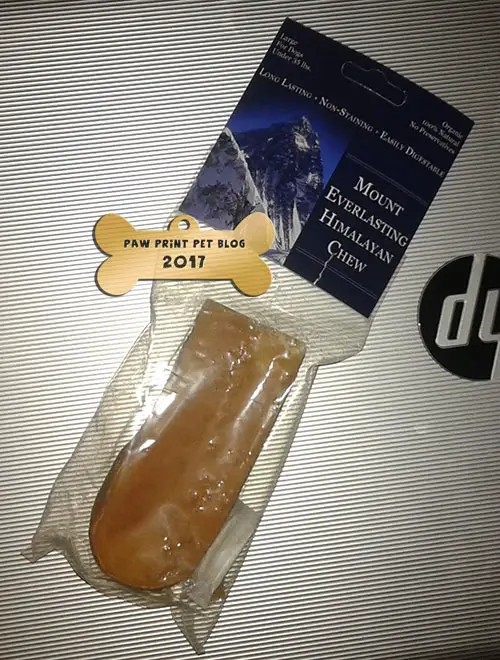 In addition to the Out Bar we also got a 2 oz Mount Everlasting Himalayan Chew.  At our house we call Himalayan chews "cheese chews".  They are essentially a really, really hard cheese.  Don't get the wrong idea though, these chews don't smell bad at all.  What's awesome about them is that they last most dogs a long time.  They are a great alternative to rawhide, which in most cases is not a very safe/healthy dog chew despite how common it is to see it sold in stores.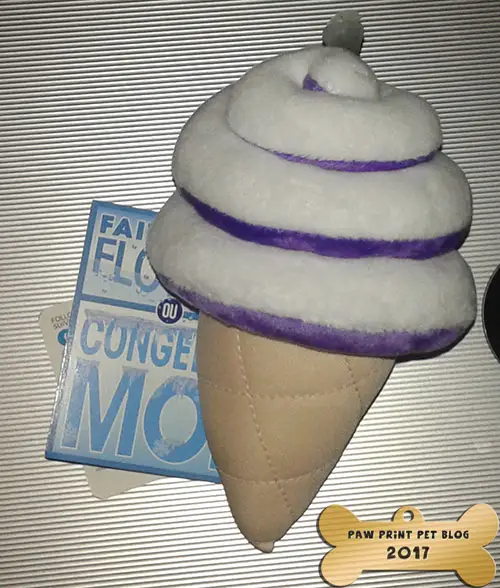 That toy probably looks familiar!  This doesn't usually happen, but this is actually the third  FouFit ice cream toy we got this month.  That wouldn't be a concern for most people, though, since I'm pretty sure most dog owners don't get multiple dog subscription boxes every month.  This is a really cute little toy that floats and can be put in water and frozen as well.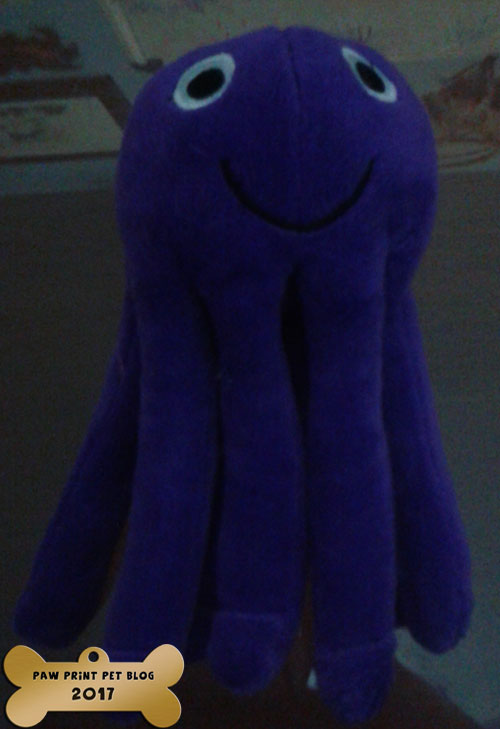 Lastly we got this really cute squeaky octopus toy.  Fen has been playing with this little guy everyday since we got our box but unfortunately this toy didn't have a tag on it so I'm not able to share the brand or where you could buy it.  Sorry about that!
So there you have it, our July 2017 Mini Monthly Dog box of Awesome!  Like I mentioned above they say you get at least one toy and one treat per box but most months our boxes have had more than two items.  I feel like these boxes in general have been pretty well balanced.  Sometimes we get just one toy but the times that has happened the toy has been large and higher quality or they make up for just sending one toy by sending more treats.  I've always felt that these boxes have for sure been worth the $9.99 you'd pay for each one.
If you check out this box for your dogs you'll have to stop by and let us know what you think!
Disclaimer: This post contains affiliate links.  We receive our Mini Boxes for free in exchange for our honest reviews.  As always, we strive to only share content that we feel will be helpful/enjoyed by our audience!