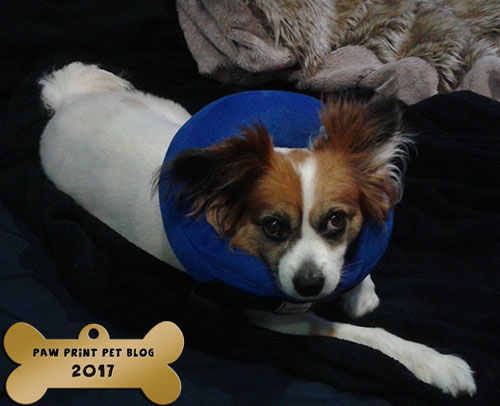 I posted last week about Kitune's battle with the summer time itchies/hot spots (warning - that link contains images of Kit's hot spots, if images of dog wounds/blood bother you don't click!).  Luckily since that post the spot on his neck has healed up really well, but silly Kit kept scratching/chewing the spot on his rump as well as a couple of new spots - one on his tail and one on his front leg.
The other day I ended up having to cut huge chunks of Kit's tail fur off because while chewing on his tail he made his fur all matted.  Luckily we're trying a new supplement recommended by our holistic vet to reduce Kit's itchiness, and so far it actually seems to be helping!  I'll post more about it after we give it a bit longer of a trial run.  In addition to that, plus weekly baths and the other things I outlined in our previous post, we also ended up getting a cone for Kit.
If you'd still call it a cone?  The one we got him is inflatable and very soft.  It's basically like Kit's walking around with a portable pillow already attached to his head.  We kept it on him for a few days, long enough for his hot spots to start healing and his new supplements to start taking effect, then started giving him more time without the cone.
He's currently cone free, although I'm keeping it inflated and ready to go in case I catch Kit hurting himself again.
If your dog(s) have ever needed a cone, how did they react to wearing it?  I was glad that Kit didn't seem to mind wearing his!