Usually when we get items in our pet subscription boxes, we briefly tell you all about the individual items in our box reviews but never go into much detail.  This week I thought it might be fun to take a closer look at one of the items we received in our July Pooch Perks box.  When we wrote our Pooch Perks review we showed you the Pet Cakes frozen treat, but because we hadn't actually made the treat we couldn't really review it.  Last week we had a couple of really hot days which I figured would be perfect for letting the dogs try a frozen treat.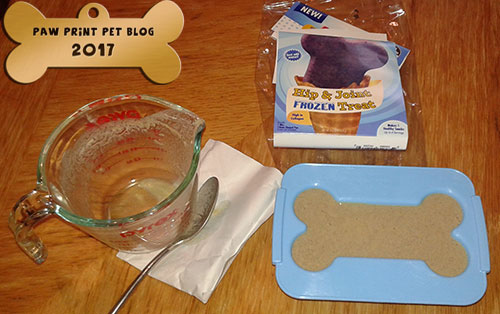 We received the Pet Cakes frozen hip & joint treat in the flavor "very berry".  The kit contained a blue plastic bone shaped mold, instructions, and a packet of powder.  The treat was super easy to make.  All you have to do is mix the powder packet with 1/2 cup of warm water, pour the mixture into the bone mold, then freeze it.  1/2 cup of water with the mix was the perfect amount to fill the bone mold up to the top.  The mold is made from a sturdy plastic so carrying it from my table to the freezer without spilling any mix was easy as pie (or...ice cream?).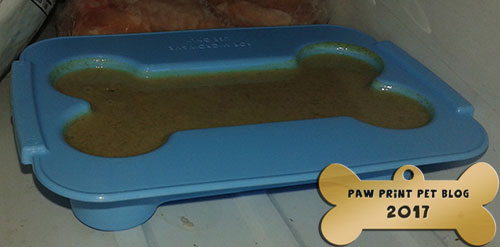 This treat packaging says it's all natural and made in the USA.  The ingredients included dehydrated yogurt, collagen hydrolysate, dried honey, blueberry powder, strawberry powder, and turmeric.  Turmeric is something I've been adding to Kit's diet for awhile now, you can read about some of the benefits here.    Collagen hydrolysate is an amino acid that can help to generate cell growth, supports the replacement of fluids within joints, and helps to repair cartilage weakness.  These two ingredients are what make this a "hip and joint" treat, while the other ingredients I suspect are just there for flavoring.
Speaking of flavoring - this treat did not smell good to me.  I thought maybe it would smell good, like berries, but (to me at least) it didn't really smell like blueberries or strawberries.  Ah well - hey, it's the dogs who have to like it after all, not me!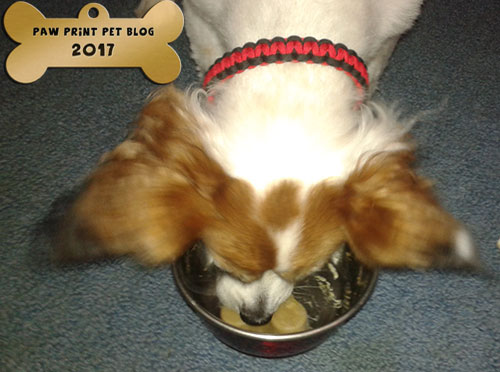 And like it they did!  Both Kit and picky Mr.Fen seemed to enjoy this treat.  The instructions include a picture of how you should cut the frozen treat to get 4 servings, as well as a feeding guide.  I gave each of my dogs a serving each because I didn't want to give them extra and risk anyone getting an upset stomach.  Both dogs, Fen especially, seemed a bit unsure of how to eat the treat at first.  They spent a lot of time licking at it, Fen seemed to favor letting the treat melt a bit into his bowl then lapping it up while Kit didn't take long to start just biting into his piece.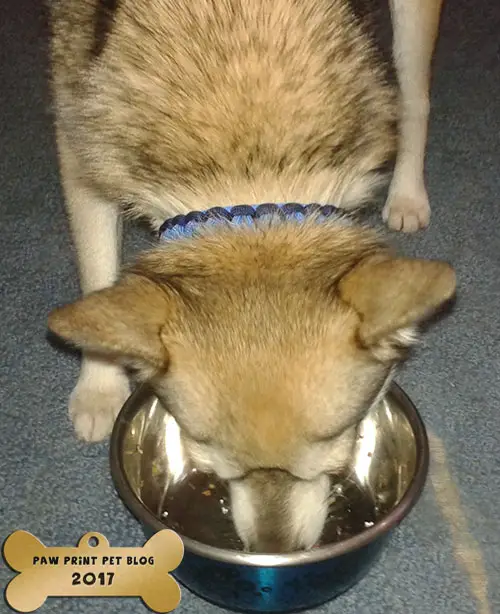 Whatever their eating styles, both dogs did like the treat.  I liked that it was so simple to make, and the ingredients aren't horrible for a commercial dog treat.  It did contain some beneficial ingredients, although I don't know how much good they do when being fed as a one time treat.  The kit came with a cool plastic dog bone mold that is reusable.  I'm thinking I might use ours to make a few doggy ice cream recipes of my own.
I won't be running out to buy this treat again but if we ever received another one I'd happily make it for my boys.  I bet it would be a fun treat to make to celebrate a doggy birthday, or, like we did, just to help your dogs cool down on a hot summer day.