How fast did July fly by?  Hopefully everyone had an awesome month.  I'm actually kind of glad the month is almost over because it means we're that much closer to the end of summer.  I know a lot of people really enjoy the summer but I'm a cold weather creature.  Oh, plus August 1st is our little Fenrir's birthday which I'm excited about.  He'll be 2 tomorrow!
This month, like most, I had to buy a few pet products.  Here's what I selected for our July favorites...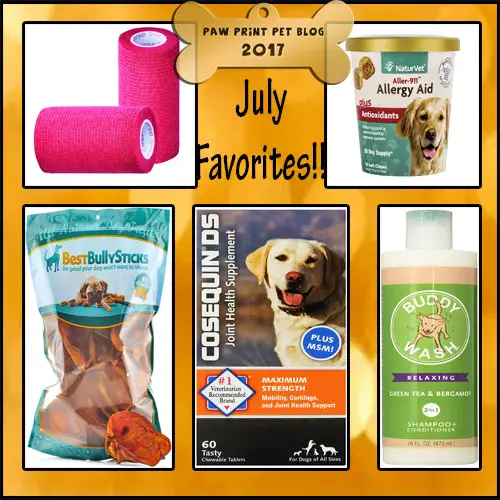 First up - I stocked up on Vet Wrap, in red of course (for Kit).  I haven't actually used this yet but it's cheap, and is one of the items I like to keep stocked up on in our first aid kit.  It works great for not only dogs, but people as well.
Next up I also got Kit a container of NaturVet Allergy Aid.  I'm planning on writing a more in depth review of this product at some point.  I've been giving it to Kit daily for around a month now and although it hasn't completely eliminated the issues he's been having with seasonal allergies it does seem to be helping him!
I got a big bag of Best Bully Sticks USA pig ears.  I got these to give Fen for his birthday tomorrow but, of course, he'll have to share them with Kit!
I also got a bottle of Nutramax Cosequin DS joint supplements for Mr. Kit.  He's been on a joint supplement for awhile now as he has mild arthritis in his hips.  I wanted to up his dosage a bit and decided to try a new brand rather than giving him a higher dosage of the brand he was already on.  Cosequin came highly recommended so hopefully it works well for Kit.
And lastly I'm featuring Buddy Wash by Cloud Star, which is an item I know I've posted about here before.  I've been using this shampoo/conditioner 2 in 1 on Kit since he was a puppy and really love it.  It leaves his fur feeling clean and soft but is gentle enough that it doesn't dry out his fur or skin, even in the warmer months when I bathe him weekly.
That's it for July!  I didn't end up spending too much money on the pets this month.  Most of the items we needed/wanted for Fen's birthday tomorrow I actually already had or made myself.  I'll post more about his birthday on Wednesday, so stay tuned for that.
Until then, I hope everyone enjoys what's left of July and that you have an awesome start to August!  Comment below - did you buy anything fun for your pet(s) this month?