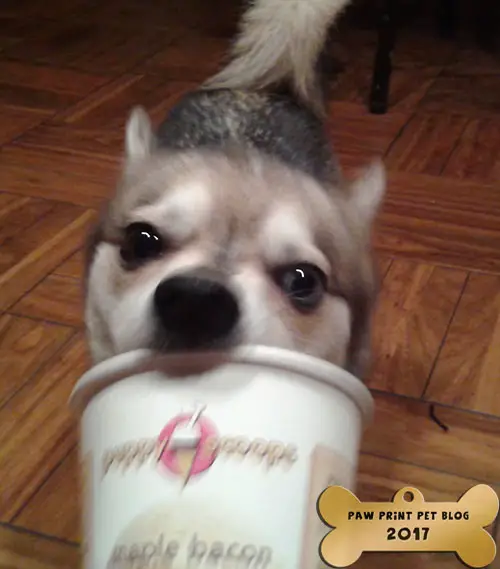 Yesterday, August 1st, we celebrated little Fen's 2nd birthday!  Aw they sure do grow up fast.
It was a sweltering 90*f with high humidity so our planned trip to the park was out, but I think Fenrir had a fun day nonetheless.  He spent most of the day playing and snuggling with his big brother Kit.  Later in the day, once it started to cool off a bit, I made homemade pizza and the dogs had pupcake and doggy ice cream.  
If you can't tell from the pictures...the boys were big fans of the Puppy Scoops maple bacon doggy ice cream!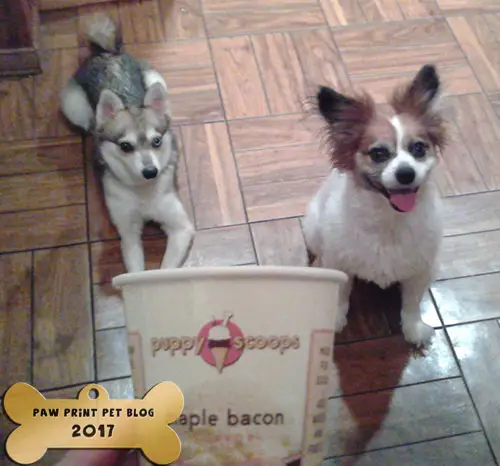 Fen got a few gifts - a couple of toys, a new leather collar that I made him, and a big bag of chews that he'll have to share with Kit.  Speaking of Kit, don't worry, he didn't feel left out on his brother's special day.  He got pizza, cake, and ice cream after all, and the quickest way to Kit's heart is through his belly!
After dinner (don't worry, I don't normally feed the dogs that much junk!) we all went for a nice walk then came in and snuggled up on the couch for a bit.
I can't believe my little pup is 2 already!    Look at how adorable he was as a baby...
It's almost hard to believe that was him!  He's changed so much as he's grown.  Not that he got very big, Fenrir often looks bigger than he is in pictures.  He's only 11 lbs and now that he's 2, most likely won't be getting any bigger.  A lot of people consider dogs to be adults once they hit 2, but I have a feeling Fen will be our puppy for a long time yet to come.  He's certainly still as playful as one!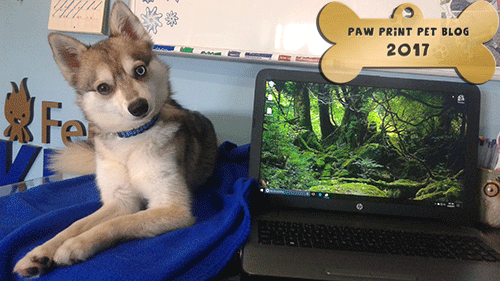 As is our birthday tradition, I'm currently working on Fen's birthday video for this year.  It's probably going to take me a few extra days to get it done since I have a lot of other work I need to catch up on this week.  I'll come back and post it here when it's finished, and will share it on our Facebook page as well.
*Edit to add* Here's Fen's birthday video!  Better late than never right?
Happy birthday little one!  We hope to celebrate many, many, many more happy birthdays with you!