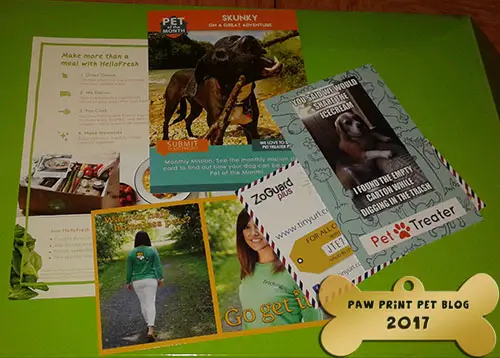 So I know it's August, and that the blog post title says July.  We received our July Pet Treater box near the end of the month last month.  Because we got it later than usual, and I already had posts planned for the last week of July, our July Pet Treater review is going up a bit late.  We can pretend it's still July right?
Not that it matters too much.  The main reason I like sharing these subscription boxes is so that anyone who may be interested in subscribing for their dog can go back and look at a few months' worth of reviews, which should give you a pretty good idea of the type of stuff you'll receive each month.  Our first Pet Treater review was posted in April of 2016, so we've been reviewing Pet Treater for over a year now.  Out of all the boxes we've reviewed over the years I'd have to say that Pet Treater has been one of our favorites.  They always send a nice balance of toys and treats, but also send items I don't see much of in other boxes such as pet care items, dog themed home items, and they send a treat for you (the human) every month too!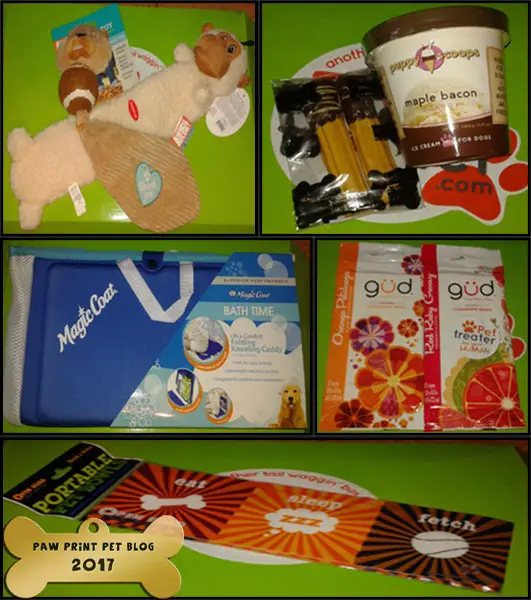 This (plus the one thing I forgot in the picture above) is all the awesome stuff we got this month.  We received two toys.  The first was a Petlou 17'' flat fleece monkey.  The money has a squeaker in his head and crinkle material in his body.  I gave this toy to Fen for his birthday earlier this week and he loves it!  Fen has always particularily liked toys made out of that fleece/berber type material.  The second toy was a plush beaver with a tennis ball and squeaker by Animal Planet.  I couldn't find the exact toy we received online so it might be an out of production item, but that's not a big deal when it comes to toys.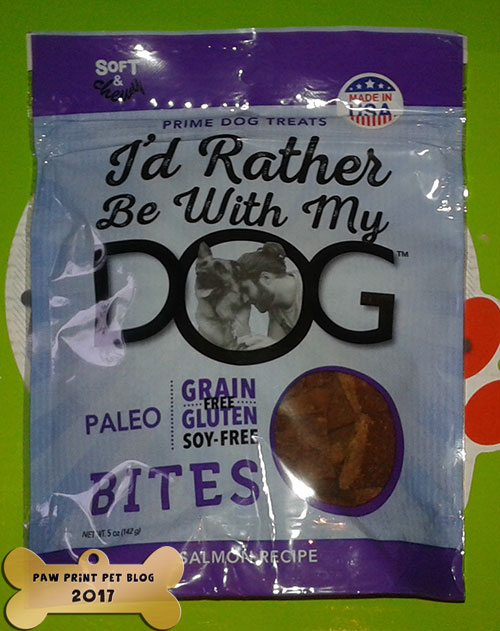 Next up we received a couple of treats for the boys.  The first is a container of maple bacon flavored Puppy Scoops doggy ice cream.  This is a powdered mix that you mix with water then freeze to make dog ice cream.  I made this last Tuesday for Kit and Fen to share on Fen's birthday, we included photos on our Instagram and on Fen's birthday post last Wednesday for anyone who's interested.  We also got two Fetch it! Sticks by Three Dog Bakery, and a bag of I'd Rather Be With My Dog salmon recipe treats.   Unfortunately the salmon treats and the Fetch it! Sticks contained ingredients that Kit can't have because of his food allergies, but Fen seemed to enjoy both treats.
You'll have to bear with me here, this box contained a lot of goodies!  Next up we got a really cool Magic Coat bath caddy.  It's basically a cushion you can kneel on to give your dogs baths, but it also has an area with pockets to hold things like your dogs shampoo and other grooming tools.
Our Pet Treater for your Human gift this month was two packs of Gud natural cleansing wipes.  Each pack contained 10 wipes and we got the scents Red Ruby Groovy and Orange Petalooga.  The wipes smell good and will for sure come in handy in our house.  Last, but not least, we got a two pack of portable pet bowls by Shark Skinzz.  Each bowl holds up to 36 oz and would make excellent travel bowls.
This month we have a few new coupons to tell you about!  The code PT-5OFF gets you $5 off your first Pet Treater box.  Or you can use the code BARKICECREAM to receive 2 free pints of Puppy Cake Ice Cream in your first box!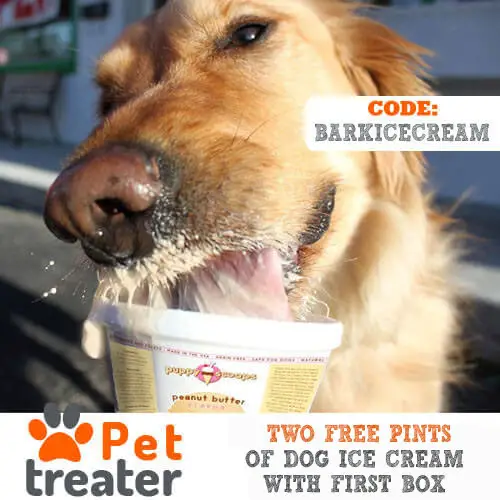 If you check out Pet Treater for yourself stop by and tell us what you think!  They offer a few different box options including boxes for small, medium, and large sized dogs.  FYI the boxes we review here are their small dog boxes.
We received our Pet Treater box for free in exchange for our honest review.  As always, we only share items we feel will be of interest to our readers.  This post contains affiliate links.