Happy Friday!  You know what's awesome other than the fact that it's Friday?  The dogs got their August Mini Monthly Dog Box of Awesome!  The Mini Box (for short) is a fun monthly subscription box of goodies for your dog.  Want to know the best thing about it?  It's only $9.99 per month, making it the cheapest dog subscription box that we know of!  It's a great way to treat your pup when you're on a budget or if you don't want to go overboard getting a ton of pet items each month.
Here's what we got in our August "box" (box in quotes because they call it the Mini Monthly Dog Box of Awesome, but it actually ships in a plastic mailer bag rather than a box).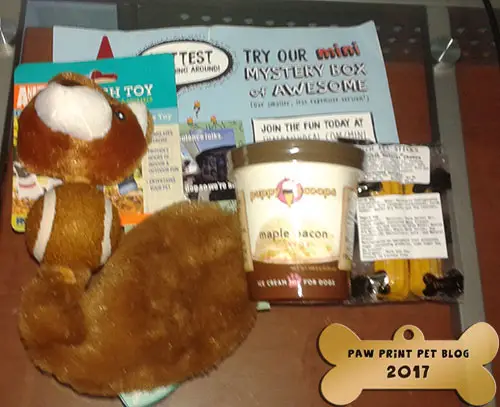 We received three items in this month's Mini box.  The first was a plush toy by Animal Planet.  It's shaped like a fox (I think?) and has a squeaker in the head, a tennis ball for a body, and crinkle material in the tail.
We also got a container of Puppy Scoops Maple Bacon Doggy Ice Cream ($7.99 on Amazon).  Both my dogs love this stuff!  It's not the type of thing I'd feed them on a regular basis but it's awesome as a special summer treat.
Last up we got a two pack of Fetch It! Sticks by Three Dog Bakery.  Kit couldn't try these because they contain eggs, but Fen seemed to like them!  The treats have carob on them which looks like chocolate, but is safe for dogs.
I couldn't find the exact Animal Planet toy or Three Dog Bakery treats on Amazon to give you pricing information but considering the Puppy Scoops Ice Cream is $7.99 on its own I did feel this month's box was worth the $9.99 you'd pay for it.
You can check out all of our past reviews to get an even better idea of the type of stuff you'll get each month in your Mini Box.
What do you think?  Would your dog like this box?  If anyone decides to check it out you'll have to stop by and let us know what you thought!
Disclaimer: We received our Mini box for free in exchange for our honest review.  All opinions expressed are our own.  As always, we strive to only share products/services we feel our readers would enjoy.  This post contains affiliate links.