I said it already but I'll say it again - my poor, beloved Kitsune is having a bit of a rough summer.  Luckily we seem to have gotten a handle on his seasonal allergies, they were worse this year than I think they've ever been before.  In late July he somehow managed to break his tail, which is why he's been sporting much shorter tail hair than what everyone is used to seeing.  Last week I took him to the beach and we had an awesome time together, but what I didn't share when I posted about our trip was that poor Kit got bitten by a snake!
We were walking on a bike path that leads from the beach to the street.  Both areas alongside the path are overgrown with plants.  Kit likes to walk a bit off the path where the plant growth is.  I imagine the smells and such are more interesting there then just walking on the bare path.  He stepped in an area with some overgrown grass to sniff at something when I saw him quickly pick his right rear leg up, and then a snake slithered out from the grass.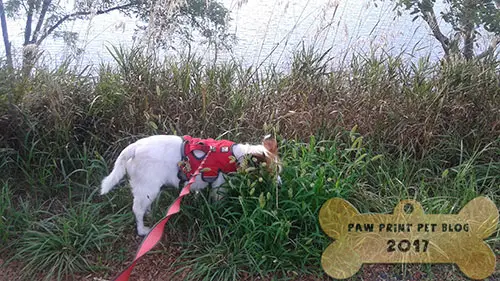 Luckily, it was just a garter snake which are, of course, non-venomous.  Even so, the bite was painful enough to cause Kit to limp a bit throughout the rest of the day.  He got bitten on his ankle area, right above his paw.  The area did swell a tiny bit and was obviously tender.  I gently washed it when we got home and basically just let Kit rest of the rest of the day.  By the time I took him out for his before bedtime walk he was putting weight on his leg normally again.
We were lucky that the snake that bit Kit wasn't venomous.  There are four main types of venomous snakes in the United States - Coral Snakes, Rattlesnakes, Copperheads, and Cottonmouth/Water Moccasins.  How your dog reacts to a snake bite will depend on many factors such as what kind of snake he/she was bitten by, the site of the bite, the age of the snake, etc.
Here are some steps to take if you know, or think, your dog has been bitten by a snake:
Stay calm and try to safely identify the snake if possible.  Take a picture of the snake if you can do so quickly and safely.  If you don't know much about snakes, just try to remember as much about it as possible.
If you know the snake in question is a venomous species, or you are unsure, get your dog to his/her vet for treatment.  It may take time for symptoms to develop if the snake was venomous, and the sooner you get your dog medical care the better.
Some sites will recommend using a tourniquet after a bite by a venomous species, however most vets now seem to recommend you forgo spending time doing this yourself and just get your pet into a vet ASAP.
Keep your dog as quiet and calm as possible.  This may help to slow down the rate at which venom is spread.
If you need to travel to get to a vet and your dog is experiencing a lot of swelling benadryl may help.  If you don't know the dosage for your dog call your vet and tell them you're on your way, but ask how much benadryl is safe to give in the meantime.
For most snake bites, venomous or not, your vet will shave and clean the area.  Depending on the severity of the bite your vet may prescribe medications such as antihistamines, pain medications, and/or antibiotics to prevent secondary infections.  If the snake was venomous your dog will most likely require strict motoring.  Antivenom can be given if necessary.  Your dog may require additional medications and supportive care based on the severity of symptoms.
Luckily, as I'm a bit of a reptile enthusiast, I'm quite familiar with our local snakes.  I knew that the snake that bit Kit was non-venomous and opted to care for him at home.  His minor bite wound healed up fast and well, but I kept a close eye on it and would have taken him to the vet if he developed any signs of infection.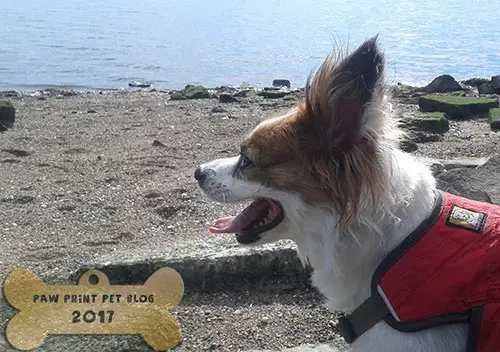 Hopefully my darling Kit makes it through the rest of the summer without anymore incidents!  Comment below, has your dog (or any of your other pets) ever been bitten by a snake?