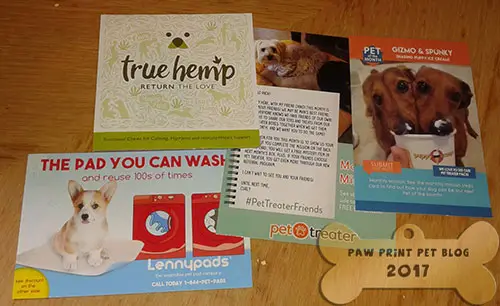 I apologize for posting two Pet Treater reviews this month.  For some reason we received our July box late so didn't get the review for it up until the first week of August.  Whatever the issue was it seems to be resolved as we got our August box last Friday!  
As usual, it was packed full of good stuff.  Pictured above are the inserts that came with our box.  Pet Treater always sends along fun inserts, like info about their Monthly Mission and a picture of their Pet of the Month, as well as things like coupon codes for pet related goods/services.  Of course the real fun stuff is all the goodies in the box.  Here's what we got this month...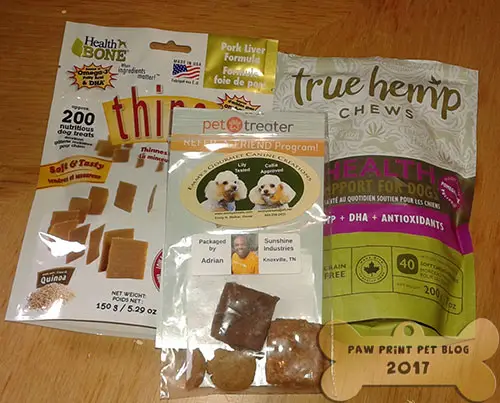 Treats!  This month we got two full sized bags of treats and a smaller sample pack of Emmy's Gourmet Canine Creations.  I haven't given the Emmy's Treats to my boys yet because Pet Treater made these treats a part of their August Monthly Mission.  I have to think of a fun way to take a picture of my boys while featuring the Emmy's Treats.
The boys did, however, get to try the Thins pork liver treats.  Kit could eat these (yay, nothing he's allergic to in them!) and both he and Fen seem to really enjoy them.  I like that these treats are small - they make awesome training treats!  Each one is just 1.9 cal and the 150 gram bag of treats is supposed to contain approximately 200 treats!
We also got a 200 gram bag of True Hemp Health Support treats.  I got excited about these at first because I thought maybe they'd contain CBD, which is a supplement I give both my dogs for various reasons.  As far as I can tell they don't contain CBD, but they do contain other good stuff like DHA and antioxidants.  Kit likes these treats but honestly Fen hasn't been crazy about them.  He'll take one when I offer it to him but so far every one he's taken he just ends up leaving uneaten on the floor.  That's picky Fen for ya!  Hey, that just means more treats for Kit.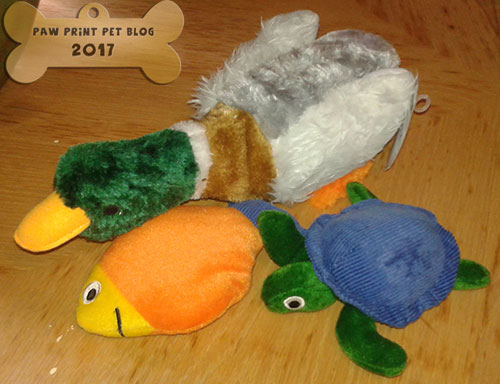 Next up we got three toys in this month's box!  The first is a plush duck by Pet Select.  This toy has a squeaker that actually sounds very similar to a duck, which made me laugh.  Kit used to have a duck toy very similar to this that he loved, but he played with it so much that he destroyed it.  The duck we had before was a different brand but both Kit and Fen really seem to like the new one.
The other two toys I'm kind of on the fence about.  They are really cute - one is shaped like a fish and the other like a turtle.  They both have squeakers so they are clearly made for dogs but neither toy has any type of tag.  I have no idea what brand they are or any of the details about them.  As you can see from the video below I did let Fen play with the turtle toy and he really likes it.  I would just feel a lot better about letting my dogs play with these toys if I knew more about them.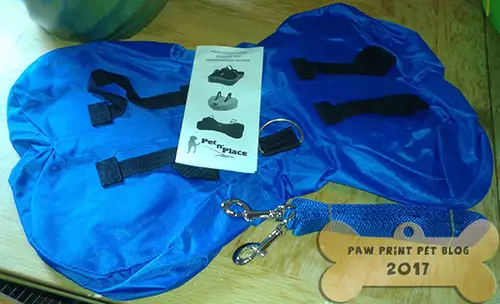 This item is really cool.  One of my favorite things about Pet Treater has been that they send stuff like this.  Most dog box companies send things like toys and treats but Pet Treater often sends more unique items such as the shower caddy we got last month, and the Pet n' Place we got this month.  This item is basically a strong canvas bag shaped like a bone that you can fill with something heavy like sand or rocks.  It comes with a leash so you can clip your pet to the Pet n' Place.  It's basically like a portable tie out.  I think it would be especially awesome to use at the beach, where there is plenty of sand to weigh it down and where there is also typically not a lot of things you could attach your dog's leash too if you needed to go hands free for a bit.
Lastly we got a 4.1 oz tube of Crest 3D white toothpaste.  This is the Pet Treater for your Human gift this month.  Hey, who doesn't use toothpaste right?
Big news for cat owners!  Cat getting jealous of all the Pet Treater love your dog receives each month?  Is Captain Fuzzypants sick of getting the empty cardboard Pet Treater box while Fido gets all the goodies inside?  Fret no more - The Cat Pack is finally here!  The Cat Pack is normally $12.99 per month, but for a limited time you can use the code "LOVEMYCAT" to get your first Cat Pack for just $9.99!
Don't have a cat, or is Captain Fuzzypants content enough with the cardboard box?  If you are trying out Pet Treater for your dog for the first time, use the coupon code "PT-20" to get 20% off your first box!
Disclaimer: We receive our Pet Treater boxes for free in exchange for our honest reviews.  As always we strive to share only pet related goods/services that we feel our readers will enjoy.  This post contains affiliate links.