Happy happy Monday!  I hope that everyone had an awesome weekend.  Our pack had a pretty relaxing weekend.  We did manage to get the dogs out hiking on Saturday but the rest of the weekend we pretty much bummed around the house.  I have a couple of projects I've been working on that I haven't had time for during the work week, so I spent the weekend working on those (more about that in future posts) and catching up on housework.  Oh, and I also made our first apple pie of the season which, at our house, is a sure sign that fall is well on it's way.
Anyways, today I wanted to share what we received in our September Mini Monthly Dog Box of Awesome, or the "Mini Box" as I've taken to calling it for short.  I know I recently posted about stepping back a bit from doing reviews here and that's still the plan.  The Mini Box is the only pet subscription box I plan on doing a review for in September.  I'm not sure what the future will hold for these reviews, if we'll continue to do them monthly or not, but for now here's what we received in our September 'box'...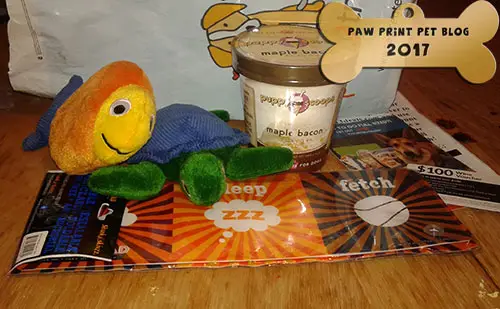 The two toys we received were actually the same toys we got in our August Pet Treater box.  Again, I think these toys are adorable and they contain squeakers so are clearly made for dogs, but I can't really tell you much about them since they arrived without tags.
For a treat/food item this month we got a container of Maple Bacon Puppy Scoops.  By now my boys have tried all the Puppy Scoops flavors and the maple bacon one does seem to be their favorite.  We have a container of it already sitting in our freezer.  Since I usually only give my dogs a spoon full or so at a time this doggy ice cream lasts us a long time.
Lastly we got some portable pet bowls from Shark Skinzz.  We got a set of two bowls, which works well if you have multiple dogs or if you want to use one bowl for food and one for water.  I think I'm going to hold on to these to keep in our car (once we get our new car).  They won't take up too much space and I'm sure will work fine if we need bowls for the boys while on the go.
That's everything we got in this month's Mini Box.  This box may seem smaller than other boxes we've reviewed but it only costs $9.99 per month (that price includes shipping) so it's also the cheapest pet subscription box we've reviewed to date.  It's a great little box to treat your dogs' with if you're on a budget (and really, who isn't?) or if you want a few nice dog items but don't necessarily need a whole huge box full of stuff every month.
The Mini Monthly Dog Box of Awesome is actually very similar to Pet Treater, normally containing many of the same items, but more budget friendly.  You get less items in the Mini Box but the quality of those items is pretty much the same.
It was hard for me to calculate the full value of this month's Mini Box since I have no idea the brand/pricing of the two toys we got, but the puppy ice cream currently retails for $7.99 on Amazon and the Shark Skinzz bowls for $6.95.  Those two items alone would cost more than the $9.99 you'd pay for this box, and that's without factoring in the two toys we also received.
What do you think?  Is the Mini Monthly Dog Box of Awesome something your dogs would enjoy?  I know both of mine do!
Disclaimer: We receive our Mini Boxes for free in exchange for our honest reviews.  All opinions expressed in reviews are our own and we always strive to share only products/services we feel will be of interest to our readers.  This post contains affiliate links.