Happy first day of fall!  🙂  Today's post is going to be a short one.  I have a lot to do today, but I wanted to stop by to wish everyone a happy start to autumn and to show off a couple of pictures I took of the boys.
I'm getting this post up a lot later than usual.  I had a lot of work I had to catch up on this morning and then I wanted to do a fall themed photo shoot with Kit and Fen before posting.  Although the day is probably drawing to an end now for most people, I still have a lot to do!  My fiance keeps getting stuck working late so our schedule has been a bit wonky lately, and I still have a big dinner to cook!
I'm making home made bread, vegetarian lasagna, and an apple pie.  We'll be eating pretty late which I don't really like to do, but we have to have our annual fall feast!  A little while ago the dogs and I dug the fall/Halloween decorations out of storage and started putting some of them up - the fall themed stuff, at least.  I used our fall wreath in a photo shoot with the dogs before putting it up on the door.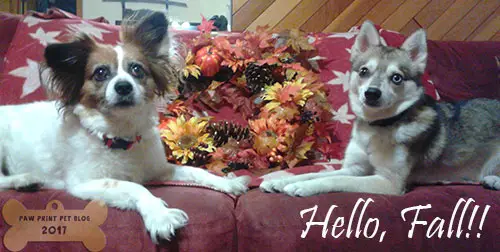 Anyways, I've got lots of cooking and still a little bit of work to get done, so I'll end this here.  The paw pack and I hope everyone has an awesome start to fall, and a fun weekend!