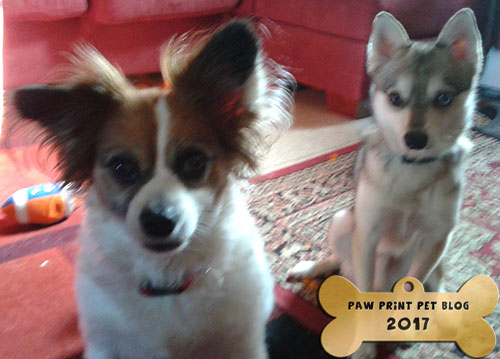 I feel the need to apologize before getting into this review - I know I mentioned that our August Pet Treater review was going to be our last one.  Imagine my surprise when, unexpectedly, the September box showed up at my door.  While I work on figuring out what's going on with my subscription I figured since the Sept. box is here anyways, I might as well share what we got.
Regular readers will already know but Pet Treater is a pet subscription service that sends a box of monthly goodies to your pet.  Until recently they only catered to dogs, but now Pet Treater has the cat pack too!  The cat pack is currently $12.99 per month while the dog boxes start at $24.99.  Both my dogs are littles (just don't tell them that!) so we've been reviewing boxes for small dogs.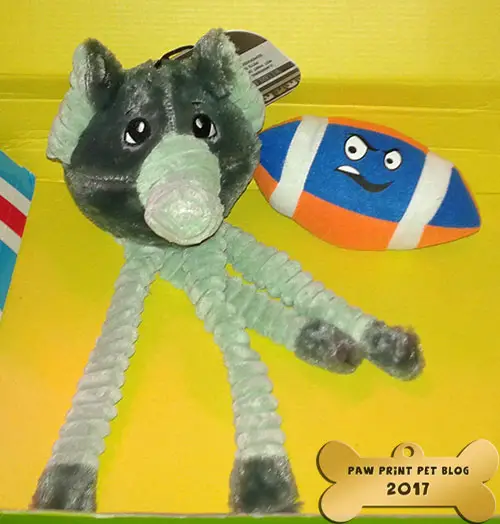 I'll start with sharing what toys we got in our September box, just to change things up since I think I usually start with treats.  This month we got two toys.  The first one is a squeaky plush football.  Unfortunately I can't share much information about it because it didn't come with any tags.  I've mentioned in past reviews that I'm personally a bit iffy about items that come without any information/tags, but that might just be me.
The second toy I was personally a lot happier with.  It's a Corduroy Elephant toy by Bow Wow Pet.  The fabric is really soft and the toy has a squeaker, although the squeaker in ours doesn't squeak.  Not a big deal, Fen still got especially excited about this toy and has been dragging it around the house for a couple of days now.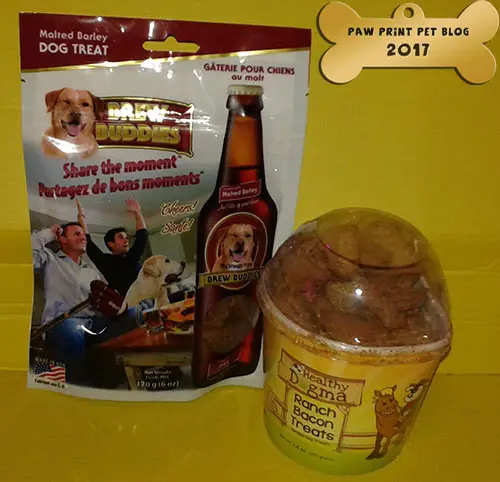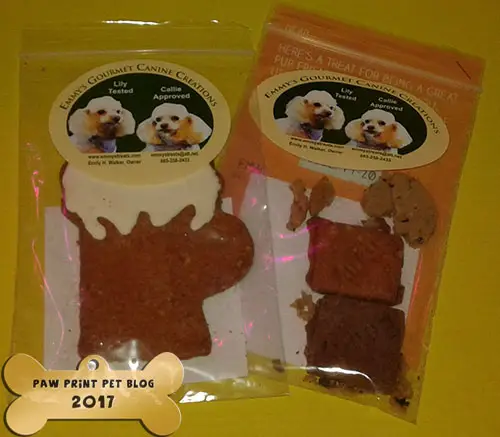 Next up we got a bunch of treats in this month's box!  We got a 7.8 oz container of Ranch Bacon Treats by Healthy Dogma, a 6 oz bag of Brew Buddies malted barley treats, and some cookies from Emmy's Gourmet Canine Creations.  Unfortunately because of his food allergies Kit wasn't able to try any of the treats we got this month.  It's times like this when Fen really comes in handy!  Out of all the treats we received this month the Brew Buddies seem to be his favorites, although he did enjoy the other treats as well.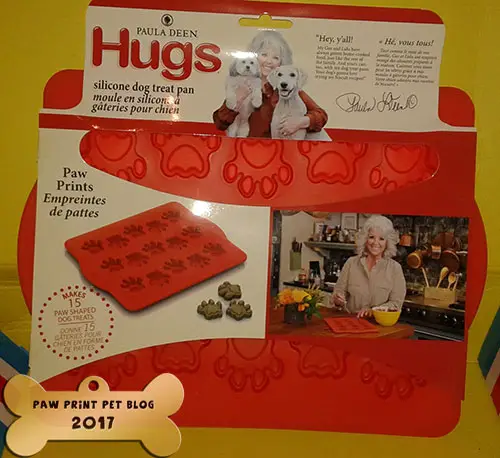 Not to fear!  Kit didn't get left out because we also received a Paula Deen silicon dog treat pan.  The best way to ensure you have high quality treats for a dog with food allergies is to make them yourself!  Now I can use this treat pan to make adorable paw shaped treats for the boys.
Lastly, each month Pet Treater sends along a "Pet Treater for your human" gift.  This month we got a hamburger cookbook that contains 50 recipes.  At first I thought the idea of a cookbook was cool, but that this particular one wouldn't be very useful to me since I'm a vegetarian.  Then I got a chance to look through the book a bit and realized that it has a section for vegan burgers.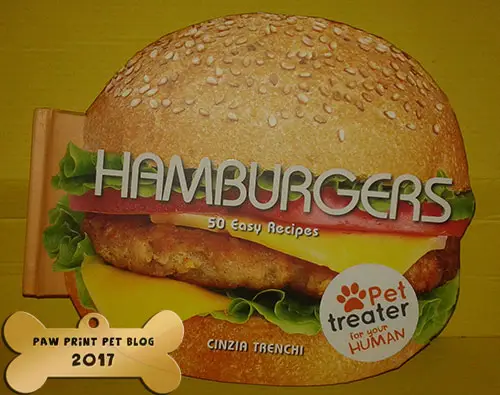 There you have it, our September 2017 Pet Treater box!  Fen made out especially well with this box, although I have to say that I'm sure Kit will be very happy when I use the treat tray to make him some homemade treats.  If you want to check out Pet Treater for yourself you can check them out here.  You can use the coupon code FREE-PTBED to get a free pet bed with your first box, or use LOVE-PT5 to get a $5.00 discount instead.
So I'm pretty sure that this will (for real this time) be our last Pet Treater review, at least for awhile.  I know my boys are going to miss it.  They get SO excited when that big green box shows up at our door.  I'm thinking of possibly trying out another pet subscription service for awhile, mostly because my dogs have so much fun with them.  Comment below and let me know if there's any box in particular you'd like us to review.  Or if you guys are sick of the box reviews, let me know that too!
Disclaimer: We receive our Pet Treater boxes for free in exchange for our honest reviews.  As always we strive to share only pet related goods/services that we feel our readers will enjoy.  This post contains affiliate links.