Happy Friday!  I hope everyone had an awesome week.  At the risk of sounding like an old person, how 'bout the weather we've been having lately?  I don't know about where you are, but where my pack lives it hasn't felt at all like October!  I remember when it sometimes used to snow in October.  A few days in the past week it's been so hot and humid where we are that I've put the AC on!  But October it is, we even received our October Mini Monthly Dog Box of Awesome last weekend!
I go over this pretty much in every Mini Box review we post so I apologize to my regular readers for being repetitive, but the Mini Box, as I call it for short (that name is quite a mouth full) is a monthly dog subscription box.  It costs only $9.99 per month, which makes it the cheapest dog box we've seen to date!  If you're interested in what type of items you'll get each month you can keep reading to see what we got in our October box, or click here to check out some of our past reviews.
[Disclaimer: We receive our Mini Boxes for free in exchange for our honest review.  As always, all opinions expressed are our own and we strive to share only products we feel our readers will enjoy.  This post contains affiliate links.]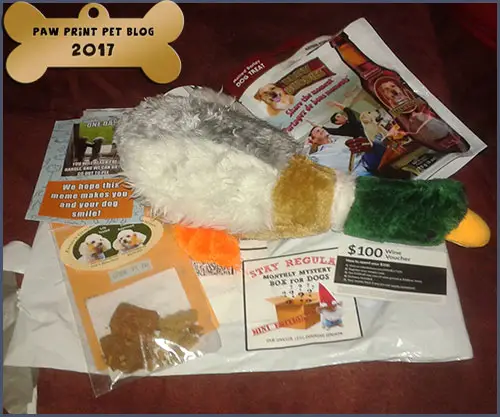 This month we got two full sized items - a toy and a bag of treats, plus a sample size bag of treats.  The Mini Box usually comes with a few inserts.  This month's came with a $100 wine voucher card (kind of random right?) and the usual insert for Pet Treater.  Pet Treater, if you don't know, is basically like the full sized version of the Mini Box.  We used to do reviews for Pet Treater as well, which you can check out here.  Also, if you're interested in Pet Treater stick around till the end of this post, because Pet Treater is currently running an awesome giveaway!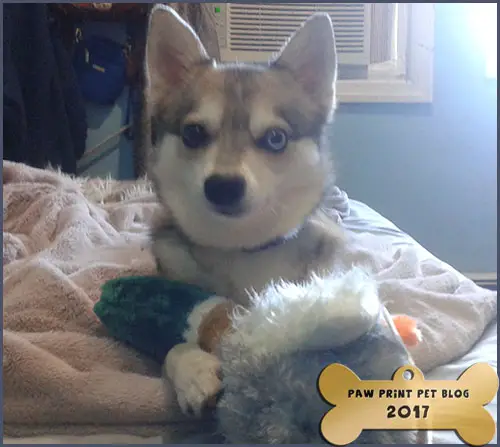 Getting back to the Mini Box though - the toy we received this month is a plush duck by Pet Select.  It retails on Amazon for $14.99 which right there is more than the $9.99 you'd pay for all the stuff in this month's box!  The duck makes a funny quack sounding noise rather than squeaking, which Fen really seems to get a kick out of.  Apparently it also makes a nice pillow...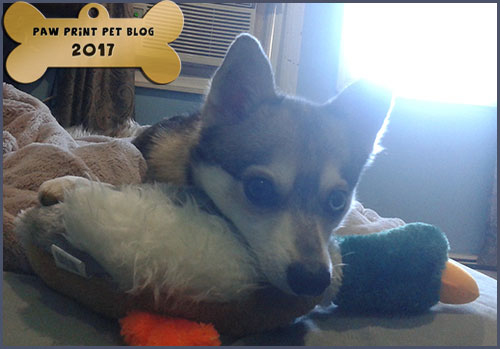 This toy doesn't seem to be the most durable, as in the past week Fen's already ripped the feet off and pulled most of the stuffing out, but to be fair Fen's a pretty destructive little guy.
For treats we received a 6 oz bag of Brew Buddies, a dog treat made from malted barley.  The sample bag of treats we got was from Emmy's Gourmet Canine Creations.  Sadly Kit couldn't eat any of the treats in this months box, as they both contained ingredients that he's allergic too.  Fen especially likes the Brew Buddies treats, though.  They smell horrible to me, so of course Fen likes them!
That's everything!  These Mini Boxes don't contain a ton of items but, so far, the value of everything you'd get has been over the $9.99 per month that the box costs.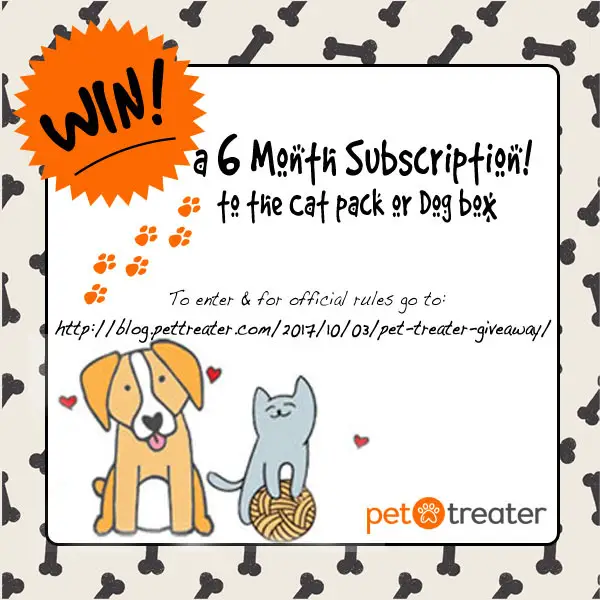 Here's the info about the giveaway I mentioned!  I figured I'd tell you all about it here since I don't do separate reviews for Pet Treater anymore.  But, like I mentioned, Pet Treater is basically the full sized version of the Mini Box and is packed with even more awesome dog goodies.  Want to check it out for yourself?  Pet Treater is currently hosting a giveaway - one lucky winner will receive a free 6 month subscription to either Pet Treater's dog box or cat pack.  Just enter via the Raffle Copter below!