Here we are, almost at the end of another month!  I hope that everyone celebrating Halloween tomorrow has a fun day.
My budget around this time of the year always gets a bit wacky.  I only get paid by my job once a month, which means I have just two paychecks left before Christmas!  Not only that, but my fiances birthday is in November and Kit's birthday is the day after Christmas.  On top of budgeting for the holidays, we had some unexpected expenses the other week when a pipe in our bathroom broke and flooded our apartment.  Even with unexpected expenses and setting aside some money for the holidays, you know The Paw Pack still gets spoiled!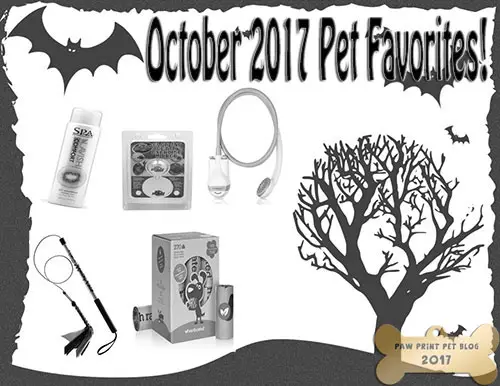 This post contains affiliate links.  If you purchase any of the items we linked to we will receive a small commission.  Kit and Fen thank you for contributing to their treat fund!
This month I decided to try a new shampoo on Fen.  The shampoo/conditioner 2 in 1 from Cloud Star that I normally get for him was out of stock on Amazon, so I picked up a bottle of Spa Lavish Comfort shampoo by TropiClean.  I've only used it on Fen once so far.  I like it, but am not sure yet if I'll switch to this brand for good or go back to what we were using before.  I wish it was a 2 in 1 with conditioner instead of just a shampoo, but I will say that it smells great and the scent lasts a long time!
Another thing mostly for Fen - I got a small sized Squishy Face flirt pole.  I've been reading a lot about using flirt poles to help dogs learn stronger impulse control, which is something I really need to work on with Fen.  Plus, flirt poles are supposed to be awesome at exercising even very high energy dogs (which Fen is).  We haven't had it for very long but so far Fen loves playing with this and I do feel that it has been an asset in our training.
I mentioned in my last post that I bought toys for our new betta fish, Nessie and our unnamed male (help us name him!).  One of the 'toys' I got was an exercise mirror by Zoo Med.  You put this in your fish tank for 5 to 10 minutes a day for your male betta to flare at.  It's supposed to help provide mental stimulation and exercise their fins.  My male betta is for sure interested in this toy and I love watching him dance and flare around it.
Next up...poop bags!  Need I say more?  I used to always use old grocery bags to pick up after my dogs, but we recently switched where we do our grocery shopping.  We use a lot of reusable grocery bags and what doesn't fit in those the store packages in paper bags rather than plastic.  Anyways, I bought these poop bags by Earth Rated and they get the job done.  They are lavender scented which I kind of like.  The smell isn't really strong but it's enough to help cover the smell especially after the bag is tied off.
Lastly, going back to bath stuff, I've been wanting to try this portable shower for bathing my dogs for awhile now.  We have a good sized tub in our apartment but not an adjustable shower head that we can bring down to dogs level.  For years I've been just using a cup to rinse the dogs off but it's not ideal.  This works a lot better, was easier than installing a new shower head, and we can take it camping with us too!  My only complaint is that the water pressure on this is really low, even for the dogs it could stand to be a bit stronger.  It still beats the old rinse cup though!
There you have it!  I know it seems early to be talking about the holidays but in November and December I'll be focusing more on holiday shopping.  Every year I feel like the holidays sneak up on me and I end up doing everything last minute, which I'm trying to avoid this year.
Speaking of the holidays, again I hope everyone has a fun Halloween tomorrow!  If you're looking for something to do with your pet we posted our Triple Threat Halloween Dog Treat recipe last week.  Thanks for reading!