I hope everyone had an awesome weekend!  Today's post is going to be short and sweet.  Thanks so much to everyone who stopped by to wish us a happy "blogiversary" and to suggest names for the "blog Betta"!  Over the weekend my fiance and I had a chance to look over all the name submissions for our male black dragon Betta.  We ended up each selecting our top 3 names out of all the names that were suggested - now, to finally select our Betta's name, we need you all to vote!
To help us name Mr.Betta, cast your vote in the poll below...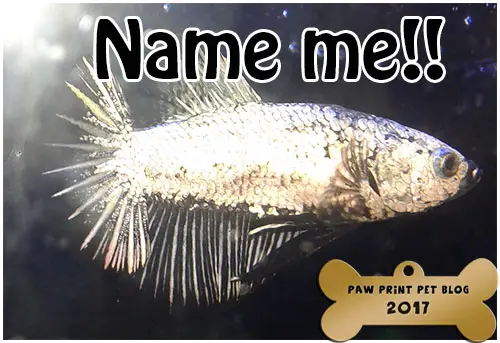 The polls are closed!  Stay tuned for the betta name announcement!
I'll leave the poll up for a week, until next Monday, and will announce the winning name most likely on the following Wednesday.
FYI both Bettas are doing very well.  They've been here for almost a full month now.  Nessie, the female, has grown noticeably bigger and loves to eat.  The male's tank is on our kitchen counter and he loves to show off for me whenever I'm cooking or doing dishes.
Thanks to everyone again for celebrating 7 years of Paw Print Pet Blog with us!  Get those votes in before the poll closes next week!