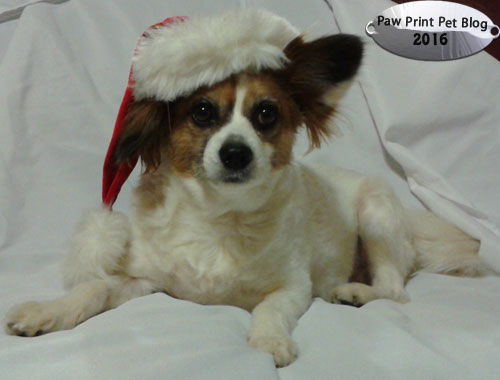 Every year, as the winter holidays approach, I tell myself that this is going to be the year that I get all my holiday preparations done early.  As awesome as I was at doing things last minute back when I was in college (ha!), it's not so fun to be left wondering whether or not your gifts are going to be delivered on time, or if the holiday cards you worked hard on are going to arrive with enough time left for you to even send them out.  So I always tell myself that I'm going to get everything done as early as possible....and it never actually happens.
If you're like me and still need to finish up your holiday shopping, especially if you're looking for gift ideas for that special furry someone, or for a (hopefully not so furry) dog lover in your life, I've got some gift ideas for you!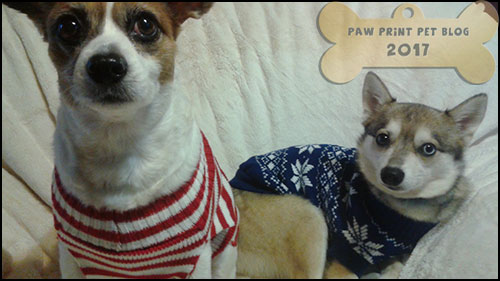 Just to note - we've been posting these gift guides since 2010!  As you can imagine, after picking our top 10 dog gifts for 7 years things can get a bit repetitive.  This year, I wanted to make our list a bit more original - or at least try too.  I tried to think of items that I personally would like, both things for my dogs as well as dog related items for myself.  My dogs already have a ton of toys and I make them homemade treats, so I tried to stay away from including a bunch of toys/treats in this year's top 10.  If toys/treats are what you're after, however, you can take a look back at our past gift guides to see some of our favorites.  Here are links to our past years' guides: 2010,  2012, 2013, 2014, 2015, 2016.
Disclaimer: This post contains affiliate links.  We will receive a very small commission if you click our links and purchase the items that we share.  Thank you for helping to support our pack!
Without further ado, and in no particular order, here is our 2017 dog holiday gift guide!
Chews:  I know, I know, I said no treats and here's our first gift idea, a food item.  What can I say, with two dogs I feel like we can (almost) never have enough chews around.  Healthy, high quality chews make great gifts for dogs young and old.  Kit, who is almost 9, still loves them just as much as his 2 year old brother does.  I love them because when the dogs are chewing it means they're not driving me crazy, plus chews are awesome for dog's teeth.  I always do my research before letting my dogs try out a new chew, and don't recommend things like rawhide, cooked bones, or anything with unhealthy ingredients.  This year I got my boys a selection of tried and true chews - bully sticks, elk antlers, buffalo ears, and beef trachea.  I also got them a three pack of lamb horn chews, which they'll be trying for the first time this Yule.
Comfort Items: I'm talking things like blankets, beds, sweaters/coats/boots, etc.  Playing and chewing and going on adventures is great, but what dog doesn't love a good nap?  What dog doesn't want to stay comfy and warm even when the weather outside is frightful?  Last year for Yule both of my boys got Dozzz brand blankets.  They're not made specifically for dogs, but they're super soft and wash really well too.  A new bed makes an awesome gift for a dog who needs one.  Things like jackets and boots not only protect your dog from the harsh weather, but look adorable too!  This year I got my dogs "ugly" holiday sweaters (this one for Kit and this for Fen) but, of course, they look amazing.
Training:  This is a more practical type gift, but it can also be a lot of fun!  Training isn't just for dogs with behavioral issues.  If your dog already knows the basics, consider teaching them something more advanced such as agility or nosework, for example.  You can enroll in classes with your dog to learn new skills, or go in alone.  Besides signing up for classes things like training books and equipment (such as agility or nosework equipment) could make great gifts.
Hedgehog Toys: Ok you knew I had to throw one toy on here.  So this seems really random but plush hedgehog toys for dogs are kind of a thing in our house.  It started when Kit was a puppy, he had a few plush hedgehog toys that he just adored.  I thought it was just one of Kit's cute little quarks until we got Fen and, low and behold, he loves hedgehog toys too!  For my dogs the brand of the plushies doesn't seem to matter.  We've had quite a few squeaky plush hedgehogs over the years and all of them, so far, have been big hits with my dogs.
Living Memory Items: Around the holidays the last thing we want to think about is the eventuality of loosing our animal friends, but I think living memorial items can make great gifts for pet owners.  A "living memorial", to me, is basically any item that would make a great memorial type item, but that can also be something that can be enjoyed while our pets are still with us.  Picture frames are a good example of a living memorial.  This year I bought a kit to make paw print ornaments with my dogs.  Making the ornaments will be a fun project for me and the boys, and their little paw prints will look adorable on our tree.  Although it's tough to think about, I'm sure the ornaments will become a cherished item someday when my dogs are no longer with me.
Gear: This is kind of a broad topic.  By gear I mean things like leashes, harnesses, back packs, swim coats, etc.  My dogs are probably near the top in the running for most spoiled dogs, but gear wears out - leashes fray, harnesses wear, the list goes on.  A new leash or harness can make a good gift for a pet owner whose dog has more than enough toys.  Even if they already have a good leash/harness, it doesn't hurt to have a backup.  This year I bought Kit a Julius K9 harness.  His Ruffwear Webmaster harness is still going strong, but I've heard good things about the Julius K9 harnesses and wanted to try one out.  I figured this way Kit will have two harnesses in case something happens to one, and I'm thinking that the Julius K9 harness might be a bit easier to get on him.
Grooming Supplies: Like new gear, grooming supplies can make a good gift for a pet owner who doesn't need things like pet toys or treats - especially since things like shampoo, doggy toothpaste, etc doesn't last forever.  Other grooming gift ideas include brushes, nail clippers, paw wax, and clippers.  Almost every year on Yule my boys get a bottle of our favorite dog shampoo/conditioner, Buddy Wash.  It may not be their favorite gift, but it sure comes in handy when the boys come home dirty after outdoor Christmas adventures.
Home Supplies:  Let's face it, pets can be messy.  Giving someone cleaning supplies as a gift might come off as a bit rude, but, for example, candles designed for homes with pets  can make great gifts and are something that most pet owners will actually get use out of.  If you or your gift recipient aren't really candle people, I've found that diffusing essential oils can be a great way to keep your home smelling nice.
Car Safety Supplies: Lately I've been preaching the importance of getting good, crash/safety tested car seats/crates/harnesses if you're going to be traveling with your dogs.  Most dog car seats on the market are not actually safety tested.  This can be dangerous for not only your pets, but for people in the car as well.  The Center for Pet Safety is a great place to start your research if you're in the market for a high quality, crash tested car restraint for your dog.
Homemade Gifts: If you have the time, and the creative flair, homemade gifts can be awesome for pets and fellow pet owners alike.  The possibilities really are endless!  This year I've been working on making my dogs a Snuffle Mat (I'll post more about it/instructions when I'm done with it).  There are lots of other types of dog toys you could make yourself.  A batch of homemade dog treats in a decorative tin would make a great gift for a fellow dog owner (and their dog).  So would a pet themed homemade holiday ornament.  If you have any ideas for awesome homemade, pet related gifts I'd love to hear about them!
I'm pretty sure I say this every year but really just spending time with your pets is the best gift you can give them!  Live I've already mentioned, my dogs are a bit spoiled.  But no matter how many toys (etc) they have, their favorite thing is to spend time with my fiance and I.  Sometimes that means a pack walk to the park, or playing with toys together, but other times it is as simple as snuggling up together on the couch.
The holidays can get hectic and make it easy to overlook simple things like throwing the ball around for your dog, or relaxing with him/her for a bit even when you have a million other things to do.  Even if you can't get your pet any gifts this year, even if you're insanely busy, set aside some time each day to spend quality time with your furry friend.  It may sound cheesy, but when it comes to our animal friends often times the best gift we can give to them is ourselves.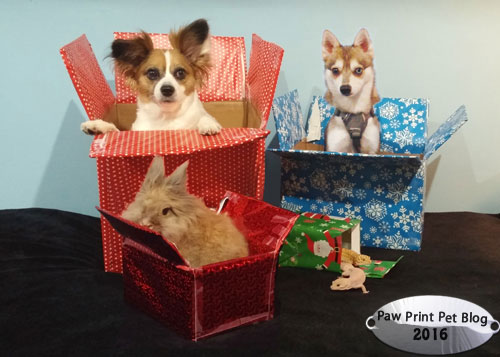 Happy holidays everyone!  I'll for sure be posting again before Christmas but I understand that this is a very busy time of year for most people.  In case you don't get a chance to stop by again before the holidays are over I wanted to take this time to wish everyone a happy December.  No matter what holiday you celebrate I hope it's full of happiness, family/friends, and fun!