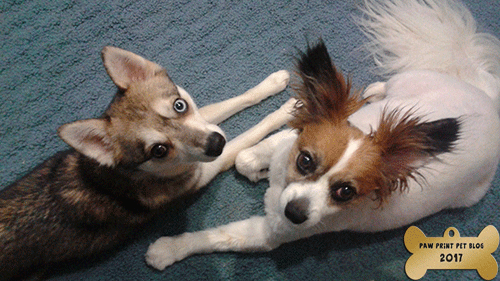 We currently have two amazing dogs!  Kitsune (Kit) is an 8 year old oversized Papillon who loves to play but lives to eat.  His "brofur", Fenrir (Fen), is a 2 year old Alaskan Klee Kai who, more than anything, loves to play and spend time with his pack.
Kit was an only dog for almost 7 years before Fenrir joined our pack.  It took Kit awhile to get used to having another dog around all the time, but after the initial adjustment period Kit and Fen became best buds.  They spend most of their time together and love to wrestle/play together.
Kit and Fen both have their own pages if you want to learn more about them individually.  I blog about them here often, so you're also bound to see/read more about them if you stick around for any length of time.