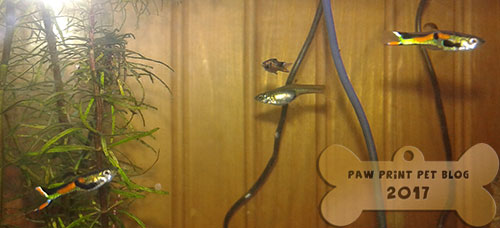 One of our planted freshwater aquariums is currently home to a small breeding group of N class Black Bar Endlers.  We currently have 4 adult males and 2 adult females, but at any given time usually also have fry that we're raising up.
Endlers, especially N class Endlers, are not all that common in the aquarium hobby around where we live.  I tried to find some locally but ended up having to purchase my original group from a breeder who shipped them to me.  They've been doing great in our aquarium and are beautiful little fish.  The males are constantly displaying for the females which is a really interesting behavior to watch.
I'm hoping to expand our little family of Endlers and may eventually also have some for sale.