It's been too long since we hosted a giveaway here!  Read to the bottom of this post to see how you can enter to win an amazing prize package courtesy of Fauna Care!
Fauna Care is a company whose "mission is to help provide the finest care possible to all of our furry, fuzzy, and scaly friends."  They offer an array of products designed to help owners care for their beloved animal family members.  Fauna Care's products are backed by science, and receive rave reviews from both pet owners and veterinarians alike (review link contains some graphic pictures of injured animals, digression advised).  With the cold weather fast approaching, at least in my neck of the woods, Fauna Care products would make a useful addition to any animal first aid kit.
Fauna Care's product line currently features four unique products designed for household pets, and five for horses.  Not having horses myself, today I'm going to focus on telling you a little bit more about each product in Fauna Care's pet line.  We received our Fauna Care products for free.  As always, opinions expressed are our own.  Paw Print Pet Blog strives to only share products we feel comfortable using on our own pets.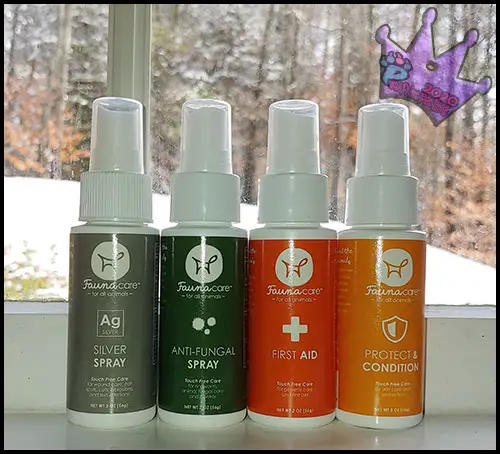 Silver Spray:  Fauna Care's Silver Spray is comprised of silver in a zinc oxide and dimethicone base.  It's recommended for use on abrasions, hot spots, cuts, and for general wound and skin care.  Silver and zinc are both known for their abilities to kill both bacteria and fungi.  This product also promotes healing by creating a moisture barrier over wounds or otherwise damaged skin.
Anti-Fungal Spray:  Ketoconazole in a zinc oxide and dimethicone base helps to fight against fungal skin conditions.  This product is recommended for treating thrush and ringworm.  Although it doesn't mention yeast, I'm going to for sure be trying this product on Kitsune's yeasty paws.
First Aid Spray: This spray contains both Bacitracin and zinc, which help fight infections and protect your pet's skin.  Recommended for use on wounds, cuts, and scrapes, this spray would be a great addition to every pet owners' first aid kit!
Protect & Condition Spray: Last, but by no means least, Fauna Care's Protect & Condition spray contains dimethicone in a petrolalum base.  It is designed to protect and sooth sensitive skin.  It's recommended for use on hot spots, skin irritations, and dermatitis.  It moisturizes while protecting, and while this use wasn't listed on the Fauna Care website, I'm planning on trying this particular spray to sooth my dogs' paws after they come inside from walking out in the snow, ice, and salt.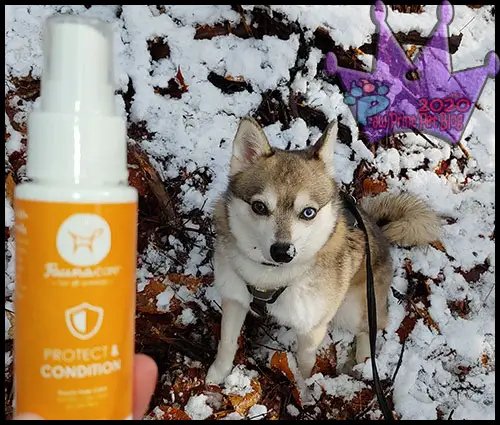 I love that all of Fauna Care's products come as convent sprays!  There's no messing with fussy applicators, and applying these products is totally touch free.  As Fauna Care points out on their website, some of the conditions these sprays are designed to treat can be painful.  Using a spray to treat them makes the process totally touch free, so you can treat your pet without having to touch an already sensitive, potentially painful, area.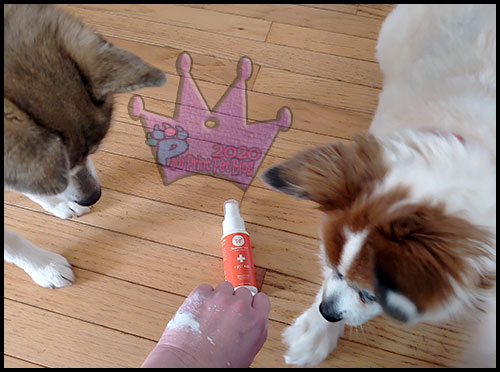 I haven't had much time to test Fauna Care products on my own pups yet, but I can say that the spray bottles we received work well.  They spray gently, without any clogs.  To test the bottles I sprayed a bit of the First Aid spray onto a spot on my own skin that was a bit irritated.  These products are not intended for use on humans, but they did feel very soothing.  I also noted that, at least the First Aid spray that I tried on myself, seemed to be at least somewhat waterproof.  It didn't wash off easily with just water, which I think is a good thing when it comes to dogs who may be running around outside in wet weather.  The product did, however, come right off easily as soon as I used soap.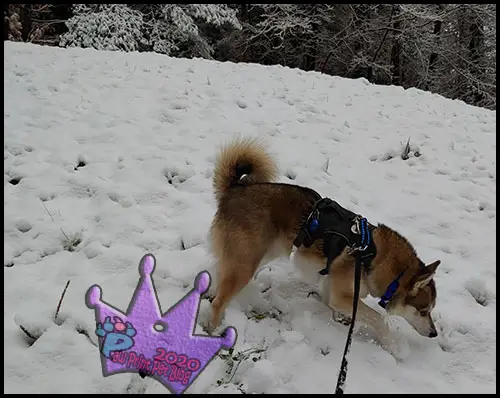 Fauna Care's products are designed by science, and undergo rigorous testing to ensure that the ingredients they use are not only safe, but also highly effective.  Of course no pet owner ever wants their animal friend to get hurt, but I'm excited to be able to include these products in my first aid kit.  Especially, as I mentioned above, now that the cold weather is upon us.  My Kitsune especially has sensitive skin and paws, with some minor skin conditions that often seem to be exacerbated by the cold, dry winter weather.
Want a chance to try out Fauna Care's products for yourself?  Enter the giveaway below for a change to win Fauna Care's full line of products (1 bottle each of Silver Spray, Anti-Fungal Spray, First Aid Spray, and Protect & Condition Spray)!  Entries to win will be accepted until Friday, October 6th.  The winner will be contacted via email on October 7th, and should receive their Fauna Care products just in time to sooth your pet this winter!