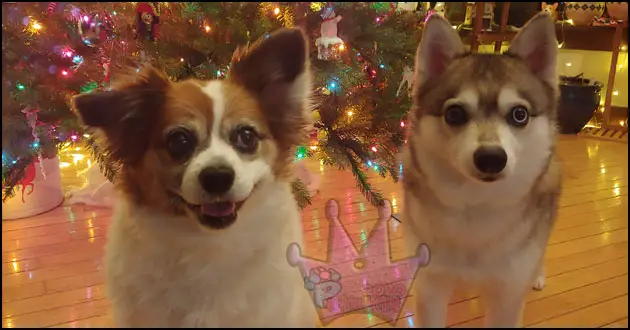 How's everyone's holiday prep going?  Thanks to the Corona virus, this holiday season certainly seems like it's going to be a unique one.  I know a lot of people don't have a lot of extra money to spend this year.  It's been a tough year for most people, to say the least.  I've been trying to decide what to get my dogs for Yule this year.  They don't really need much, to be honest, but Kitsune especially loves opening gifts, so much so that I feel bad if I don't get him something.  If you're like me and trying to think of what to get your furry friend this year, hopefully this list of some of our favorite dog products might help you out!  We'll include a few free/low cost options this year as well, for anyone who (understandably so) doesn't have a lot of extra money to spend on dog gifts this holiday season.

This post contains affiliate links.  If you purchase items using one of our links, we may receive a small commission at no additional cost to you.  As always, we strive to share only high quality items that we'd feel comfortable using with our own pets!
Dog Tags/Collars:
Cute tags and collars are a fan favorite for many dog owners.  Not only can they look adorable, but of course having some kind of ID on your pet is important.  Back when we moved, I had to replace all of my dogs' IDs so they would include our new information.
For years now I've really liked these LuckyPet enamal tags.  They are super cute, not too expensive, come in various colors, and fit a lot of information engraved on the back.  I've also purchased tags from this company – Big Jerk Custom Products (language warning).  They have some funny tags, but I actually purchased Kit's medical alert tag from them.  The tag in the photo of Kit above is from a company called Copper Paws.  Their tags don't fit a lot of information on them, but they're beautiful and unique, perfect if you're looking for something a bit fancier than your average dog tag.
If hanging tags aren't your thing, I've really been loving our embroidered collars that we got at Orvis.  I got mine embroidered with each of my dogs' names and my phone number.  It's an awesome, low profile, way to keep a form of ID on your pet without having to deal with tags.
Home Agility Equipment: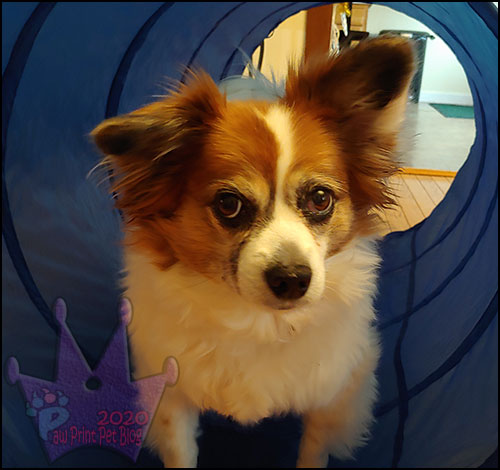 One year for Yule my fiance got me this at home agility set.  I've had it for years now, since Kit was young and still doing agility.  I stopped using it for awhile after we decided to retire Kit from agility, however I recently dug it out again to use with Fen, and a bit with Kit, out in our yard.  Agility can be an awesome way to not only exercise your dog physically, but mentally as well.  With these types of kits, you can get it all done in your own backyard.  Perfect for the quarantined pooch who may need a bit more stimulation than just playing in the yard provides.  FYI, before we had a yard I taught Kit to run through the collapsible tunnel in the living room of our apartment, and we brought the weave poles and jumps to our local park.
Nose Work Kit: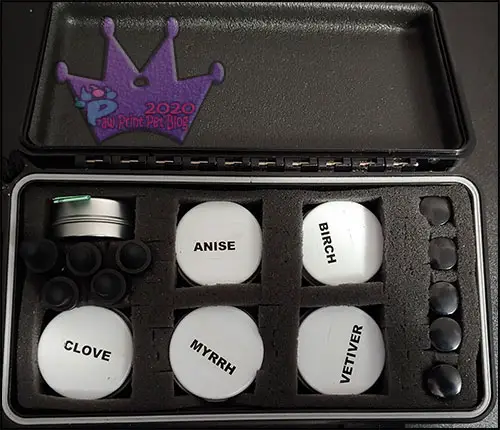 This is, potentially, another fun activity you could do with your dog during quarantine!  I've mentioned this here a few times before, but when we had to stop doing agility with Kit, I started looking for a lower impact activity we could do together instead.  Just because he's older now doesn't mean he doesn't still need some type of activity to keep him engaged.  There are many nose work kits out there, and many of them contain all the basics you'll need to get started at home!  I started out teaching Kit nose work in our living room.  He has a blast with it, even when we're just doing it inside our own house or yard.
Food Dispensing Toys: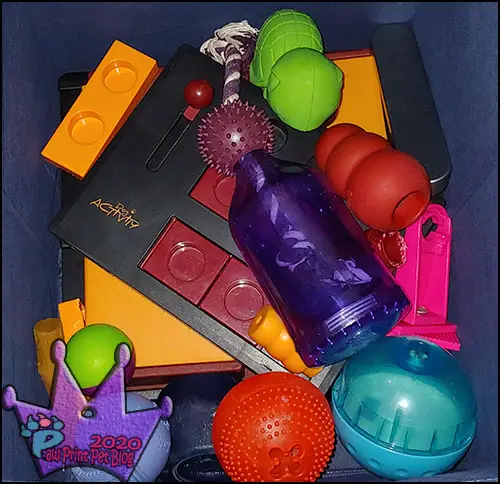 I've found, after almost 12 years of sharing my life with Kitsune, that treat or food dispensing toys are really the type of toys that stand the test of time.  Now that Kit's a senior, he doesn't play with toys as much as he used too.  He only has one favorite plush toy that he plays with on a regular basis, and it's been years now since he's been super interested in chasing balls.  However, I'm pretty sure he'll forever love his food dispensing toys.  We have quite a few of them now, and I'll often use these types of toys to dispense my dogs' meals.  It's a way to help get them moving, and to make meal times more engaging.  Here some examples of tried and true food dispensing toys that we use often in our house: Puzzle toys, Snuffle mats, Everlasting treat balls, Kongs, Kong Wobbler, IQ treat ball, Tug-a-Jug.
Dental Chews: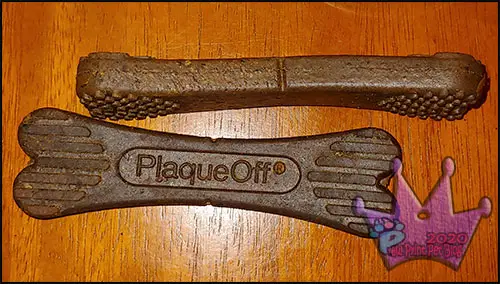 Dental health for dogs is so, so important!  While chews shouldn't take the place of brushing your dog's teeth and, if needed, dentals from your vet, choosing the right chews can go a long way towards improving your dog's dental health!  When selecting chews to try for my own dogs, I've been looking to the Veterinary Oral Health Council's (VOHC) list of accepted products.  Chews on this list can not only provide your pooch with the mental stimulation of chewing, but VOHC approved products "meet pre-set standards of plaque and calculus (tartar) retardation in dogs and cats."

I found ProDen PlaqueOff Dental Bones on the VOHC website and, after reading quite a few reviews, decided to try them with my own dogs.  The bones come in one size, but can easily be broken in half if you, like me, have smaller dogs.  Kit and Fen both LOVE these chews.  That's not saying much when it comes to Kit, he'll eat anything, but Fen, who is usually super picky and not crazy about chews, gobbles these up too!  They don't take my dogs long to chew, but after a few months of using them I actually started seeing improvements in Kit's teeth!
New Bedding: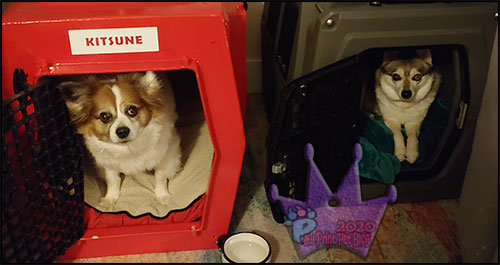 Maybe this is boring for some pets, but hey I've got a senior pup with an appreciation for all things comfort.  New beds, crates, blankets, etc, would make great gifts for dogs who need them.  I recently posted about upgrading Kitsune's crate.  I got him a RuffLand Kennel to replace his old wire crate and, while I know not everyone agrees with crates, he loves using his to 'get away from it all' during the day.  I also got Kit this orthopedic bed by Brindle and he's really been enjoying that.  It has a cover that is waterproof and one that is super easy to take off and wash.  A lot of our older dog beds have gotten quite flat over the years, so I was happy to replace them with something more comfortable on Kit's aging joints.
Essential Supplies: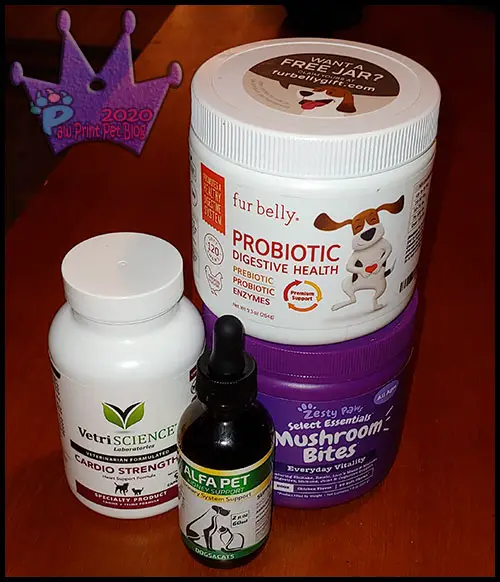 Almost every year for Yule, Kit and Fen get bottles of shampoo and conditioner in their stockings.  We joke that it's like the dog version of getting socks and underwear.  Kit loves unwrapping presents so much, he doesn't care so much about what's actually inside them.  Dogs are pretty awesome in that way.  I can wrap "boring" things like grooming supplies, winter coats, supplements, etc, and they still have a blast unwrapping them!  If you have a bit of extra money this holiday season, but are the type to not be so frivolous when it comes to buying things for your pets, buying essential supplies and wrapping those can be a fun way to help your dog feel included in the holidays without spending money on things you don't need.  Examples of more practical gifts for pets includes things like bags of food, seasonal gear, harnesses and/or leashes, any supplements they may need refills on, grooming supplies, etc.
Wrap/Rotate Old Toys: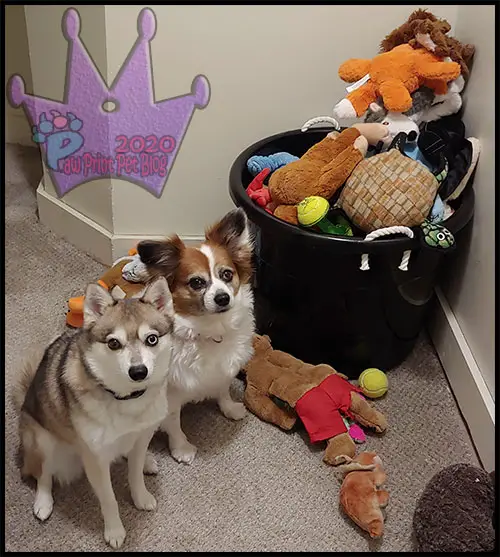 I have so many (too many) dog toys.  After we moved, I decided to put around half of them in storage, rather than having them all over my floor all the time.  Once in awhile I go through all the toys we have out, wash them, throw out any that are damaged, then rotate what toys I have out with some of the ones in storage.  I quickly noticed that, Fen especially, treats toys that he hasn't seen for awhile as if they were new.  He gets SO excited when I pull a box of old toys out of the shed.  With Christmas still being a bit less than a month away, it's probably not too late to set some toys you already own aside.  Wrap them up and stick them under the tree.  Your dog will have fun ripping the presents open on Christmas morning, and, luckily, you don't have to worry about your dog complaining about this extreme form of "regifting".  If you're dog is anything like my Fen, they'll be overjoyed to open up toys, even if they're not new.
Treats: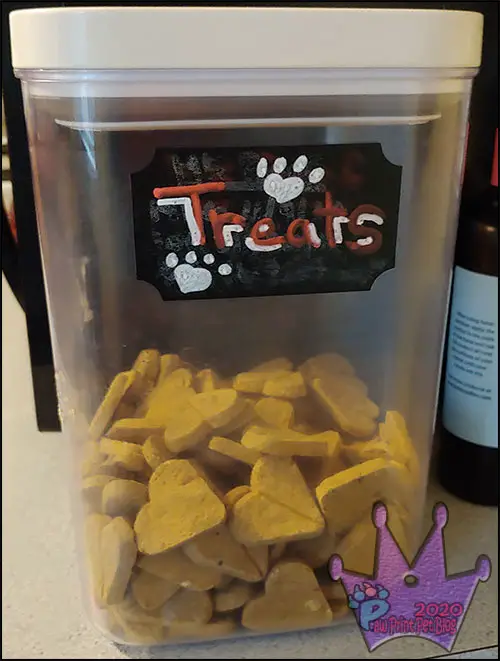 What dog doesn't love treats?  Even my picky little Fenrir likes treats, now that I've built up an arsenal of brands/recipes he enjoys.  Luckily a bag of treats can come pretty cheap.  My boys both really enjoy Newman's Own peanut butter treats.  I love how they're shaped like hearts, and they can be easily broken in half if you have small dogs.  I can also buy them right at my local grocery store, which is super convenient.
Homemade dog treats can be made for pretty close to free, sometimes even out of ingredients you already have in your kitchen.  My dogs especially love simple homemade peanut butter treats, and one ingredient dried meat treats that I make in our food dehydrator.
Your Time: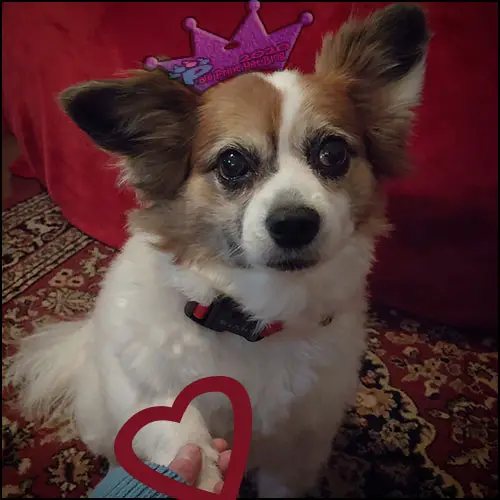 I'm pretty sure I add this to the end of every gift guide I've written, but it still rings true.  Lots of pets, dogs especially, enjoy opening gifts.  But lets be honest, they don't really understand the meaning behind the holidays.  Holidays can be a fun, exciting, day for them, but animals don't get upset if their owners opt for a quiet holiday at home.  In fact, plenty of dogs would love a day snuggled in with their favorite people.
Don't let anyone make you feel bad if, for any reason, you can't or don't celebrate holidays with your pets.  What really matters is how you treat them everyday of the year.  Providing your pet with mental and physical stimulation shouldn't be something we only do on holidays.  Spending quality time with them definitely shouldn't be something we save for special occasions.  For most pets, the 'thing' we can give them that they'll value the most is is our undivided attention – our time.
Comment below!  If you celebrate any of the upcoming winter holidays, what are some things you do to include your pet(s) in your celebrations?  Despite the challenges we've all faced this year, I hope everyone is able to have some fun prepping for the holidays!