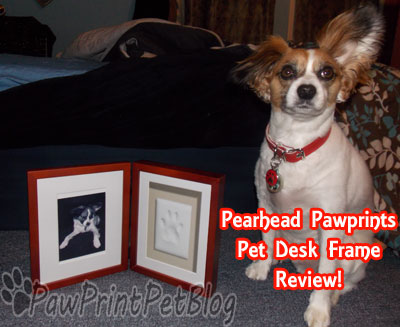 March 9th was my birthday, and Kitsune (yes Kitsune!) gave me this adorable mahogany paw print pet desk frame as a birthday gift.  One section of the frame is a normal picture frame, to hold a picture of your little fuzz butt.  The other section is a shadow box, and the frame comes with everything you need to take clay castings of your pet's paw(s).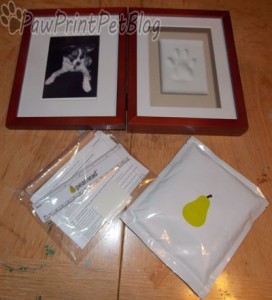 Other than the frame itself, this set comes with a bag of air dry clay, a small wooden rolling pin, a plastic ruler, double sided tape to mount the prints, and instructions.  The instructions are pretty simple.  You just roll out the clay, take an impression of your pet's paw, use the ruler to shape the clay, then let your paw print dry.  Once your print is ready, you use the double sided tape to mount the clay inside the shadow box, and your done!
The clay that comes with the frame is soft and pretty easy to work with.  Depending on how big your dog's paws are, there is more than enough clay provided.  I was actually able to break the clay up into four pieces and take impressions of each of Kitsune's paws.  It takes the clay awhile to dry, so if you don't like your print you can kneed the clay and try again.  I'm a bit of a perfectionist, and I actually tried quite a few times before getting impressions that I was happy with.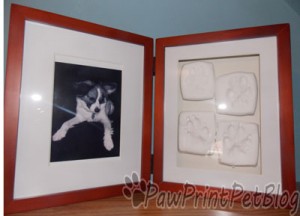 Here are a few small tips for anyone who buys this frame.  For some reason, my clay stuck to the wooden rolling pin.  I wrapped the rolling pin in tin foil to keep it from sticking to the clay.  Also, it says in the directions to wet your dog's paw before taking the impression.  Don't skip this step!  On one of my attempts, I forgot to wet Kit's paw and the clay stuck all over the bottom of his paw pad.  If you're having a hard time smoothing out your clay before taking the print, you can use a small amount of water help things along.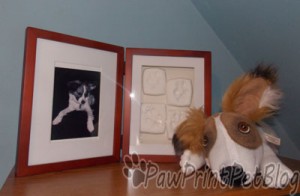 Overall this is a really cute product.  I'd definitely purchase another one in the future, maybe someday when we get another dog.
We are proudly displaying our Kitsune frame on a shelf, guarded over by Sock Kitsune!  Paw prints are adorable, and even more special when they are made from your own dog!