If you've been at all involved in the dog world the last couple of years, especially on social media, you've probably come across the Best Friends by Sheri dog bed.  It's being promoted as a calming, or antianxiety dog bed.  The Best Friends dog bed seems to be especially popular among small dog owners.  However,  it's sold up to size 2XL, which is supposed to be suitable for dogs weighing up to 210 lbs.  If you're anything like me, coming across a pet product with as much hype as this dog bed has generated will pique your interest.  Will your dog like it?  Does it actually live up to the hype?


Luckily, I was recently on the market for a new dog bed.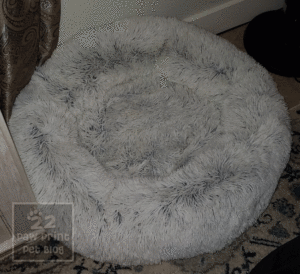 Now that the weather has warmed up, my senior dog, Kitsune, hasn't been wanting to sleep in bed with me as often as he does when the temperatures are cooler.  I would often wake up in the middle of the night to find him sleeping on the bedroom floor.  It always makes me feel bad!  I started to notice that after spending a night sleeping on the floor, he would seem a bit stiff.  Hey, he's 13 after all, and I can't imagine a hard bedroom floor is the best option for senior dog joints.
After coming across the Best Friends by Sheri dog bed over and over again on my various social media feeds, I decided that my dogs and I would try it out for ourselves!  It wasn't as expensive as a lot of the other high quality dog beds I was looking at.  I figured that, worst case, if it didn't work out for my dogs, we could pass it on to a pooch waiting for a new home at our local shelter.
The 411 on the Best Friends by Sheri dog bed
The Best Friends by Sheri dog bed currently comes in fourteen different colors, and five sizes.  In most places I found it for sale there was an option to purchase the bed alone, or the bed with a blanket.  The Best Friends pet bed is a donut style dog bed that claims to promote better sleep, a sense of security, and pain relief for sore joints and muscles.  The bed, and blanket if you decide to purchase that too, is made from a soft, faux shag fur.  It's supposed to be water and dirt resistant, as well as easy to clean.
For my own two dogs, I decided to purchase the medium sized (30″ X 30″) bed, in the color "shag frost".
Both of my dogs are under 25lbs, so in theory the small size would have worked for them.  I decide to go with medium instead because I wanted to give Kitsune more space to stretch out if he wanted too.  That way he wouldn't have to curl up in a ball to fit inside the bed, because that would kind of defeat the purpose of buying him a dog bed that he'd want to sleep in during the summer heat.  I also liked that the cover on the medium bed (and all the sizes larger than medium) is removable.  The small size bed does not have a removable cover.  Instead, the small bed can be washed as-is inside a standard washing machine.
Our Thoughts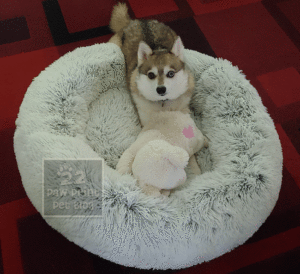 Our Best Friends by Sheri pet bed was delivered mid-May.  It was shipped compressed inside plastic packaging.  The bed was easy to fluff up following the instructions that came with it.  My puppers were instantly interested when it got here!  I think Fenrir, my Alaskan klee kai, was the first to try it out.  It didn't take Kitsune long to take a turn either!
Probably the first thing I noticed was how soft the faux fur cover is!  The color we selected was true to the picture, and the size was what I was expecting.  I really appreciate that the bed is made from pet safe materials, with no flame retardants, formaldehyde, chemicals, or harsh dyes.  A few weeks after we got it, I decided to try washing the bed cover.  I washed it in my washing machine on cold, then dried it in the drier on low heat.  It washed and dried well.
Luckily my dogs don't have issues with having accidents in the house.  So I can't personally speak to the bed being water resistant.  Looking at it, I have a feeling it might not be as liquid resistant as it claims to be.  I'm glad my dogs won't be putting that feature to the test.  My dogs are also, thankfully, not destructive.  I do question how well this bed would hold up against a destructive dog.
Does the Best Friends by Sheri pet bed really help anxiety?
According to the Amazon listing, the Best Friends by Sheri pet bed helps to calm pets by being "reminiscent of a mother's fur coat".  The sides of the bed are designed to "allow your pet to burrow".  This is supposed to promote a "full, restful sleep for improved behavior and better health".
I'm not sure how I feel about this claim.  If you're looking at this bed because you have a dog with stress or anxiety issues, I'd very highly doubt that something as simple as a dog bed, no matter how comfortable, is going to noticeably alter their behavior.
One complaint about this bed is that I wasn't overly impressed with the filling.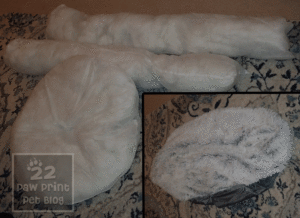 It's supposed to be filled with "uniquely designed Airloft fibers" that "keep their loft for up to 3Xs longer than standard pet beds".  But I feel like the bottom section of our new dog bed got flat pretty quickly.  I worry that it isn't supportive enough, especially for a senior dog with more sensitive joints.
I've been thinking about buying some memory foam and cutting it to fit inside the bottom of the Best Friends bed.  Because the outer cover is awesome, but the filling could really use an upgrade.  I'm also not convinced that this was the best dog bed to try if I really wanted something my dogs would sleep in in the summer.  They don't seem to use the bed as often as I thought they would.  I'm pretty sure it's because the faux fur, while amazingly soft, might make them too hot.
In summary…
The Best Friends by Sheri pet bed has a really nice faux fur cover.  It's stylish, soft, and easy to clean, but might not be the best option if it's hot where you live.  While I don't doubt that lots of dogs love this bed, I'm skeptical that it can really help to change anxiety induced behaviors.  The filler in the bed didn't live up to my high expectations.  But, luckily, the way the bed cover is designed would make it very easy to add additional filler to make the bed more supportive.  I paid just under $50 for our medium sized bed.  In my opinion, the bed is worth this price.
A re-review in the future?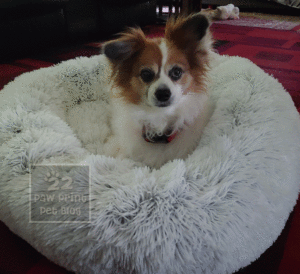 Since we received out bed in the summer, I'm curious to see if my boys perhaps start using it more once the weather starts to cool down again.  I'll have to update this post come fall/winter.  Both Kit and Fen have used the bed so far, more so Kit.  But they haven't been using it as much as I thought they would.  Kit will sleep in the bed some nights.   Often times still seems to still prefer the bare floor, or a blanket on the floor.
At least the color I picked matches our bedroom décor so nicely!  It doesn't look bad or out of place, even sans dogs.
Comment below!  Have you heard of the Best Friends by Sheri pet bed?  Have you tried it with your own pets?  If so, how do they like it?