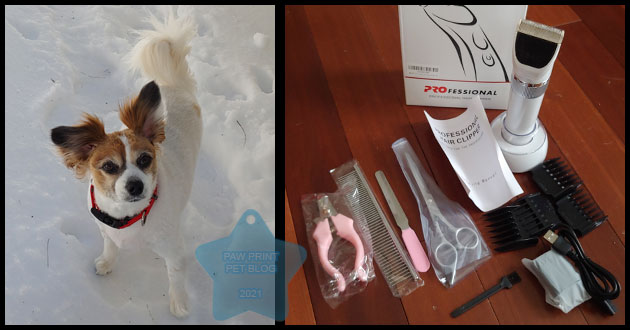 Hi everyone!  I hope you're all staying safe and warm.  Back in April 2020, when many places were experiencing their first Covid quarantine, I posted about the pros and cons of learning to groom your dog(s) at home.  I've always personally groomed my pets myself.  I may not be the best at it, but I've found grooming my dogs myself to not only be a great bonding experience, but also a great way to give my dogs regular at home check ups.  Despite being a breed that doesn't typically require haircuts, for a verity of reasons I've been trimming Kit's fur since he was a puppy.  For most of that time I've been using an Andis 2-speed pet clipper.  Over the years, however, our Andis clipper stopped working as well as it used too.  I was excited when, recently, a company called Mosonth asked us to review their dog grooming kit.
We received our Mosonth pet grooming kit for free in exchange for our honest review.  As always, we strive to share only products we feel will benefit our readers.  All opinions expressed are our own.
Contents of the Mosonth Pet Grooming Kit
Over the past 6 months or so, my Andis clippers were working so poorly that I've been secretly using my fiance's hair clippers to groom Kit.  Sorry dear, if you read this!  But those days are over, thanks to our new Mosonth clippers!
The Mosonth dog grooming clipper kit includes not only the 4-speed, cordless trimmers, but also comes with 4 attachment guard combs (3mm/6mm/9mm/12mm), a stainless steel comb, stainless steel scissors, nail clippers, and a nail file.  While the clippers themselves are the star of the show, the other items are great too.  The comb is super sturdy and is so high quality that it has quickly become my 'go to' comb for brushing Kit.  I had no issues using the nail clippers and file to give Fenrir a pawicure.  The nail clippers are sharp and work well.  The scissors are perfect for touch ups. I personally used them to trim the parts of Kit that I didn't want to use the clippers on, like his ears and tail.  The guard combs clip securely onto the clippers and, in my opinion, are a really important addition to this kit.  They allow you to easily trim your pet's fur without actually shaving them bald.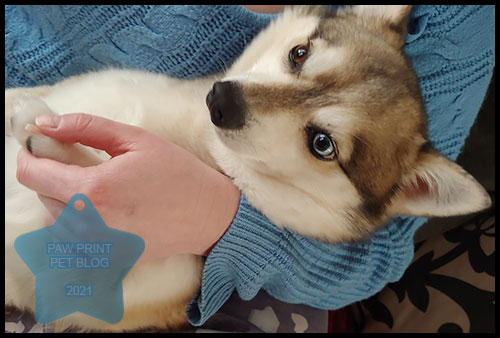 Pet Clippers Review
The pet clippers themself, though, are the best part of this kit.  They are cordless, which is awesome.  I was used to using corded pet clippers (ahem…and corded human hair clippers) which meant having to stay close to a power outlet and work around getting tangled up in the cord.  This kit comes with a charging base to quickly charge the large capacity lithium batteries.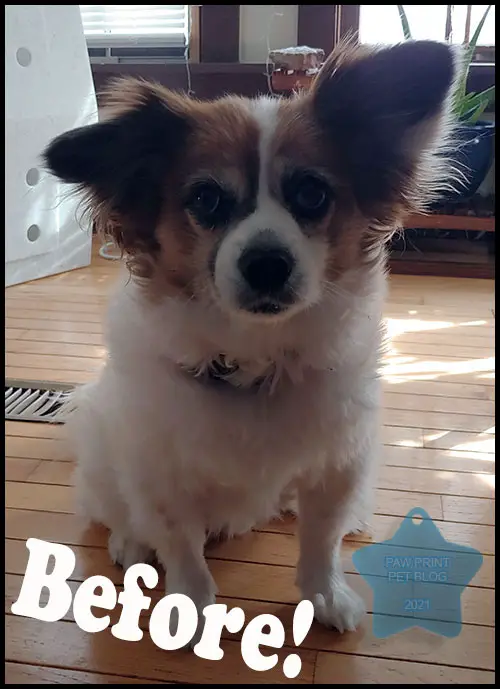 The listing for these clippers say they have a run time of up to 3 hours on a single charge.  The motor is pretty quiet, which I know Kit appreciated, and also has 4 speed options.  The blade itself features 35 stainless steel teeth, with a ceramic movable blade.  There's a knob on the clippers that lets you select from 4 lengths, from 0.8 to 2mm, and that's before the addition of the guard combs.  The blade is detachable so it can be cleaned or, if needed, replaced.  The LCD display on the front of the clippers is super convenient.  It displays the battery status, charging status, and speed.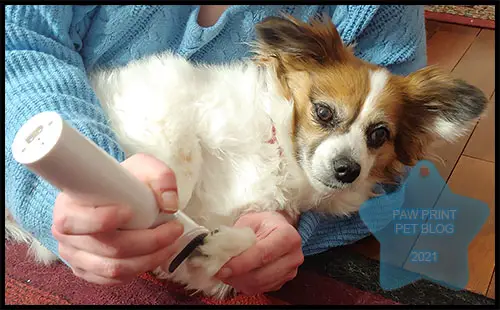 Now that Kitsune is a gentleman of a certain age, I'm extra careful to keep the fur on the bottom of his paws trimmed.  Papillons are a bit notorious for their 'Grinch feet' and, while fuzzy paws are adorable, I've noticed that when Kit's paw fur gets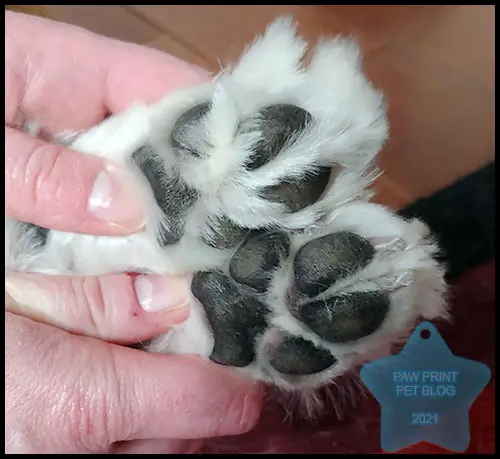 too long he slips more.  I've been clipping the fur on his paws and giving him sanitary trims every other week – his fur grows fast!  When I received out Mosonth clipper kit, I figured, in the very least, it'd hopefully work well for keeping Kitsune's paws and privates tidy.  I would have been happy with it if that's all it was good for.  Expecting it to do a good job on a whole body trim was a tall order!
These Clippers Delivered! 
Last weekend I used them, for the first time, to trim Kit's fur.  Before adding the guard comb they cut through the fur on the bottom of his paws like butter.  They worked really well with the guard combs as well.
Some of my favorite features are how quite these clippers are, the fact that they are cordless, the LCD screen and, of course, how well they work.  As an amateur when it comes to clipping dog's fur, I've found that often Kit's hair cuts will look quite choppy for a week or so after his trims.  I always thought his haircuts didn't come out super smooth because I just wasn't that great at cutting his hair.  Our Mosonth clippers made me wonder if maybe it wasn't me, but the clippers I was using, all along.  I think this is the smoothest haircut I've given Kit in a really long time!
You know what's crazy?  The Mosonth dog grooming clipper kit is available on Amazon for only $24.99!  For that price, whether you're using it for simple things like paw and sanitary trims, or full body trims, you really can't go wrong.  I know especially during Covid, when getting your dog to a groomer on a regular basis isn't as easy as it used to be, having something like this at home can be so convenient.  I know it has been, so far, for us!  Thanks so much for reading.  If any of you decide to try out the Mosonth dog grooming clipper kit for yourselves you'll have to come back and let us know your thoughts!