Why is my dog sucking and kneading random objects (blankets, toys, etc)!?  Kneading is usually a habit associated with cats, but did you know that some dogs do it too?  Some dogs develop a habit of kneading with their front paws, while sucking on a favorite toy or other object.  It's something my Papillon Kitsune has done since he was a puppy, and since it was always normal for him I never put too much thought into it.  Although not as common for dogs as for cats, this behavior is thought to mimic how puppies nurse from their mothers.  In most cases, it seems to be a comforting behavior.
Bed Time Behavior?
My dogs mostly do this 'dance' right before bed, when the day is winding down and it's time to start relaxing.  Kitsune has always done it to his plush toys.  I've also heard about dogs who will do it with a favorite blanket, or bed.  Some people think this behavior is displayed mostly in dogs who were separated from their mothers too early, although this doesn't seem to be the case for most of the owners I've talked to.  Kitsune came to live with us when he was 9 weeks old, so wasn't weaned early.
Like A Child Sucking Their Thumb, Or On A Favorite Blanket
Dogs sucking and kneading objects is often compared to thumb sucking in human children.  Although most human babies outgrow thumb sucking, dogs who suck and knead items often do so throughout their lives.  This behavior seems to be more common in dogs who are sensitive in general.  Dogs who are more prone to anxiety, and less independent, may be more prone to sucking and kneading as well.
Is It OK To Allow Your Dog To Continue Sucking and Kneading Objects?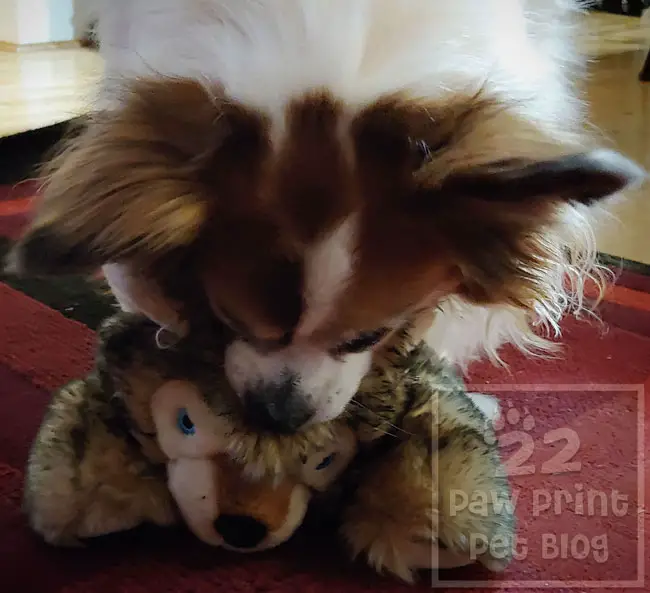 Whatever the reason, sucking on objects isn't a bad thing as long as they don't destroy and ingest any pieces of whatever it is they're sucking on.  Most owners I've talked to who have dogs that display this behavior find it quite charming, and don't discourage their dogs from doing it.  When Kitsune does it, it seems to calm him down and relax him.  Like I mentioned above, he does it almost exclusively right before bed time.  Just like I like to settle down with a good book before bed, Kitsune likes to have a nice snuggle with his toys to relax him before bed.
Have you ever had a dog that sucked on and kneaded objects?  What other silly behaviors do your pets display?  Comment below!
Originally posted 11/14/2014.  Last updated 7/24/2022