Last September, I found myself in the market for new dog bowls.  Although most of our stuff got to the new house safely, unfortunately, the box containing Kit's and Fen's bowls must have gone for a rough ride.  Quite a few of their ceramic bowls arrived broken.  When it came to replacing them, I decided to put a bit more thought/research into my selection.  Does material matter when it comes to dog bowls?  What is the best type of pet bowl?
Who would have thought there's so much to learn about buying dog bowls!?


I've always been aware of many of the different types/materials of bowls that are available, but until recently I never put too much thought into how they differ.  The most common materials used to create pet bowls include plastic, ceramic, glass, silicone, and stainless steel.  Each type comes with their own lists of pros and cons…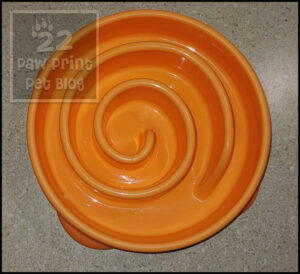 Plastic Pet Bowls:
Pros:
Plastic pet bowls can come in a wide array of colors, and even shapes!
They are commonly some of the easiest to find for sale, as well as the least expensive.
Plastic pet bowls are unlikely to break, even if dropped or thrown around by your pet.
Cons:
Although they don't normally shatter, plastic bowls can be easily scratched or chewed on by your pet.
These scratches can quickly become breeding grounds for bacteria, which could make you and/or your pet sick.
Some dogs can develop allergies to plastics, which can lead to skin irritation on their face.
Not all plastic is BPA free.  BPA from plastic bowls can leach into your dog's food, and over time can lead to health issues.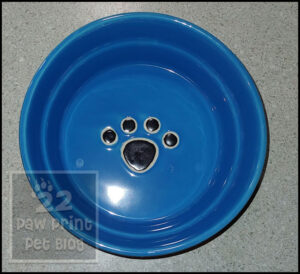 Ceramic Pet Bowls:
Pros:
Ceramic bowls are, in my opinion, the most visually appealing option.  They come in a wide array of colors and designs, and can sometimes even be customized.
Ceramic pet bowls are easy to clean, and, as long as they remain nonporous, will not harbor bacteria.
Cons:
However, ceramic bowls are easy to break.
Any cracks in the bowls, no matter how small, will offer a space for potentially harmful bacteria to breed.
Depending on the design/where you get it, ceramic bowls can be expensive.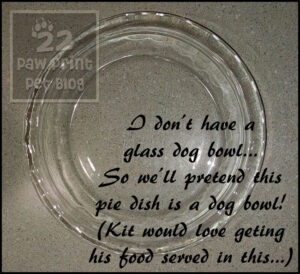 Glass Pet Bowls:
Pros:
Glass pet bowls are relatively simple, easy to clean, and easy to find in stores.
Cons:
Although they are usually on the simple side, glass bowls will usually not be your cheapest option.
Glass, like ceramic, is easy to break if dropped or hit around too much by your pet.  Any chipped or broken areas may be sharp, and offer an area for bacteria to colonize.  It's best practice to dispose of broken/chipped glass bowls.
Silicone Pet Bowls:
Pros:
Silicone comes in a wide array of colors.
It is also lightweight, durable, and typically collapsible. Silicone pet bowls are awesome for travel!
Cons:
Being so lightweight can also be a con.  These bowls are easy for even small pets to pick up or knock around.
They are also easily damaged if chewed.  These bowls are best used for travel rather than an everyday use.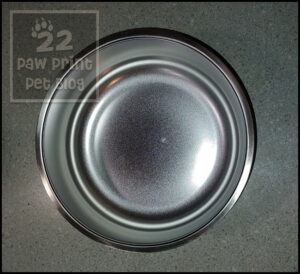 Stainless Steel Pet Bowls:
Pros:
Stainless steel bowls are nonporous and very easy to clean.
They do not harbor bacteria and, because they are metal, can usually be disinfected using high heat.
Stainless steel bowls run the gambit when it comes to pricing.  Simple stainless steel bowls are typically both cheap and easy to find.
More decorative options exist if you're looking for something with a bit more style.  Stainless steel bowls often come with colored coatings on the outside.  Nonskid rubber bottoms are popular if you have a pet who likes to push around his/her dish.
These bowls are very durable and hard to break, even if dropped or smacked around by your pet.
Stainless steel pet bowls come in a wide array of sizes, from very, very small to huge.
Cons:
Be careful not to allow your dog to chew on stainless steel bowls, as it could damage his/her teeth.
Although it's not super common in dog bowls, stainless steel can, under some conditions, rust.
Color and optimization options are limited, unless you get a stainless steel bowl with some type of coating on the outside.  While more aesthetically pleasing, some of these coatings cannot be put into the dishwasher or exposed to high heat.
What Type Of Bowl Did I Choose?
If you haven't already guessed by the long list of pros, I decided to go with stainless steel bowls for my own dogs.  I really liked these Yeti dog bowls, which are apparently really popular amongst all the spoiled pooches.  As highly rated as they are, I just couldn't bring myself to spend around $50+ per bowl – especially considering I was looking into buying multiples.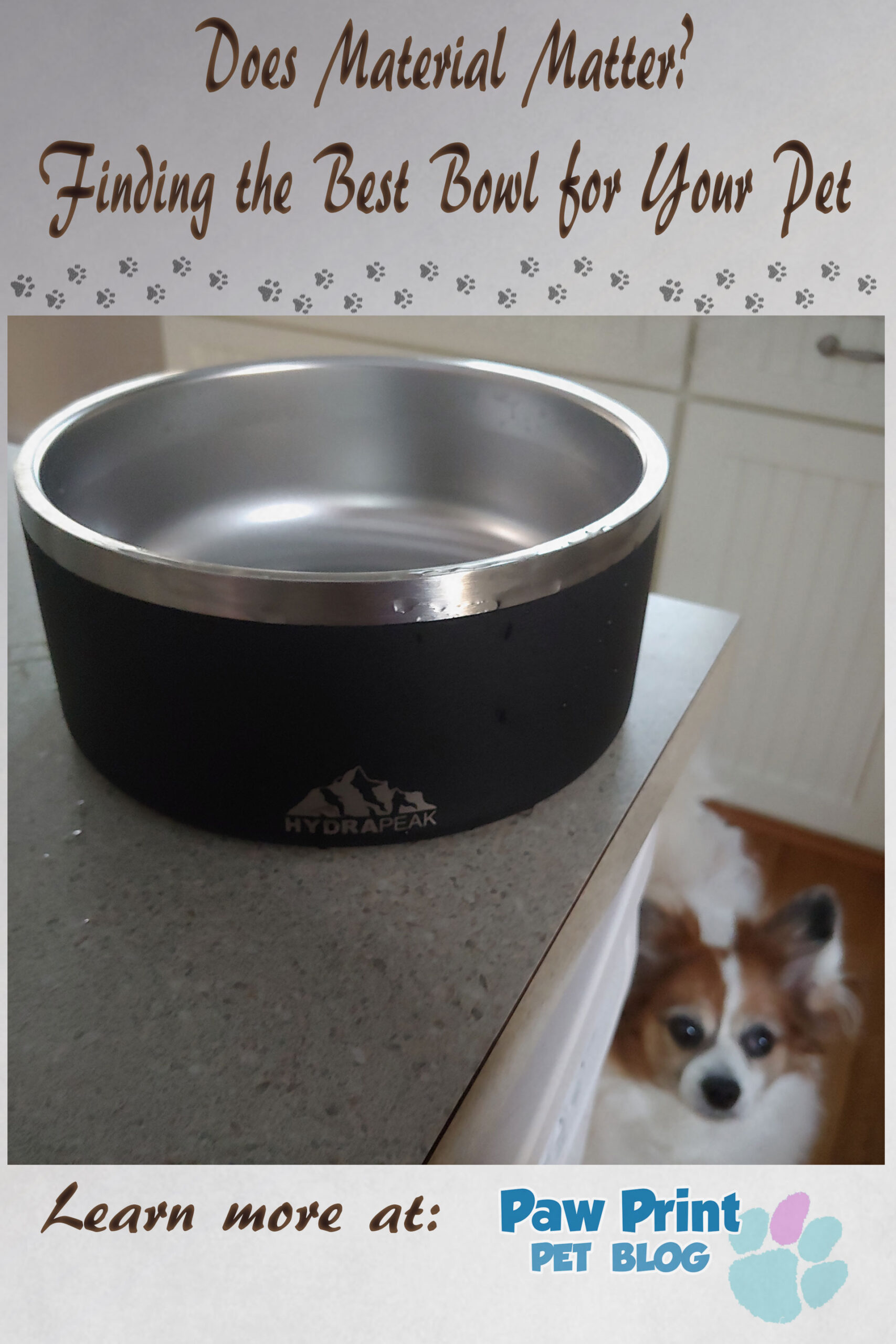 Then I came across these stainless steel Hydrapeak bowls.  They look similar to the Yeti bowls, but are cheaper.  The Hydrapeak bowls are made from double wall insulated food grade stainless steel, and are dishwasher safe.  The outside features a durable powder coating, available in multiple colors.  So far, I've purchased two of the 8 cup (1.89 l) bowls that I use as water bowls for Kit and Fen.  I'm waiting for a few of the colors to come back into stock in the 4 cup (0.95 l) size to use as food bowls for the boys.
Once a week, I wash our Hydrapeak bowls in the dishwasher on the sanitize setting.  In between that, I just handwash them.  They've been holding up really well so far.  I've had them since early November and both of them still look like new, despite all the washings and exposure to high heat in the dishwasher.
I have to admit, we do have a few other dog bowls as well, as the pictures in this post would suggest.  The boys each have a plastic slow feeder bowl.  We have one set of ceramic bowls that actually did make it through the move, a silicone travel bowl that we take hiking with us, and old stainless steel bowls that we still use regularly.  I really like having multiple dog bowls.  That way when some are dirty, I can just grab a clean bowl instead of having to handwash a dirty one.  Have I ever mentioned here before how much I hate doing dishes?  I really, really hate doing dishes!  I'm so thankful our rental house has a dishwasher.
Comment below!  What's the best pet bowl you've found for your pet?  What type of bowls do you use currently?