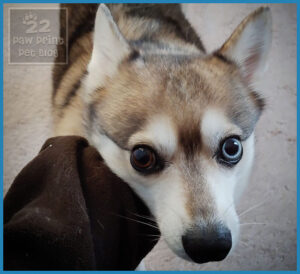 I decided to make this weekend a long one and take today off.  No, I didn't tell my boss it was so I could celebrate my dog's birthday.  But our dog birthday cake recipe wasn't going to write itself, and I promised the birthday pup a nice hike and extra snuggle time!
Last week I was trying to come up with a new recipe to make, and share, for Fen's birthday.  I wanted to make a healthier dog birthday cake and was thinking about using applesauce in the mix.  I sometimes replace oil in (human) baked good recipes with applesauce, so that's where my original idea came from.  We also happened to have a pineapple that was ready to cut sitting on our counter.
I was running a few recipe ideas by my partner.  When he mentioned adding pineapple to my apple cake we both started laughing.  Do you guys remember that silly "Pen Pineapple Apple Pen" song that went viral a couple of years ago now?  Well "pen" sounds so similar to "Fen", that Fenrir got stuck with the wacky nickname "Fen pineapple apple Fen!".
What's better for our Fen pineapple apple Fen on his 7th birthday than a pineapple apple cake!?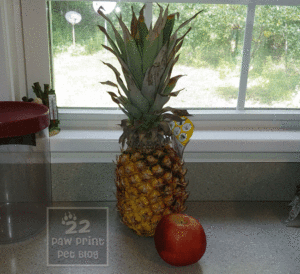 I've written about apples being dog friendly before.  I haven't written a post about pineapples (yet), but it is also dog safe.  Pineapples are a whopping 82% water, so they can help keep your pup hydrated.  They also contains antioxidants, vitamins C and B6, and minerals that can help maintain a healthy skin and coat, among other things.  Fresh pineapple is high in natural sugars, so it should really be offered to dogs in moderation.  But in our case, when it's being used in a doggy cake, we're going to use those natural sugars to our advantage!
I also added a little bit of cinnamon to help flavor Fen's cake.  Cinnamon is nontoxic to dogs, and is thought to also have some health benefits.  Cinnamon is an anti-inflammatory, is antioxidant-rich, and can help regulate blood sugar and blood pressure.
But everyone knows that birthdays aren't really about being healthy!  Bring on the cake!
Fen Pineapple Apple Cake – Dog Cake Recipe
I used this recipe to make 12 pineapple apple dog cupcakes.
Ingredients:
2 cups of flour
2 eggs
1 cup of applesauce (dog safe!  I used homemade.  Check the ingredients list if you're using store bought applesauce.)
1/2 cup pureed pineapple
(Optional) A small amount of cinnamon and
(Optional) Larger slices of pineapple to decorate the top of the cupcakes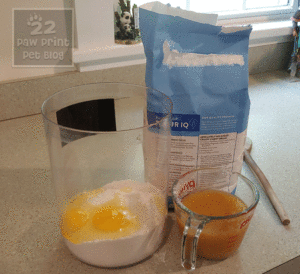 You will also need…
A blender
A mixing bowl
A mixing spoon, or a whisk
A cupcake pan
Cupcake pan liners
Instructions:
Preheat your oven to 350*F.
I started by using my blender to make 1 cup of applesauce, and a half a cup of pineapple puree.  For the 'applesauce' I just blended two apples with water until I had an applesauce consistency.  I did the same with the pineapple.  If your purees are a little bit chunky that should be ok.  If you're using store bought applesauce, make sure to double check the ingredient list to make sure it doesn't contain any unwanted ingredients.  The more natural/simple the applesauce, the better.
Mix your applesauce and pineapple purees together with 2 cups of flour, and 2 eggs.  The resulting dough will be on the thicker side, so it may take a bit of extra elbow grease to thoroughly mix.  If you're really having a hard time mixing, you can add a bit of water.  I didn't have to do this, but my applesauce was on the watery side.
Put your paper cupcake liners into your cupcake pan, and fill each liner up to around 3/4 of the way full.  When I made this recipe, it was enough dough to make 12 capcakes.
(Optional) Since this is an unfrosted cake, you can get creative and decorate the tops a bit.  I decorated each of my cupcakes with pieces of pineapple and a small sprinkle of cinnamon.
Bake your dog cupcakes in a 350*F oven for 30 minutes.  These are a pretty soft treat.  When they're done baking, the tops of the cupcakes should feel spongy and dry.  The inside will be more moist, thanks to the fruit.
Let your cupcakes cool before offering one to your pup!  Because these treats do not contain any preservatives, store any extras in the refrigerator.
Let cool and enjoy!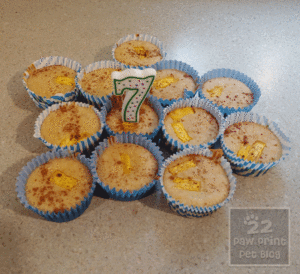 My birthday pup Mr.Fenrir can be a really picky eater.  He's an Alaskan klee kai, after all, a breed that's pretty notorious for being food snobs.  I have to admit, I was worried I'd do all this work to come up with a dog birthday cake recipe just for Fen and he'd turn his nose up to it.  I was a bit hopeful, though, because Fenrir does like apples.
Thankfully, to my pleasant surprise, Fenrir seems to really like his apple pineapple cupcakes!  My other dog, Kitsune, really likes them too.  That's not saying much, though, because Kit will eat almost anything!
Well that's it for today.  The birthday pup and I have a lot of snuggling to do!  I'll try to get Fenrir's yearly birthday video up on our YouTube channel later this week, as is tradition.  If anyone tries out our recipe you'll have to comment and let us know how it goes!
Happy 7th Birthday, Fenrir!