Of Course, A is for Apples!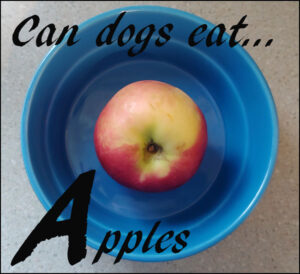 My Papillon, Kitsune, has always loved snacking on fruits and vegetables.  Fenrir has been a different story.  He started out being a pretty picky eater.  By picky I mean, if it wasn't his regular food, or chicken, he didn't want it!  We've slowly been able to introduce, and get him to eat, different foods.  Apples are one of the very few fruits that Fenrir actually seems to enjoy now!
This post is part of our April 2022 Blogging (snacking) from A to Z challenge!  Recognize this post?  This series was originally posted in April 2016.  Because I needed to go back and redo/update these posts anyway, I decided what better time than another April?

Can Dogs Eat Raw Apples?
Many dogs enjoy apples for the same reasons people do.  These crispy, sweet treats can be fed simply sliced, chilled, or as an ingredient in homemade treats.
Do keep in mind that apple seeds, however, are toxic.  If your dog eats a couple of seeds accidentally, it shouldn't be a big deal – but you should try to avoid feeding your dog apple cores, seeds, and stems.
Also avoid feeding applies in excess.  I remember once, when I was a kid, I took the old adage "an apple a day keeps the doctor away" seriously.  While I didn't end up having to go to the doctor from eating too many apples, I did end up with some pretty unpleasant stomach symptoms.  The same can happen to your dog if you're not careful.  Moderation is key!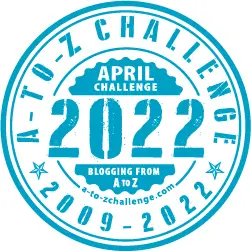 What are the Benefits of Feeding Apples?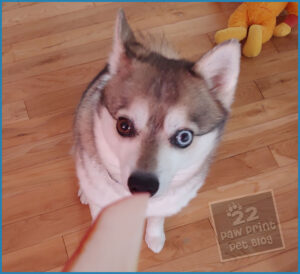 Apples contain phytonutrients that are thought to help prevent cancer in humans.  Other than phytonutrients, apples are a good source of fiber, vitamin C, vitamin K, and calcium.  They also contain omega-3 and omega-6 fatty acids, which can help improve your dog's coat.
Apples are low in calories, making them a good snack choice for dogs who are overweight.  Chewing on them may also help to freshen your dog's breath.
So while your dog doesn't need, and probably shouldn't have, an apple a day – apples can be healthy, low calorie snacks for dogs.  Just make sure, like with any new treat, that you introduce them to your dog slowly, in small amounts, to avoid stomach upset.
Comment below!  If you have a dog, does he/she like apples?