On Sunday, September 15th, 2019 my little pack woke up super early, said our final goodbyes to the apartment we had called home for over 10 years, piled into our car, and drove just over 300 miles to our new home!  The Saturday before our actual moving day we had an amazing group of friends come to help us move pretty much everything we owned from our apartment, down 4 flights of horrible stairs, to our waiting Uhaul outside.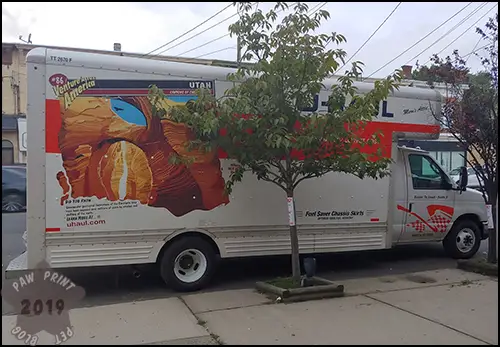 Since we moved so far from where we had been living, around 5 hours away, we decided to bite the bullet and do the entire move in one shot.  Luckily we were able to fit everything we wanted to bring with us into a 20 foot Uhaul, with all the super important stuff (pets included) coming with Chris and I in our car.  We paid a friend with experience driving trucks to drive the Uhaul for us, while we made the journey home in our car.  Watching New York City pass by out our car window, for probably the last time in a very long time, was such a surreal feeling.  We were finally making our escape from the city!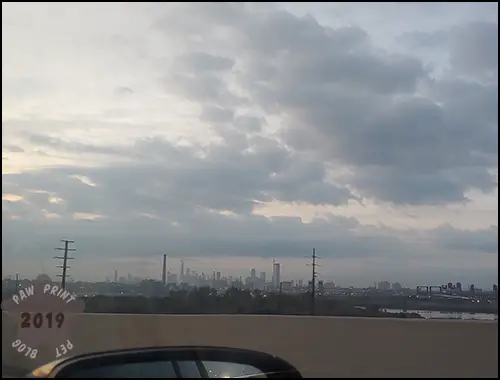 The landscape surrounding our new place is quite a bit different!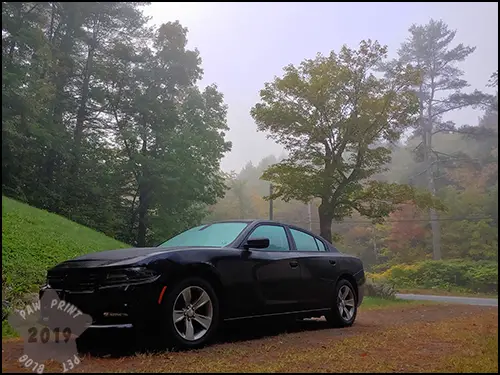 I keep thinking about how crazy it was that we went from living in an apartment with a NYC view one night, to living in a house across the street from a 400+ acre forest the next.  But I'll tell you all about the new place in more detail later.  Today I wanted to share some tips that we found helpful when it came to keeping our pets comfortable on moving day.
Pack pet belongings, and important items/paperwork, in an easy to access location.
Things like pet beds, bowls, food, medications, and any other comfort items should be packed in a way that you can get to them easily once in your new place.  You don't want to have to be searching like crazy though a mountain of boxes to find your pet's medication, and items like beds and toys can be very comforting in unfamiliar surroundings.  Make sure you can also access important paperwork such as vet records.
Utilize a "Quiet Zone", or have your pet visit with friends, while you move out belongings.
Especially if you do what we did and move everything out of your old place at once, it's important to keep your pets safe and calm.  Seeing lots of people, especially strangers, coming in and out of the house, and the hustle and bustle of lots of items getting moved out, can be really stressful and scary to an animal who doesn't quite understand what's going on.  Couple that with doors being constantly opened and closed, or just left open, and you may have a recipe for disaster.  Make sure you keep your pets safe on moving day.  If you have a friend or family member who can take your pet for the day that would be ideal.  We didn't have that luxury so utilized the next best thing, a 'quiet zone'  behind closed doors where the dogs could stay safe and relax away from all the excitement.
Keep current forms of ID on your pets at all times during the move.
If your pet is micro-chipped, make sure to update his/her microchip information with your new/current address and phone number ASAP.  Dogs and cats should wear updated ID tags.  For other types of pets, such as exotics, you should write your current contact information down and securely attach it to the outside of their carrier or whatever you're using to transport them in.
Transport your pets as safely as possible.
Crash tested carriers or harnesses (for dogs) are recommended.  There are a lot of companies that sell carriers/car seats/travel harnesses/etc. especially for dogs, but a majority of them don't undergo any type of safety testing.  You can check out the Center for Pet Safety to research which brands actually pass crash tests, making them safer options not only for your pets, but for human passengers as well.
Do what you can to keep pets comfortable during long car rides.
My Kit is prone to getting car sick, but we found that keeping him in a more enclosed carrier that prevents him from looking out the car window goes a long way towards keeping his stomach more settled.  Fenrir gets nervous in his carrier sometimes, but if he can hear us talking, either to him or to each other, he stays much calmer.  Keeping your pet(s) comfortable during car rides will mean knowing your individual pet(s), the things that make him/her uncomfortable, and coming up with ways to combat any stressors.  Some pets may benefit from playing calming music, covering his/her travel crate with a light blanket, withholding food the night before a long commute, etc.
To take breaks or not to take breaks?
We decided, during our move, to drive straight to the new place without taking any breaks.  I wanted my dogs to be as comfortable as possible in their carriers, which meant taking their harnesses/leashes off.  I decided that I didn't want to risk having to take them out of their carriers and putting their harnesses on in an unknown location, just in case one of them (ahem…Fen) decided to try to take off before fully harnessed.  But whether or not you take breaks and allow your pet to stretch his/her legs, or use the bathroom, will depend on your individual pets needs and the length of your trip.
Have a vet lined up in your new location.
I know, all too well, that finding the 'perfect' vet can be a task and a half.  Even so, make a list of vets in your new location to try out before you move.  That way if you encounter any issues during or right after your move, you won't have to waste time researching local vets.  If the new vet you end up selecting doesn't also provide emergency services, make sure you also research local 24/7 emergency clinics.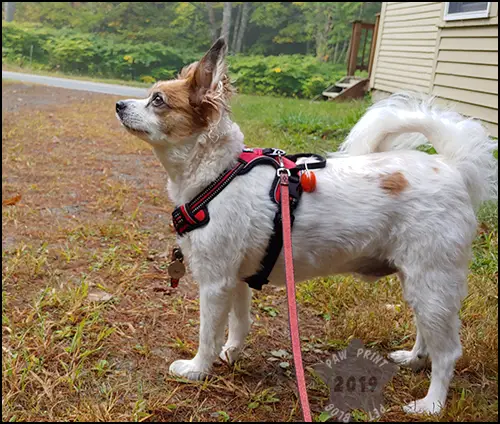 If you're in the beginning stages of moving, or are planning a future move, be sure to check out my last post: Moving Prep with Pets: Tips to Combat Stress While Preparing to Move.  It contains some additional tips that were helpful for us while we were still in the prepping stages of our move.  I'm planning on doing one more big moving themed post, most likely next week, that will include some tips for helping your pets adjust to their new home.
Thank you all so much for reading, and especially so to those who have offered words of encouragement during our moving journey.  The past couple of months have been crazy, hectic, stressful…but also exciting, wonderful, and, at the risk of sounding super sappy, a dream come true for us.  I'm looking forward to getting back to posting more regularly, to sharing this next chapter of our story with all of you.