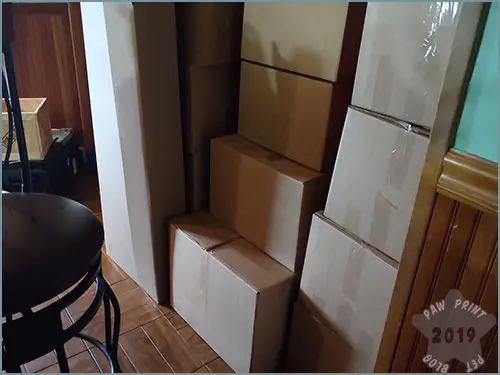 We are in the final stretch of prepping for our move!  We've been living in our current apartment for over 10 years.  The whole moving process has felt a bit foreign.  This is also the first time ever that we've had to move with dogs.  Our oldest dog, Kit, joined our pack just a few months after we moved into this apartment.  He's lived in the same apartment with us since he was 9 weeks old, and he's almost 11 now!  Throughout the moving process I've stayed pretty vigilant when it comes to my dogs.  Moving can be a big source of stress for pets, as well as their people!  Luckily my boys are pretty resilient, and I've followed a few tips that I feel have helped to keep their stress levels at a minimum during our moving prep.
Try to Maintain Your Regular Routine.
If you're like most pet owners, you and your pets are used to following a certain schedule.  Animals can be creatures of habit, and breaks in their normal, everyday, routines can be big sources of stress.  My fiancé and I have been super busy; running around to get moving stuff done, tying up loose ends at work, and visiting with friends and family before we leave.  Despite all that, I've tried hard to make sure I keep my dogs' schedule as consistent as possible.  You know Kit knows exactly when it's dinner time, and he's not a happy camper when it comes late!
Keep Comfort Items Out for Your Pets.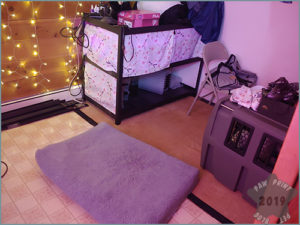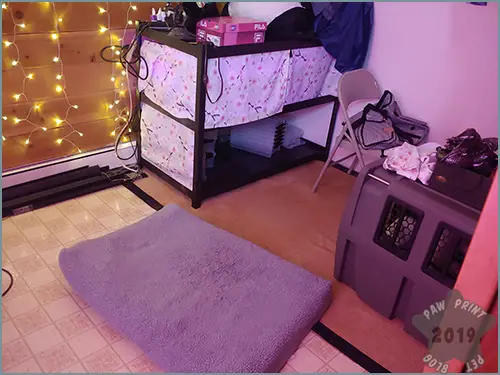 Since we're so close to moving at this point, I've packed quite a bit of my dogs' belongings, including most of their bedding and toys.  I think it's important, though, to make sure you leave them with access to at least a few comfort items.  My dogs each have a few favorite toys, and I've made sure to leave those out for them.  I also left out their favorite dog bed, and Fen's crate.  These items have been especially useful in our case, since we decided to sell off most of our furniture and start fresh in the new place.  I didn't want Kit especially, with his arthritis, to be left without a comfortable place to relax.
Set up a "Quiet Zone" Where Your Pets Can Stay Safe and Stress Free.
In the past couple of weeks we've had quite a few people coming and going from our apartment – Friends visiting, people picking up furniture we sold, etc.  We've also been breaking down some furniture, and moving around really heavy boxes.  There have been quite a few times when, for everyone's safety, it has been best to not have to worry about my dogs getting underfoot.  To protect your pets from getting hurt or bolting out open doors, it's a great idea to create a nice relaxing 'quiet zone' for them.  If you can, set aside a room in your house just for your dogs.  If you don't have the space to set aside an entire room, consider using a crate to confine your dog during times when it may be unsafe or stressful to have him/her running around.
Don't Bother Going Crazy Cleaning.
When we first started packing, I went into crazy cleaning mode.  I had plans to clean everything, or at least almost everything, before packing it away into boxes.  It's important to remember, though, that sense of smell is more important to pets than it is people.  Bringing items that smell like home into your new house when you move can be really comforting to dogs especially.  I decided not to go so crazy with my cleaning, and am even packing a lot of bedding dirty on purpose for the dogs.  I can always clean everything later, after everyone gets settled into the new place.
Get Plenty of Exercise!
Believe me, I know, you're going to want to use moving as an excuse to not exercise your pet as much, at least if you're anything like me.  I've been SO sore lately from moving heavy stuff around, plus extra tired because I've been so amped up that I haven't been sleeping very well.  Running around at the park is one of the last things I've been wanting to do.  But I do it for my dogs.  Exercise really does help reduce stress!  Getting excess energy out in appropriate ways will help ensure your dog isn't getting into trouble while you're trying to pack.  It can also just be a great way to get out with your dog, to take everyone's mind off of the craziness of the move even if just for a little while.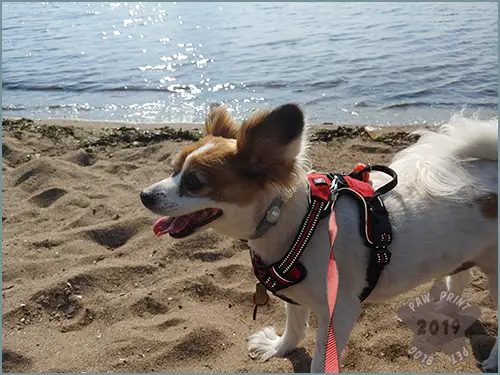 Try To Stay Stress Free Yourself.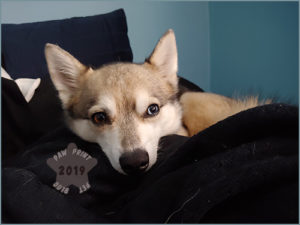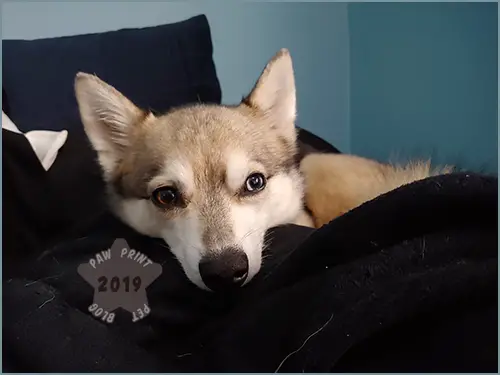 Easier said than done, I know.  Don't forget that our pets, dogs especially, look to us for ques on how to react in new situations.  They feed off of our emotions.  If you're super stressed out, believe me, your pets are going to know it.  Despite everything going on here lately I've been reading quite a bit, and snuggling with the dogs often, as these are some of the things that help me to destress.  Moving is so hectic, it's important to remember to look out for not only those who you care for (such as pets), but for yourself as well!
Try to have fun! 
Packing isn't fun for everyone, I get that, but there's no better way to fight off moving stress for our pets than with fun!  My younger dog, Fenrir's, favorite part of packing so far was when we were getting ready to sell our couch, and found just how many toys had been hiding under there.  So many tennis balls!  I've been taking plenty of breaks from packing to play with the dogs, even just to roll a tennis ball around the newly empty rooms for a few minutes with Fen.  A few minutes of fun here and there can really help to lighten the mood of the move – for us and our pets!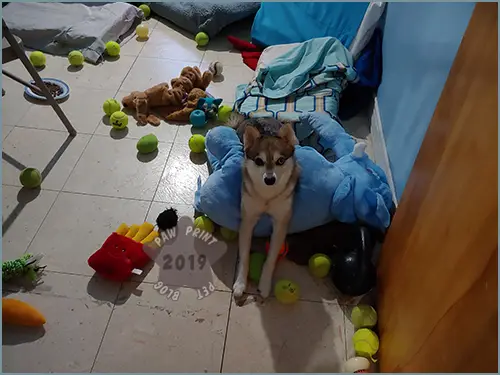 Can you think of any tips that I didn't post here?  What are things you do to help keep your pets stress free in a stressful situation, whether it be moving or something else?
Thank you SO much to everyone whose wished us luck with our move!
Things are still going well, and before we know it I'll be blogging from our new home.  I have a few more moving themed posts planned, hopefully no one minds.  I'll be sure to keep everyone updated on our progress.  Please don't worry about us if we go radio silent for a bit at some point.  It most likely just means that we're in our new place, working on getting everything back up and running again.  Thank you all so much for reading!  All of you are part of what helped to make this next step in our journey possible and I am so thankful for each and every one of you! 🙂
This post originally went up on September 10th, 2019.  It was edited and reposted on August 24th, 2022.  We successfully moved from our city apartment, to an amazing rental house in the country back in 2019.  Moving with pets can cause stress, but this move was a huge upgrade for us.  Kit and Fen have both been loving life as country dogs!