Happy fall!  Autumn is an amazing time of year.  The cooler temperatures and beautiful foliage make it a fun season to spend time outdoors with our pets.  However, it's important to remember that there are many potential dangers to our pets present around this time of the year. Most of them are not as obvious as the dangers posed by the hot summer sun, so it's even more important to be aware of autumn safety hazards. Follow these fall pet safety tips, and you and your pet should be well on your way to a snug, happy, and healthy fall season!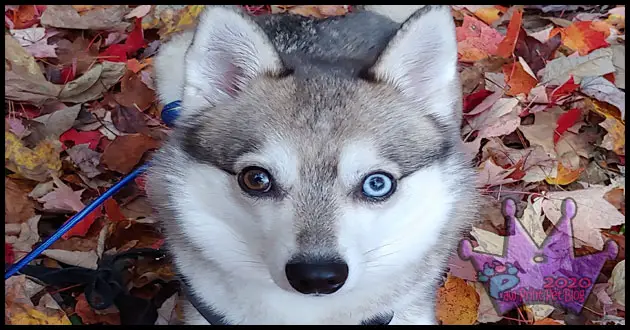 Rodent & Insect Poisons:
As the weather gets colder, it's common for rodents and insects to attempt to find ways indoors where they can stay warm.  Many people use poisons around their homes, both indoors and out, in an attempt to ward off unwelcome house guests.  Ingesting poisons made for insects or rodents can be fatal to pets.  If you must use these types of products, use extreme caution and never put poisons in locations where your pet(s) can access them.  Even if you do not use poisons in your own home, be aware that other people you visit may.  Do not allow your pet onto private property without the property owner's consent and always be careful while visiting family and friends who may be unaware that poisons left out for rodents can be dangerous to visiting pets.
Back to School Hazards:
For households with human children, whether they are attending online or in person, September means getting ready to go back to school.  While this time is often very exciting for kids, remember that school supplies such as glue, markers, and other potentially toxic or dangerous items can look like fun new toys to the family pet.  Keep school supplies put away where curious pets cannot get to them when not in use.
Compost Piles:
Composting can be great for the environment and your plants, but decomposing materials can contain toxins and bacteria that can be dangerous to our pets.  If you have a compost, find a way to fence it off or put it in a location where your pets will not be able to get into it.
Plants: 

Speaking of plants, many plants commonly kept indoors can be hazardous to animals.  If you bring any of your outdoor plants indoors during the cold months, or purchase any new plants during the holiday seasons, make sure they are kept well away from your pets.  Many types of plants commonly purchased for cold weather holidays, such as holly, mistletoe, and poinsettia, are actually toxic if ingested by our pets.
Mushrooms:
Fall (and spring) are mushroom seasons.  Luckily, most types of wild mushrooms present little or no danger to our pets.  However, there are some types of mushrooms that can be deadly to pets.  It is often times difficult to tell the difference between toxic and nontoxic mushrooms, so the best course of action is usually to prevent your pet from ingesting any mushrooms.
Auto Coolants:
Not only antifreeze, but also other car chemicals and fluids can be dangerous to animals.  Antifreeze is especially dangerous because it has a sweet scent that attracts many animals.  Auto coolants and other car related chemicals are dangerous any time of the year, but as the weather gets colder it's more likely that an animal may get into your garage or car engine seeking a warm spot to hide from the cold.
Holiday Hazards:
There are far too many potential holiday hazards to list here, but it's important to make sure you consider your pets safety while celebrating fall holidays.  Holiday foods, decorations, and even guests can all present dangers to our pets.  Holidays can be a fun and exciting time for our pets, but in the excitement of celebrating don't forget to keep your furry friends safety in mind.
Allergies & Arthritis:
Allergies and arthritis are both conditions that can be made worse in the autumn.  The change of seasons presents a whole new set of potential allergens that may effect your pet.  The increasingly cold weather can lead to painful flair ups of arthritis, especially in older pets or those with joint issues.  Keep an eye on your pet and speak to your veterinarian if you suspect any seasonal health changes.
Cold:
Lastly, and maybe the most obvious danger, is the cold weather.  While fall may not be as cold as winter, the dropping temperatures can impact our pets, especially those who spend extended amounts of time outdoors.  Make sure your pet(s) have access to an area where they can go to warm themselves, such as inside your home or a properly insulated shelter.  Also make sure your pet always has access to fresh, clean, unfrozen water.  Even when there is no snow, fall temperatures can sometimes drop low enough to freeze over pet's water sources.  Know the signs of hypothermia and get your pet medical attention imminently if you think he or she may be suffering from low body temperature.
This is not an all inclusive list, but follow these tips and you and your pet should be well on your way to a healthy, happy, and safe fall!