This post contains the simple recipe for turmeric treats that I use to supplement my senior dog, Kitsune! 
I recently wrote a couple of blog posts about Turmeric, including this one about the benefits of feeding turmeric to dogs, and this one about how to make golden paste for dogs.  I mentioned in our golden paste post that I was giving my senior papillon, Kitsune, turmeric but I had to stop recently when he was put on steroids to help treat IVDD.  Thankfully he's been off of steroids for over a month now.  Kit had (yet another) follow-up visit with his vet recently.  We were given the go-ahead to start supplementing him with turmeric again.  I give it to him to help with his arthritis and mild GI issues.
Why Turmeric Treats?
When I first decided to try turmeric for Kitsune I started by mixing it into his regular food.  Kit is OBSESSED with food.  While Kit was still eating his food with the turmeric mixed in, I could tell he wasn't as excited about his food as he usually is.  Not wanting to decrease his enthusiasm for his regular meals, I started making him these very simple turmeric treats instead.
I start out by making Golden Paste.
Here's my more in-depth post about that process.  On its own, turmeric is hard for dogs' bodies to absorb.  When it's mixed with black pepper and a source of fat (I use coconut oil), it becomes much more bioavailable.
Just a quick note – Some of the photos in this post are from 2016.  However, this post text was last updated on 12/6 /2022. 
Here's a quick rundown of the ingredients in golden paste:
1/2 cup high-quality turmeric powder
1 cup of water
1/4 cup coconut oil
1 1/2 – 2 teaspoons ground black pepper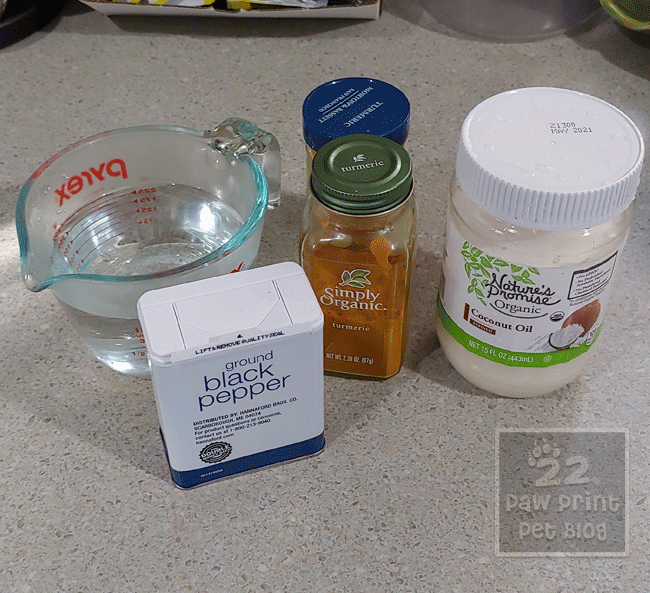 Mix all the ingredients together and put over low heat.  I don't set a timer for my Golden Paste, but instead mix continuously until I get the desired texture.  It shouldn't take too long, a few minutes or so, for the mixture to start becoming thicker and looking more uniform.
Time to make Turmeric Treats!
The treats I make for Kit are very simple.  I just use equal parts Golden Paste and ground beef.  I usually use a half a cup of each.  Any extra Golden Paste can be stored in the refrigerator for up to 2 weeks.  It can be kept in the freezer for up to 6 months.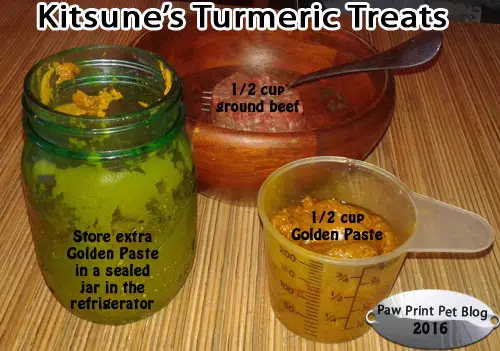 I use a blender to mix the Golden Paste and beef together.  Hand mixing would be fine too.  For dosing accuracy you want to make sure the ingredients are mixed together very well.  The dosage of Golden Paste that I use for Kitsune is 1/4 a teaspoon per 10 lbs.  Kitsune is 20 lbs so he needs 1/2 a teaspoon of Golden Paste a day.  The effects of turmeric don't last super long, as it leaves the body quickly.  Because of this, I like to split Kit's dosage in half.  I give him 1/4th of a teaspoon with his breakfast, and the other 1/4th with his dinner.
For Kit's treats, after they are well mixed, I use measuring spoons to make 1/2 teaspoon balls.  As long as you mixed well each 1/2 tsp ball will contain 1/4 a teaspoon of Golden Paste and 1/4 a teaspoon of ground beef.  So Kit, at 20 lbs, gets two of his turmeric treats per day.
A Note on Dosage
The standard dosage of 1/4th of a teaspoon of turmeric per 10lbs of body weight has always worked well for Kitsune.  Turmeric can sometimes cause stomach upset, especially when first offered.  It's a good idea to introduce it into your dog's diet slowly.  With Kitsune, I started out with just 1/4th a teaspoon a day.  I then increased to the full 1/2 of a teaspoon per day (because Kit weighs 20 lbs).  If your dog has a sensitive stomach, consider starting with an even lower dose.
Signs that may indicated that you're giving your dog too much turmeric, or that you started with too high of a dose for them, can include diarrhea, upset stomach, or constipation.  If your dog displays any of these symptoms it's a good idea to back off a bit and decrease your dog's dosage.  Although 1/4th of a teaspoon per every 10lbs is the typical turmeric dosage, finding the "perfect" dose for your dog may take a bit of trial and error.
Turmeric does have some health contradictions, so it's always a good idea to discus any new supplements with your vet.  Notably, turmeric should not be offered to dogs who are on certain medications, including anti-inflammatories and diabetes medications.  It is also not recommended for dogs on blood thinners or who have scheduled surgeries.  This is because turmeric can act as a natural blood thinner.  Turmeric, especially in too high of a dose, can cause GI upset.  It should also be avoided for dogs who are prone to developing kidney stones.
Raw Verses Cooked
I normally don't cook our turmeric treats.  Once I create the 1/2 tsp balls I set them on a baking sheet in the freezer until they freeze solid.  Once they freeze, I move them to a Tupperware container or Ziplock bag and keep them in the freezer.
Since I know not everyone is comfortable feeding raw meat to their dogs, I decided to try cooking some of the turmeric balls to see what happened.  I just placed the 1/2 tsp balls on a clean baking sheet (no need to add oil to prevent sticking since the treats already contain a good amount of coconut oil) and cooked them at low heat (150*F) for 20 minutes.  The treats came out a nice golden brown color, and stayed pretty soft.  Here's a picture to show the difference between the treats I froze and the ones I baked.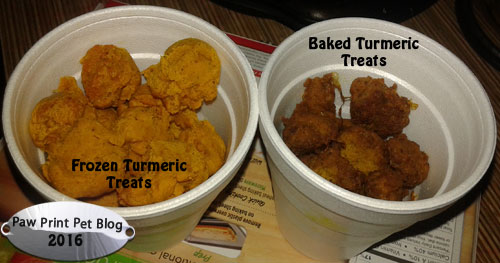 The frozen treats look bigger because the baked treats did loose some of their liquid (including the coconut oil) while cooking.  There was quite a bit of coconut oil on the bottom of my baking sheet when the treats were done.  This leads me to believe that if you are concerned about keeping the proportions of coconut oil stable the frozen treats would be better.
Does Cooking Turmeric impact it's Effectiveness?
I did a bit of research on whether or not cooking turmeric in this way decreases it's benefits at all and came across this article.  It's rather long but points to note are that the oil and water used to create Golden Paste help to protect the active ingredients in turmeric from degrading.  While cooking has been shown to break down the active ingredients in Golden Paste, the good news is that the particles the ingredients are broken down into work just as well, if not better, than the original ingredients.  Take a look at the article I linked to above for more information.  It explains this concept a lot better than I do!
Turmeric Treats Storage
Whether I bake them or keep them raw, I store Kitsune's turmeric treats in the freezer.  No need to thaw, when I feed Kit I just take a treat out of the freezer and add it to his dish.  Turmeric is safe to store frozen for up to 6 months.  That's decreased to just 2 weeks if it's stored in the refrigerator.  However, since these treats also contain meat I wouldn't personally feel comfortable storing  them in the refrigerator for more than a few days.  If your dog doesn't like to eat these treats frozen, you could still store them in the freezer and just take out a couple at a time to thaw before offering them to your furry best friend.
Kit loves his daily meat balls!
Simple as they are, Kitsune eats these turmeric treats readily.  When I first made them I was worried that he wouldn't like them.  Like I wrote above, Kit didn't seem to like it when I mixed turmeric in with his regular food.  For whatever reason, though, he really likes these treats!
If you try using turmeric for your dog, my last suggestion would be to give it some time before you evaluate whether or not it's working.  When I first started using turmeric for Kitsune, it took about a week before I could start to tell that it was helping him.
Comment below!  Have you ever tried turmeric for any of your pets?  Did you see any benefits from it?  How do you feed it to your pets?
Please remember to talk to your pet's vet before starting any new supplement, especially if your furry friend is experiencing any health issues.