This post contains a list of US based senior dog rescues!  I have a newfound love for senior dogs that is 100% my (almost) 14-year-old papillon, Kitsune's, fault!  For Adopt a Senior Pet Month last month, I wrote a little bit about what it's like living with a senior dog from the point of view of a puppy lover!  Kit is my first dog, so of course, that also makes him my first senior dog.  He's taught me so much about what it's like to share life with an older dog.  Not the least of which has been breaking the stereotype of senior dogs being lazy and boring.  Not this senior, says Kit!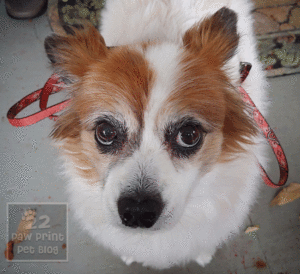 In the post I did for Adopt a Senior Pet Month, I also wrote a bit about the sad reality for senior dogs in animal shelters or rescues.  Despite how amazing they can be, senior pets are often overlooked by potential adopters.  I get it, puppies are adorable and packed full of potential.  But there's just something so special about senior dogs.  Each and every one of them deserves to live out their golden years in peace, comfort, and surrounded by love.  If you're not ready to deal with the craziness that is all things puppy, but want to share your life with a furry friend, why not consider adopting a senior?
Here is a list of US-based senior dog rescues!  This list is not all exclusive.  If none of these rescues are local to you, try searching for a senior dog rescue in your area, or start by checking out…
Your Local Shelter!
I just had to put this option first.  It's a sad fact that senior dogs need loving new homes throughout the US, and a majority of them never get the benefit of finding themselves in a rescue that specializes in older pets.  Chances are high that at any given time there will be older pets needing new homes right at your local animal shelter.  If not, let your local shelter employees know that you'd love to offer an older dog a new home.  They're usually more than happy to take down your contact information and get in touch as soon as a dog matching what you're looking for becomes available for adoption.
Muttville Senior Dog Rescue
Muttville Senior Dog Rescue is based out of California.  They take in senior dogs in need and find them loving new homes as part of their adoption and hospice programs.
Tails of Gray
Tails of Gray rescues senior dogs no matter how dire their situation.  They work hard to rehabilitate dogs who may need a little bit of extra care, then find them the perfect new families.  Tails of Gray is based in the San Francisco area.
The City of Elderly Love Rescue
Based out of Philly, The City of Elderly Love Rescue is 100% doner funded, and volunteer staffed.  They rescue both senior dogs and cats.  Besides finding adoptive homes for the cities elderly pets, this rescue also has a hospice program and helps local community members struggling to care for their senior pets through their "Let's Stay Home Fund".
Senior Dog Haven & Hospice
Senior Dog Haven & Hospice rescues dogs age 7 and up and finds them new homes within a 2 hour radius of Wilmington, Delaware.  Their hospice program works through a team of fosters who work to ensure that every dog under their care receives loving care before a pain free goodbye.
Young at Heart Senior Pet Adoptions
Young at Heart Senior Pet Adoptions rescues senior dogs and cats.  They are based out of Woodstock, IL and believe that "love has no age limit".  How true!
Vintage Pet Rescue
Vintage Pet Rescue is based in Rhode Island.  They rescue senior dogs from shelters or take them in from owners who can no longer care for them, and do occasionally have seniors available for adoption.
More Coming Soon?
This isn't, by any means, an all inclusive list.  Did I miss your favorite, or local, senior dog rescue?  Comment below and let me know, so I can add them to the list!  Keep in mind that this particular list is for rescues that, at least occasionally, have senior dogs for adoption.  I came across quite a few senior pet sanctuaries and, while the work they do is amazing too, the point of this post is to help connect potential adopters with senior dogs in need.
Have you ever adopted a senior pet?  Tell us about your senior pets in the comments below!