Last April (2022) I took part in the April Blogging from A to Z Challenge.  Our theme was "Snacking from A to Z", which (especially) Kitsune, Fenrir, and I had a lot of fun with!  Around the same time, I was participating in a blogging course.  Although I've been blogging here since 2010, I learned a lot.  I decided that it would be worthwhile to go back through my previous 12(!) years of blog posts.  I deleted quite a few posts that just weren't getting views anymore.  There were many others that I took the time to edit, update, and repost.  After our April challenge ended, I decided to keep up the momentum.  For an entire year now I've been posting new blogs at least every other day!
Blogging that often for so long has been a lot of fun although, as you can imagine, challenging too.  Thankfully I've felt like my hard work has paid off, as I've watched my view count here grow exponentially.  2023 is shaping up to be Paw Print's best year ever!  I sincerely hope that means that this blog is now helping more dog owners than ever before.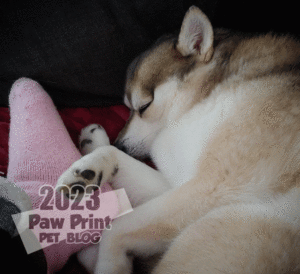 I've now gone through every single post on Paw Print and edited/updated many of them.  I've added more new content to the site in the last year than any year previous.  While I love working on this site, I've decided that it's time for me to scale things back a bit.  Don't worry!  I'll still be posting regularly.  But instead of daily/every other day I'll be going back to a once-a-week posting schedule.  I'll always strive to keep all my content as up-to-date and relevant as possible, so I will continue going back to update old posts often.
I love posting here, but posting as often as I was takes up a lot of time.  I have other projects I'd like to pursue more going forward, some of which are related to this site, such as going back to posting videos on our YouTube page more often.  I just need more time to get more stuff done, and of course to spend as much time as possible soaking up the puppy love from Kitsune and Fenrir!
It felt fitting to end my "year of content" on a high note with this year's April Blogging from A to Z Challenge.  One more month of crazy posting, and (almost) daily new content before I scale things back a bit.  I had a lot of fun working on this year's challenge, writing about some of the ingredients used in commercial dog foods.
I hope you'll continue to follow our adventures despite a reduction in the number of new posts.  I'm hoping that by stepping back from blogging, just a bit, I can find more time to do other things that make me happy.  Some of those things will undoubtedly include adorable pictures of Kit and Fen, and videos of them too.  For those of you want even more Kit and Fen, and how could I blame you, be sure to follow Kit's and Fen's Instagram accounts, as well as our YouTube channel and Facebook page.  I'll continue to update our social media pages on a regular basis.
Thank you SO much to our faithful readers who come back again and again to read about the adventures of Kit and Fen, or to just learn as much as you can about sharing our lives with amazingly awesome dogs.  The entire Paw Pack really does appreciate each and every one of you!  I hope you will all continue to stop by often.  🙂