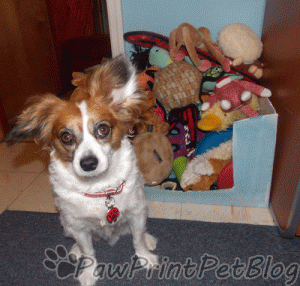 Monthly subscription boxes for pets are becoming very popular for pet owners looking for a fun way to spoil their pets!
After receiving BarkBoxes every month for 8 months, we decided to cancel our subscription.  Don't worry – Kitsune has enough toys to last him probably until the end of time, and I make him homemade treats, so he won't suffer (much) without his monthly gifts.
Although we've canceled for now, I do believe that monthly subscription boxes for Kitsune is something I'd consider signing up for again in the future.  BarkBox was the first subscription service for pets that I had ever heard about, but apparently it wasn't such a novel idea.  There are actually quite a few other companies that offer similar services.  For any of my readers who are also interested in monthly subscription boxes for pets, check out the following list to see what's available.  If anyone knows of any others, or would like to share their experiences with any of the companies listed, please feel free to comment below!
Pet Gift Box: We had the opportunity to review Pet Gift Box in December 0f 2014.  Click here to read our Pet Gift Box review. We reviewed a dog box, but Pet Gift Box also caters to cats!  It's only $17.99 per month, which is an amazing deal considering the box we reviewed had a retail value of almost $60!
KitNipBox:  We hosted a KitNipBox giveaway back in October 2014, you can go back and read about it here.  KitNipBox is a subscription box created especially for cats!  Prices range from $9 to $29 per month.   These boxes include awesome cat products such as toys, healthy treats, and health and hygiene products.
Posh Pet Box: Posh Pet Box is one of the newer pet box subscription services.  They provided boxes for dogs, and have size options that range from $29 – $49 per month.  You can choose to receive surprise items, or select your own items on the Posh Pet website.  Items available include a verity of designer dog clothes, travel items, grooming supplies, all natural treats, high quality toys, and more!  We had the opportunity to review Posh Pet Box in September 2014, click here to read our review and to learn more about our Posh Pet promo code!
BarkBox: BarkBox was the first pet subscription box we ever heard about!  We actually had a subscription with them for about 8 months, and wrote many BarkBox reviews.  Pricing is as low as $19 a month (if you purchase a 6 month subscription), and BarkBox donates 10% of proceeds to rescue.
MeowBox: Especially for cats, MeowBoxes currently cost $20 per month.  Like many other subscription boxes, you can save some money by ordering either a 3 or 6 month subscription.  Each MeowBox includes items such as cat toys, gadgets, treats, accessories, and more.
PetFlow.com Spoiled Rotten Box:  PetFlow.com is an online pet food/supply store, but they also offer a monthly "Spoiled Rotten" box.  They charge $24.99 a month, but send around $40 a month worth of products (including treats, toys, and accessories).  All edible products are made in the USA.  PetFlow offers monthly boxes for both cats and dogs.
PetBox: Each PetBox contains up to 6 items that you select.  PetBox offers items for both cats and dogs, and costs as low as $29 a month.  PetBoxes ship out the day after you select your items rather than on a specific day of the month.  For each box sold, PetBox helps to feed a hungry shelter pet.
Healthy Pet Advisor:  Healthy Pet Advisor boxes cost $19.95 or $39.95, depending on what size pet you have.  Healthy Pet Advisor lets you tailor your box to your pets specific needs, and offers custom boxes for issues such as tummy troubles, grooming issues, and parasite problems.
——————————————————————–
The following companies used to offer pet subscription boxes, but don't appear to be in business any longer:
PoochPax:  Each PoochPax contains from 4 to 6 high quality treats and toys for your furry family member.  1 month costs $29, but if you order a 6 month subscription the price breaks down to just $19 a month.  A portion of ever sale is donated to Guide Dogs for the Blind!  **Check out our November 2013 PoochPax review to see what we thought!**  UPDATE 8/20/2014, the PoochPax website doesn't seem to be up any longer.
Best Friend Box:  Good news for cat owners, Best Friend Box provides boxes for cats and dogs!  It costs $30 a month, and each box includes 3 – 6 items (treats, toys, and grooming supplies).  10% of proceeds are donated to charity. **We had the opportunity to review a BestFriendBox in Sept. 2013.  Click here to see what we thought! **  UPDATE 8/20/2014, from their website it appears that Best Friend Box is no longer in business.
Bugsy Box: Bugsy Boxes are just for dogs.  They start as low as $19 a month, and go up to $29 a month, depending on what plan you choose.  Each box contains 5 to 7 items, such as treats, toys, supplements, care items, and accessories.  Bugsy Box offers free shipping to both the US and Canada!
Woof Crate:  Woof Crate is a subscription service that, for $24.99 a month, sends you a box full of dog treats from artisanal bakeries.  All treats are, of course, made from 100% dog safe ingredients.  We had the opportunity to review Woof Crate in August of 2014 and you can check out what we thought here.
Pets Love Toys:  This one seems to be for dogs.  It costs $19.95 per month if you have a small or medium sized dog, and $24.95 a month for large or extra large dogs.  This one is a bit different than the others because rather than sending surprise items each month, it gives you a showroom of items that you can pick from.  This service might be good for pets with food allergies, since you can pick what products you want sent.
** This list was last updated on 11/28/2014 **