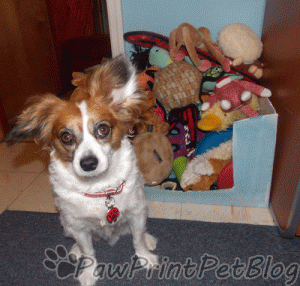 Monthly subscription boxes for pets are becoming very popular for pet owners looking for a fun way to spoil their pets!
** Post last updated September 20th, 2016 **
Kitsune and I have been reviewing different pet boxes since around 2012!  Since this list continues to be one of the most popular posts on my blog, I regularly edit it to include any new pet subscription boxes we learn about, or to remove ones that are no longer available.
When I originally posted this list, it was rather short.  It's grown significantly over the years.  If you know of any pet subscription box services that I neglected to add to my list, please feel free to comment below!  I've organized the list into categories based on what types of pets they are for, to make it easier to find boxes for each particular type of pet.  Boxes listed at the top of each category are ones that we've had the opportunity to review ourselves!
Boxes for Dogs
Pet Treater:  Want monthly treats, toys, and supplies for your pup?  Maybe even a little treat for yourself as well?  Check out Pet Treater!  These dog boxes start as low as $19.99 per month and Pet Treater's Pet Partners Program helps to raise awareness for animals awaiting new homes in shelters. Check out our Pet Treater reviews!
Pooch Perks:  Pooch packages start as low as $20 per box and include high quality toys and treats.  Treats are made in the USA and many of the toys are as well.  We regularly review Pooch Perks boxes, you can check out our reviews by clicking here.
Bully Bundles: A bit different then your average dog subscription box, Bully Bundles sends your dog monthly bundles of long lasting, high quality bully sticks!  Choose between 6'' and 12'' bully sticks - pricing ranged from $16 to $105 per month.  Click here to read our May 2016 Bully Bundles review!
PawPals with Annie:  Annie is a Scottie, and every month she'll send your pup a box of her selected toys, treats, and goodies.  We reviewed a PawPals with Annie box in July 2015, click here to see what we thought!
Pooch Party Packs:  Get your pup's party started with a Pooch Party Pack!  Boxes come in three sizes and cost $34.99, but you also get a discount if you sign up for either a 3 or 6 month subscription.  We had the opportunity to review April 2015's Pooch Party Pack, click here to see what we thought!
BarkBox: BarkBox was the first pet subscription box we ever heard about!  We actually had a subscription with them for about 8 months, and wrote many BarkBox reviews.  Pricing is as low as $19 a month (if you purchase a 6 month subscription), and BarkBox donates 10% of proceeds to rescue.
Box Furr You: This dog box comes in 3 sizes and include 4 - 5 items each.
Dog.Com Doggie Box: The popular dog.com offers a monthly box of goodies for your dog.
Freddie's Finds: Let Freddie find your dog monthly goodies!  Uniquely includes "special finds" boxes - boxes with specific themes such as for your dog's birthday, Halloween, etc.
Surprise My Pet:  Boxes tailored for four dog sizes, from tiny (under 10 lbs) to large (50 + lbs).
Toys4Tails:  Boxes cost as low as just $8.95 plus shipping per month, and include toys and treats in 4 categories (chew & tug, fetch, splash, and treat).
PupBox:  This is a monthly development box for your puppy.  As your puppy grows, the products included in each month's box will change.
PupJoy: This box has single or multi dog options that include hand selected items such as treats, and toys personalized for your dog's size.
Fetch: Fetch helps your pup live a healthy life by sending a monthly selection of natural dog treats.  Treats sent contain no artificial sweeteners, flavors, or colors.
Happy Hound Club: Keep your hound happy with boxes packed full of toys, treats, and accessories.  10% of all proceeds are donated to charity.
Boxes for Cats
Meowbox:  Meowbox is a goodie box for cats that contains fun toys, and high quality treats sourced from the US and Canada.  Picky kitties can opt to receive boxes that contain extra toys in place of treats.  Each box is adorably hand personalized with your kitty's name and for every meowbox you purchase a can of food is donated to a shelter!  Prices start at $32.95 per month, but you do get a discount if you sign up for a 3 or 6 month subscription.  Use the code PAWPRINT10 to get a 10% discount off your first subscription!
KitNipBox:  We hosted a KitNipBox giveaway back in October 2014, you can go back and read about it here.  KitNipBox is a subscription box created especially for cats!  Prices range from $9 to $29 per month.   These boxes include awesome cat products such as toys, healthy treats, and health and hygiene products.
Purrfect Box:  This cat box is actually based out of the UK.  If your in the UK and want to try this box out, you can get your first box free!  You just need to pay for the cost of shipping.
Purr-Packs:  Toys, treats, and treasures delivered for your cat.
Boxes for Both Dogs and/or Cats
Pet Gift Box:  We've been posting regular reviews of Pet Gift Box dog boxes, you can check them out by clicking here!  Pet Gift Box also caters to cats!  It's only $17.99 per month, which is an amazing deal considering the first dog box we reviewed had a retail value of almost $60!
Fur Indulgence:  The O-Fur Buddies treat club costs just $10 a month.  It looks like it might be a smaller subscription that sends a monthly "pick of the month' treat.
Boxes for Other Pets
Cuddle Crate: Cuddle Crate is a revamp of what used to be known as Pet Pakz.  Despite the name change, they still offer goodies for 4 different dog size groups, cats, gerbils/hamsters, or rabbits/guinea pigs!  Cuddle Crate offers 3 different membership sizes, grain free treat options, and the ability to receive goodies for multiple types of animals all in one box.  We had the opportunity to review a Pet Pak(before their name changed) in July of 2015, which you can read here.
A Horse Box: High quality horse products delivered monthly!  Subscriptions start as low as $17 (plus shipping) a month.
Bunny's Furr and Feathers Funpacks:  This box has subscription plans for dogs and cats, but I put it in the other section because it is one of the few I've found that also offers boxes for birds and pocket pets!
My Aquarium Box:  This subscription box lets you select whether you want supplies for a fresh or salt water tank.  Monthly boxes include items such aquarium gadgets or tools, aquarium decor, fish food, and fish medications/supplements.
------------------------------------------------------------------------------
Whew that's a long list!  Did we forget one?  Have you tried any of the pet subscription boxes listed above?  Comment below and let us know!