I totally have writers block this week!  I've been trying hard to post a lot of high quality, evergreen type content here lately.  But I still feel like I haven't completely gotten back into the swing of things since we moved a couple of weeks ago.  Whatever the reason, my brain is just not firing on all cylinders right now and I figured, rather than trying to force myself to put out content that I don't really feel like working on, that I'd tell you all about a funny story about when my dog, Fenrir, 'met' a toad.
This happened around a week or so before we moved from our old house.  You know how most pet owners have a lot of silly little nicknames for their animals?  Well my dog, Fenrir, recently earned a new nickname – Toad Bait.
There are a lot of toads around where we live.  I'm not sure if that's common throughout the state or if, perhaps, it has to do with the fact that in both the houses we've lived in now we've been right across the street from bodies of water.  Whatever the reason, we run across multiple toads on an almost nightly bases during the warmer months.  Some of them are super small, so small that I often worry I'm going to miss seeing them and accidentally step on one.  But some of them are huge!
How FenFen Earned the Nickname "Toad Bait"
I'm no toad expert, but from what I can tell, the larger ones especially, seem to be territorial.  In our old house I became quite familiar with a handful of different toads and what areas around the yard they had dominion over.  There was one, for example, that lived under our old deck and would come out every night to explore my sunflower garden.
On a fateful night, some number of weeks ago now, I was outside after dark taking Kit and Fen on their 'last call' walk around the yard.  I remember, at the time, that I had Kit off-leash, so I was paying a bit more attention to Kit verses Fen.  Fen was harnessed up and on his leash.  While I was watching Kitsune, Fen walked a little ways into the brush around the edge of the yard.  No big deal – Fen does this often as that's actually his preferred bathroom spot.
A Toad Tried To Eat My Dog!
A few seconds later Fen walked back towards me and I noticed right away that he was limping.  Oh no!  It was pretty dark out, but I had a flashlight with me.  I aimed my flashlight down towards Fen's front paw, the one he was ever so gingerly holding up, and what do I see… a giant toad dangling from Fen's leg!  I'd say dangling from Fen's paw, but I didn't actually see much of Fen's paw, what with it being inside a giant toad and all.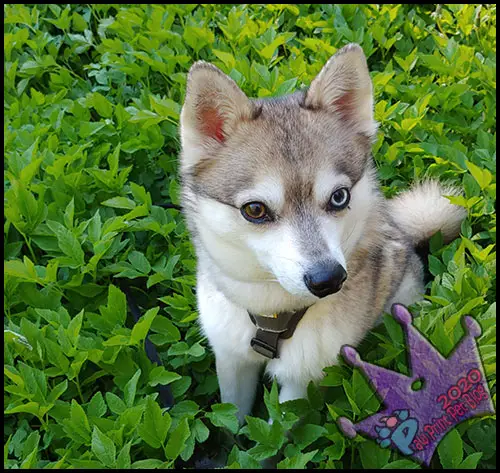 The whole thing lasted just a few seconds.  The toad struggled a bit, wriggling around in an attempt to swallow Fenrir whole, but promptly fell off Fen's paw down into the grass.  Fen's reaction was so hysterical.  Despite being my high energy crazy boy, he was so calm.  He just limped out of the brush towards me with his paw held up in the air, as if he was saying "hey mom look at this!".  When the toad fell off his paw he gave it a quick sniff then watched it hop back into the brush.
And Now Fenrir is Fondly Known As "Toad Bait".
Ah, the joys of owning small dogs.  I imagine the poor toad was probably quite hungry, and maybe mistook Fenrir's adorable little paw for some type of small, fuzzy animal?  Who would ever think that a toad would attempt to eat a dog!?  I know everyone is going to ask if I got a picture, but sadly I didn't.  We were just outside for a quick potty break for the boys, I didn't bring my phone/camera with me.  Plus it was dark and, like I mentioned above, the whole event lasted a couple of seconds tops.
An Important Note About Dogs & Toads:
Even though my intent in posting this was just to tell a silly story, I wanted to add that toads, some species more so than others, actually secret toxins onto their skin.  Most species of toads that are native to the US are relatively harmless, but can cause mild symptoms such as drooling, oral irritation, and vomiting if your dog decides to bite them back.  However, there are a few species, namely cane toads and Colorado river/Sonoran desert toads that can cause life threatening symptoms if your pet ingests (bites or licks) one.  Freak encounters aside, it's best practice to keep your pet away from wildlife.
I guess, judging by Fen's toad encounter, that toads don't always feel the same way about staying away from domestic pets.  Thinking about the look on little Fen's face as he calmly presented me with his toad bitten paw, coupled with how determined the toad was to swallow an entire dog whole, just makes me laugh every time I think about it.  Oh, toads don't have teeth by the way, so little Fenrir was not harmed at all!  Maybe I should have written that sooner.
Comment below!  We always love to hear from our readers.  Did Fen's….excuse me, Toad Bait's, story make you laugh?  Have any of your pets ever had a silly freak encounter with a wild animal?