Look at us doing a two-week update all in one post!  For those who don't already know, my sweet senior papillon Kitsune was diagnosed with cervical IVDD on September 17th.  Thankfully his case was considered minor.  He was in a lot of pain, but (thankfully) never lost any neurologic function.  His vet and I decided that conservative treatment was the best course of action.  Kit was placed on 8 weeks of rest as well as a handful of medications to address inflammation and pain.
As of Friday, October 28th, we've made it 6 weeks into Kit's 8-week recovery time!  Up until now, I've been posting weekly updates on Kitsune's recovery.  But I feel like our updates were getting quite boring.  After the first couple of weeks, Kit was essentially back to his normal, happy, pain-free self.  Since then we've been continuing to keep him resting.  Disc issues, unfortunately, take quite a while to fully heal.  Despite Kit feeling better and wanting to get back to his normal antics, we've been reducing his activity so that the injured disc in his neck has all the time it needs to heal.  A reoccurrence of his IVDD so soon after his first episode is the last thing we want!
Follow Kitsune's IVDD Recovery Journey…
Saturday, October 15th – Friday, October 21st
Recovery week 5 was particularly uneventful.  This week, Kit was still on his every-other-day taper dose of Prednisone.  We've pretty much fully transitioned from strict crate rest to rest outside of his crate.  We're still restricting too much movement, especially jumping.  Thankfully, as long as Kit is with either my partner or me he's pretty content.  He doesn't understand why we haven't been letting him jump onto the furniture, but we have lots of dog beds and blankets set up throughout the house so Kit can get comfortable no matter what room he's in.
I noticed Kit's been having a bit of shaking/weakness in his legs.  It's not anything super dramatic.  I notice it most often when he goes outside and balances to use the bathroom.  It doesn't seem to bother him or cause him any pain.  I did a phone consult with his vet and she seems to think that it's a side effect of the Prednisone.  Kit's also been drinking/peeing a lot more than normal thanks to the Prednisone.  We scheduled a check up for next week, just to make sure that everything is ok and that Kit's recovery is still on track.
Saturday, October 22nd – Friday, October 28th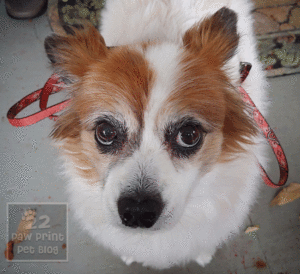 Week 6 is now behind us!  The last six weeks of Kitsune's IVDD recovery went by a lot faster than I thought they would.  Early this week we got Kit into the vet.  Thankfully, it went really well!  The vet said that the shakiness I've been noticing in Kit's legs is being caused by muscle wasting, at least partly caused by the Prednisone he's been on.  The fact that he's been on strict rest for the past 6 weeks contributed too.  Him drinking and urinating more often is also a side effect of the Prednisone.
Thankfully, as of Wednesday October 26th Kit is officially off Prednisone!  So he's no longer taking any prescription meds because of his IVDD.  The vet gave us the ok to, very slowly, start exercising Kit again.  This week we started with slow, 5 minute walks on flat ground.  Over time I'll slowly be increasing the amount of time I walk him for.  We'll be continuing to restrict him from running and jumping for at least the next 2 weeks.
That's it for now!
I'm so glad that Kitsune has been recovering so well!  It's crazy to me that we only have 2 more weeks left before we can officially say this bout with IVDD is behind us.  Hopefully we won't ever have to deal with it again, but, as our vet keeps reminding us, IVDD is a hereditary disease and, sadly, Kit may experience flares of it again in the future.  I'm going to do everything in my power to prevent that from happening.  But I will, at the same time, be prepared for future flares since you, sadly, can't always prevent IVDD.
Now that Kit's off prednisone I'm hoping it doesn't take too long before the side effects of that start going away.  Our next update will most likely be in two weeks, when Kit is officially completed with his 8 weeks of recovery!  If anyone wants more frequent updates, you can follow us on Facebook or on Kit's Instagram page.  Thanks again to everyone who has sent Kit well wishes and followed his recovery during the past 6 weeks!