Homemade dog treats are a cheap and healthier way to treat your dog this Halloween!  Homemade cookies lack the preservatives and other unhealthy ingredients that are found in most commercial treats, are fun to make, and dogs love them!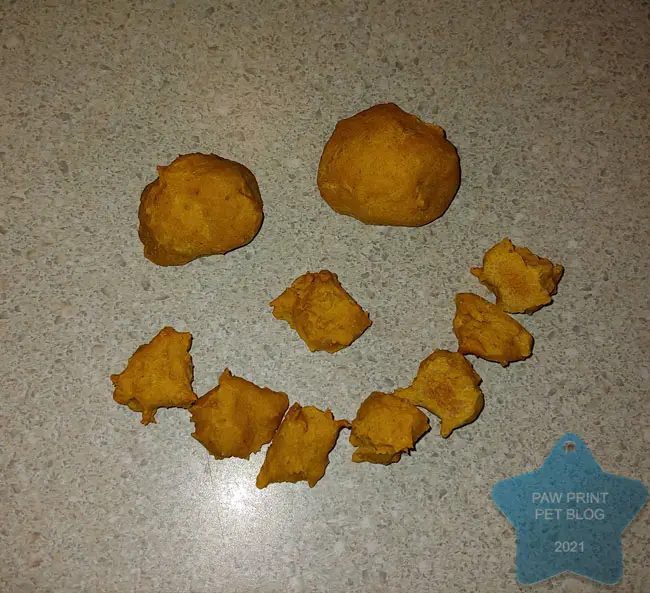 I first posted this recipe back in 2011, and it's still to this day one of my dogs' favorite treats!  Even my Alaskan Klee Kai, Fenrir, loves these – and that's saying a lot.  He's a very picky eater.  Despite not containing all that much peanut butter, I'm always tempted to try one of these cookies while I'm baking them because they smell so similar to (human) peanut butter cookies.  Pumpkin has quite a few health benefits for dogs, including being high in fiber.  It's a common 'go to' ingredient for dog owners when their furry friend's tummy is feeling off.  Besides being an extra tasty way to get some extra fiber into your pooch, the pumpkin gives these treats a fun, natural orange color that is perfect for celebrating fall!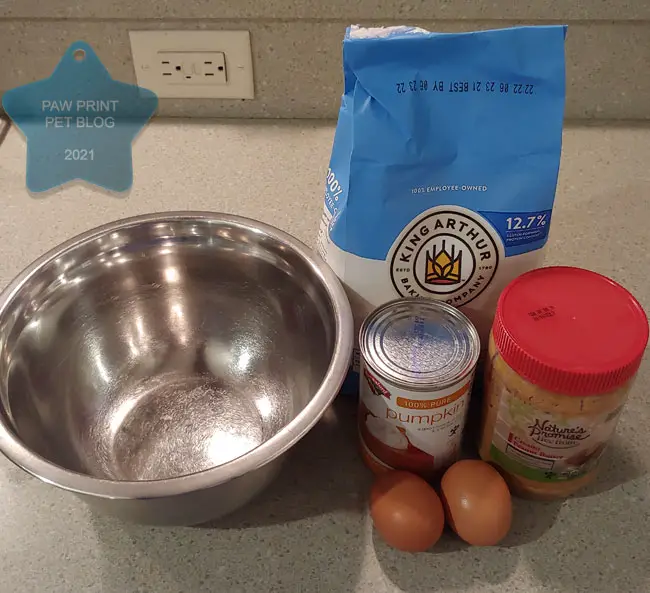 Kitsune's Spook Snack Peanut Butter and Pumpkin Dog Treats
Ingredients:
2 1/2 cups flour
2 eggs
1 cup plain (100% pure) canned pumpkin
3 tablespoons peanut butter
1/3 cup water
* This recipe makes quite a few treats, depending on what size you make them.  Feel free to half the recipe if you're looking for a smaller amount of treats, or want to make sure your dog likes these before making a ton!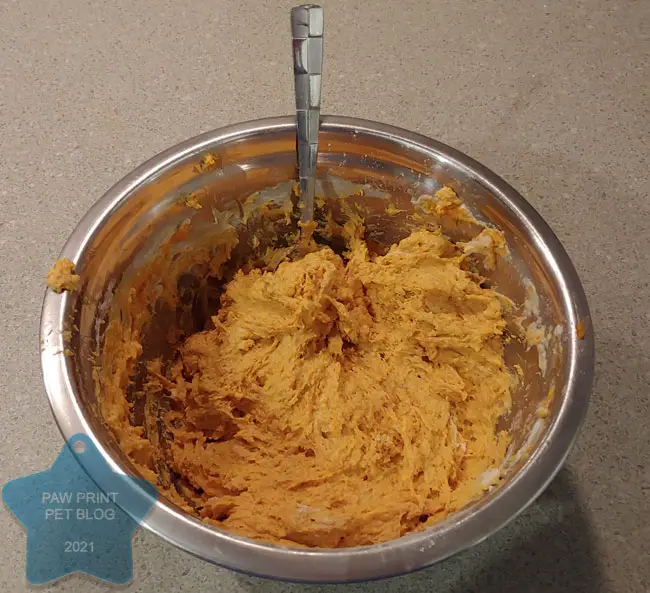 Baking Instructions:
Preheat oven to 350*F (175*C).
Mix ingredients together.  The dough will be sticky (see photo above).
Shape dough into rounded treat sized balls and place on an ungreased cookie sheet.  Feel free to play around with the size of your treat balls.  Smaller treats work better as training treats.  Larger ones work better if you're using this recipe as a palatable way to offer your dog some pumpkin.  I like to make a combo of different sized treats – some small and others larger.  Tip: Keeping a bowl of warm water nearby and wetting your hands while shaping the treats can help to make the dough feel less sticky.
Bake until the treats start to turn slightly brown and feel firm on the outside.  30 minutes has always worked perfectly for me when I make this recipe.  These treats are on the softer side, especially on the inside, as long as you don't over bake them.
Let cool, and let your dog enjoy!
Because they do not contain any preservatives, uneaten treats last longer when stored in the refrigerator.
Enjoy!!  If you try out our Halloween dog treats recipe, you'll have to let us know how they turn out.  Happy (early) Halloween and (late) fall!  Comment below!  What is your pet(s) favorite kind of treats?  Do you give them any special kinds to celebrate fall, or any of the fall holidays?